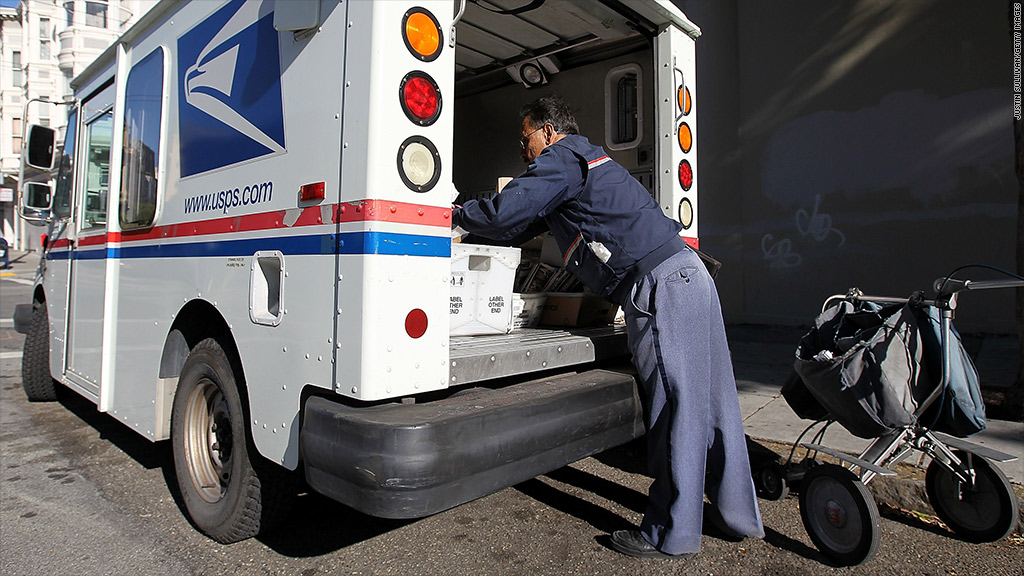 The U.S. Postal Service is doing better, but not good enough.
The agency said Friday that it lost $740 million in the three months ending June 30, far less than in recent quarters. During the same period last year, it reported a $5.2 billion loss.
So far, the Postal Service has lost $3.9 billion in its fiscal year, which has three months remaining. It lost $16 billion in 2012.
The agency was helped by a big uptick in customers shipping packages, the area where it competes with United Postal Service (UPS) and Fed Ex (FDX).
But total mail volume continued to fall. The Postal Service handled 37.9 billion pieces of mail between April and June, down from 38.3 billion pieces last year.
The decline underscored a central problem for the agency: People are increasingly moving away from the use of first-class mail to do things like pay bills and send correspondence.
Another big issue is a mandate that the Postal Service "prefund" health care benefits for future retirees.
The requirement has been a major drag on the agency, which has exhausted a $15 billion loan from taxpayers to make up for shortfalls.
This year, the Postal Service owes $5.6 billion to fund future retiree health costs. Last year, it actually owed two such payments because it had to make up for one it withheld in 2011.
And the issue is not going away. The Postal Service is expected to default on the payment -- something it has done twice before -- when it is due Sept. 30.
Related: The Postal Service would love to ship you beer
The Postal Service reiterated Friday that it needs Congress to pass legislation to help it stop the losses. Among measures the agency wants: The end of Saturday delivery of letters and some relief from its annual payments due to the health fund.
"Without comprehensive postal reform legislation signed into law, our hands are tied and we expect multi-billion dollar annual losses to continue," Chief Financial Officer Joe Corbett said.
The Postal Service said it faces a dangerous cash crunch. It must make a payment toward workers compensation benefits by October, leaving it at risk of not being able to pay its operating bills.
Overall losses came despite major cost-cutting. The Postal Service consolidated 104 processing plants, and its roster of career employees, who get full benefits, has fallen to the lowest level since the 1960s.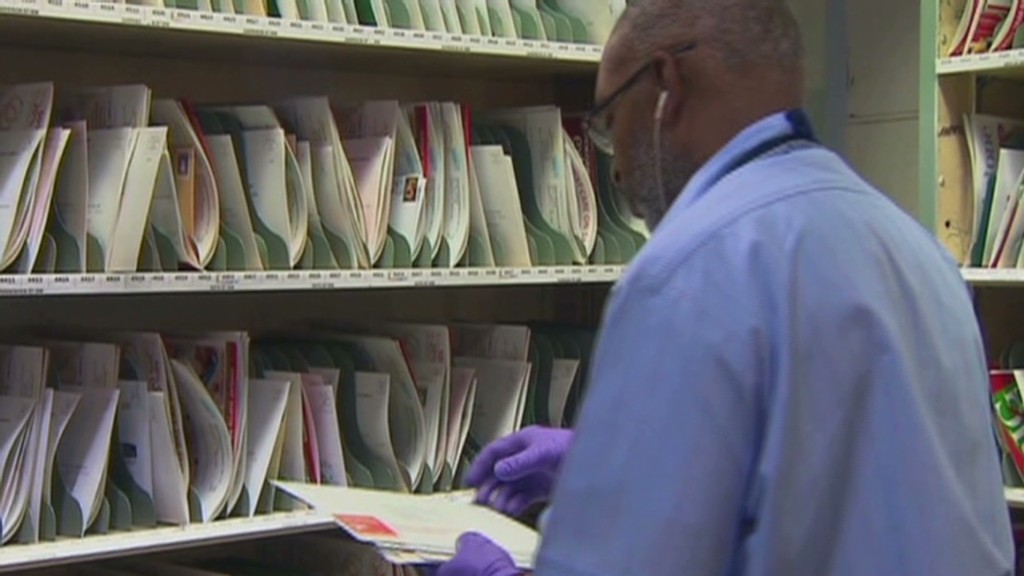 Related: Postal Service looks to end at-your-door mail
Unions have been pushing Congress to do away with the mandate on funding future health benefits. They said that absent the payment, the agency would have posted a $660 million profit for the third quarter.
"It makes no sense to degrade service or dismantle a network that is performing well and that provides Americans and businesses with the world's most affordable delivery network," said Fredric Rolando, president of the National Association of Letter Carriers.
Earlier this year, the Postal Service announced, and then later dropped, a plan to end Saturday delivery of mail, a move that was expected to save $2 billion a year.
At the last Postal Service board meeting, officials said they would investigate the possibility of hiking the price of stamps. The current price of a first-class stamp is 46 cents. A one-cent increase went to effect Jan. 28.