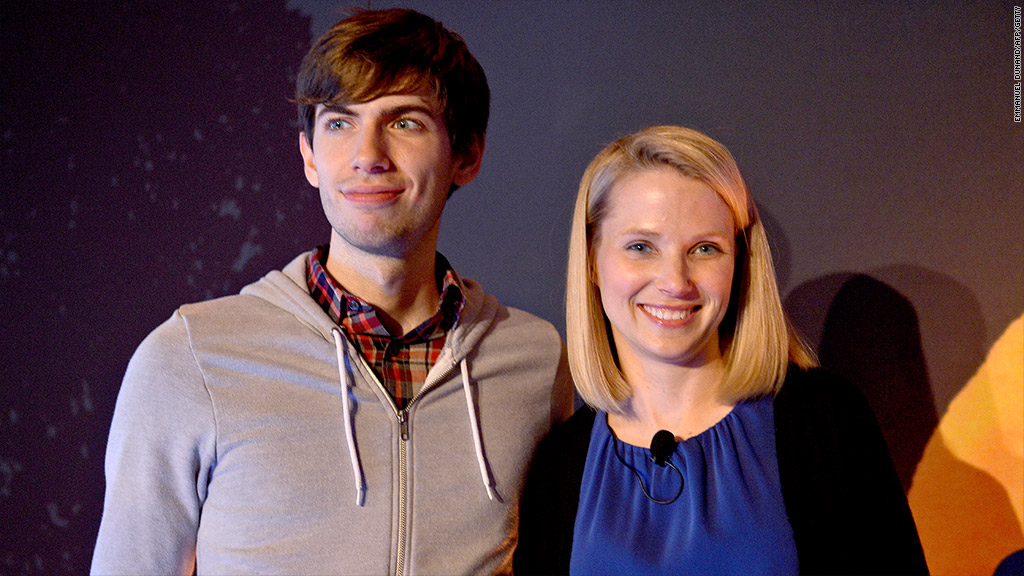 Yahoo spent about a billion dollars on Tumblr, CEO Marissa Mayer's biggest acquisition to date. As it turns out, 75% of that cost was for the social blogging site's cachet with the young techy set.
In its quarterly financial documents filed on Thursday, Yahoo revealed an incredible $751 million of Tumblr's value is "goodwill." Goodwill is corporate speak for the worth of an intangible asset, like the value of a brand name. So in Tumblr's case, that means three-quarters of the cost was for its popularity with the bright young things.
That means the value of Tumblr's cool factor far outweighs the company's actual assets: Yahoo said Tumblr has $74 million worth of tangible assets like servers, and $182.4 million worth of contracts. Its software is worth $23.7 million, and its brand name is worth $56.5 million.
And it turns out Tumblr was running out of cash when Yahoo bought it -- just $17 million were left in the company's coffers. So Tumblr is lucky that Yahoo was looking to add a big buy to its portfolio back in May.
Yahoo also will pay out $110 million to Tumblr's employees, including $81 million to founder David Karp. Those payments to Karp, which will come in the form of cash, stocks, stock options and restricted stock units, will be paid out over four years as long as he remains a Yahoo employee.
Timeline: How Yahoo's acquisitions fit into Mayer's master plan
Those are all big expenses for few assets, but to be fair to Yahoo (YHOO), the aging former Internet portal could certainly use an injection of cool. Mayer has spent much of her tenure as CEO trying to overhaul the culture at Yahoo, and part of that strategy has involved buying up more than a dozen startups. Tumblr in particular captures young users who are highly social and active on mobile -- both weak points for Yahoo.
Karp will stay on as Tumblr's leader, and Yahoo promised to let the site continue running independently. In fact, in its press release announcing the buy, Yahoo said it "promises not to screw [Tumblr] up."
But that probably doesn't mean Tumblr will remain exactly the same. Karp had for years been vocal about his distaste for traditional ads, telling the Los Angeles Times in 2010 that Tumblr was "pretty opposed" to ads and that "it turns our stomachs."
That explains why Tumblr's cash reserves were so low -- but a cool company that doesn't make money isn't enough to justify a $990 million price tag. In May, even as she assured users that things would stay the same, Mayer also promised analysts Yahoo will "monetize" Tumblr in a way that "is meaningful ... to the user experience." She said that Karp and his team agree that Tumblr has grown enough that it makes sense to sell more ads.