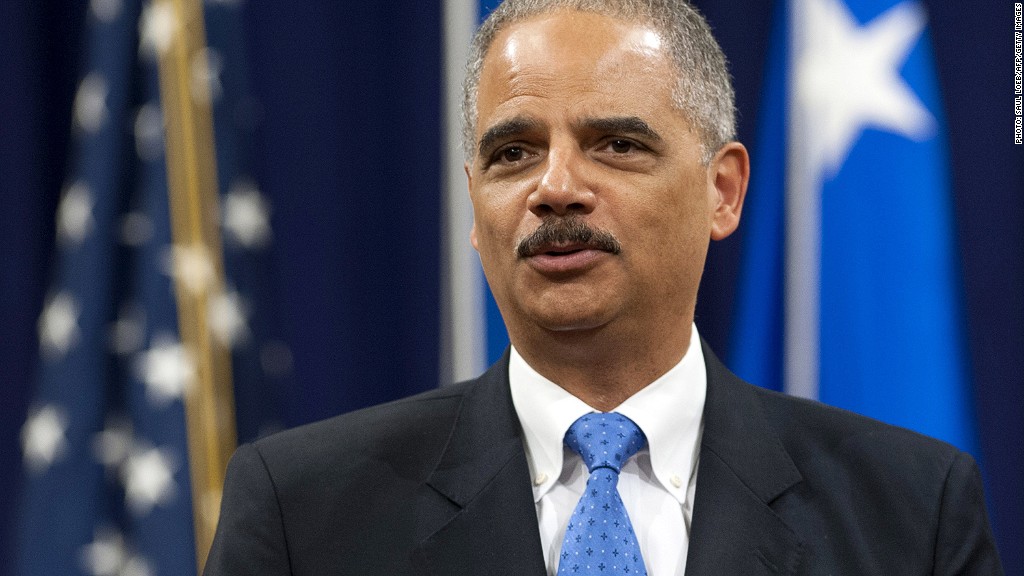 Attorney General Eric Holder's proposals to reduce the cost of incarceration could result in savings for the federal government.
Holder wants to shorten sentences for nonviolent drug offenders and also engage in "compassionate release" for elderly and sick convicts who are no longer deemed a threat to society, according to a speech prepared for delivery Monday to the American Bar Association's annual meeting in San Francisco.
"Although incarceration has a role to play in our justice system, widespread incarceration at the federal, state and local levels is both ineffective and unsustainable," said Holder. "It imposes a significant economic burden -- totaling $80 billion in 2010 alone -- and it comes with human and moral costs that are impossible to calculate."
Holder said those costs can be trimmed by eliminating minimum mandatory sentences for drug-related crimes. His proposed change in the the Justice Department's charging policies would apply only to low-level, nonviolent drug offenders with no ties to organized crime or gangs.
Related: FCC votes to reduce rates for prison phone calls
The attorney general also suggested early release for sick inmates who don't pose a threat to the public and elderly convicts who didn't commit violent crimes and have served a significant portion of their sentence.
Holder's proposal could drastically reduce the cost of incarceration for federal prisoners eligible for the reduced sentences, according to Glenn Martin, vice president of public affairs for The Fortune Society, a prisoner advocacy group.
Martin said the average cost of incarceration is $43,000 per prisoner. That compares to $11,000 for out-patient treatment of a drug addict, and $21,000 for in-patient treatment. Shifting addicts out of prison and into treatment could result in dramatic savings, considering that nearly half of the 200,000 inmates in the federal prison are there for drug offenses.
He said the cost is even higher for elderly convicts, exceeding $100,000 per year for prisoners older than 55.
Related: Prison exclusive: Bernie Madoff can't sleep
"We're spending the most on the people who have the least inclination to offend," said Martin. "People age out of crime. Therefore, why wouldn't you invest your money where you have the most impact? And it's definitely not with a bunch of guys who are old and gray in the prison system."
Robert Blecker, a professor at New York Law School and author of "The Death of Punishment: Searching for Justice Among the Worst of the Worst," agrees that the U.S. prison system "over-criminalizes" nonviolent drug addicts.
"We provide a lifestyle for them inside prison that is meaningfully indistinguishable from what we provide to killers and rapists," said Blecker. "We need to distinguish those who really to deserve to be punished from those who do not."
But Blecker is not as supportive of early release for elderly and sick inmates who inflicted harm on others. "The past counts," he said.