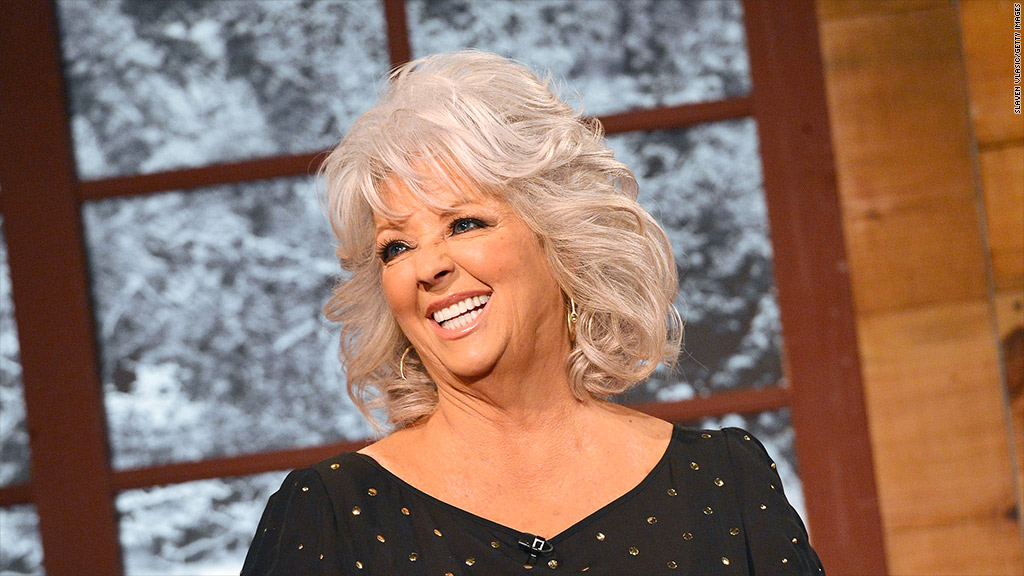 A federal judge threw out a racial discrimination lawsuit against Paula Deen, but the financial damage resulting from the celebrity chef's admitted use of a slur has already been done.
The Southern cuisine expert still has a net worth of $10 million, but her annual earning potential has been cut by several million dollars, according to Brian Warner, managing editor of celebritynetworth.com.
Warner estimated that Deen made between $5 million and $10 million in annual revenue from cookbooks, restaurants, branded retail products, sponsorships and Scripps Networks Interactive (SNI)'s Food Network. He said she probably made a salary of $600,000 from television appearances alone.
But after having lost the Food Network, the sponsorships, and much of the retail business, her annual revenue is reduced to an estimated $3 million, said Warner. That's from her remaining assets: primarily her two restaurants in Savannah, Ga. -- The Lady and Sons and Uncle Bubba's Oyster House -- as well as her accompanying retail store.
"She lost a lot of money from the sponsorships, but I don't think the scandals have affected the restaurants that she owns," said Warner
On Monday, U.S. District Judge William T. Moore Jr. dismissed a racial discrimination lawsuit from Lisa Jackson, a former employee at the restaurants owned by Deen and her brother Bubba Hiers. The judge said that Jackson is white, which makes her "at best ... an accidental victim of the alleged racial discrimination."
During the court deposition, Deen admitted that she had "of course" used the slur in years past, prompting a stampede of fleeing business partners who wanted nothing more to do with her.
The dismissal of the lawsuit is unlikely to repair the damage or bring back Deen's lost revenue.
It began with the Food Network. The cable networl that made Deen famous was the first to sever its relationship by not renewing its contract, which was due to expire shortly after Deen's admission.
Related: Paula Deen's fans lash out at Wal-Mart
This was followed by a cavalcade of sponsors, including retailers Wal-Mart (WMT), J.C. Penney (JCP), Sears (SHLD), Target (TGT), Home Depot (HD) and shopping network QVC, which all vowed to stop selling her kitchen and cookware products. Caesars (CZR) decided to stop operating Deen-themed restaurants at its casinos.
Smithfield Foods (SFD), which had a line of Deen-themed hams, dropped her as a spokeswoman. The pork producer said it "condemns the use of offensive and discriminatory language and behavior of any kind" and that Deen was not "properly aligned" with its goal to be "an ethical food industry leader."
Drugmaker Novo Nordisk (NVO), maker of diabetes treatment Victoza, also suspended its relationship with her. Deen, who is famous for her love of butter and other unhealthy foods, was diagnosed with type 2 diabetes and was set to be a spokeswoman for the Novo Nordisk's "Diabetes in a New Light" educational campaign.
Even her upcoming cookbook, "Paula Deen's New Testament: 250 Favorite Recipes All Lightened Up," got canceled by Ballantine Books of Random House, even though advance sales had pushed it to the top of Amazon's (AMZN) bestseller list.
Related: 26% of U.S. women don't work
But it's not all over for Deen, said Warner, noting that Duane "Dog" Chapman is back on television with his show "Dog the Bounty Hunter." A&E temporarily suspended him in 2007, after his n-word ridden tirade was recorded by a disgruntled son and leaked to the press.
"Nothing's impossible," said Warner, about Deen's chances for a partial comeback. "It takes a lot of time. It takes a lot of hard work. With a much better publicist and PR, there's no reason why she couldn't carve out an interesting niche for herself."
Deen's representatives did not return a message from CNNMoney.