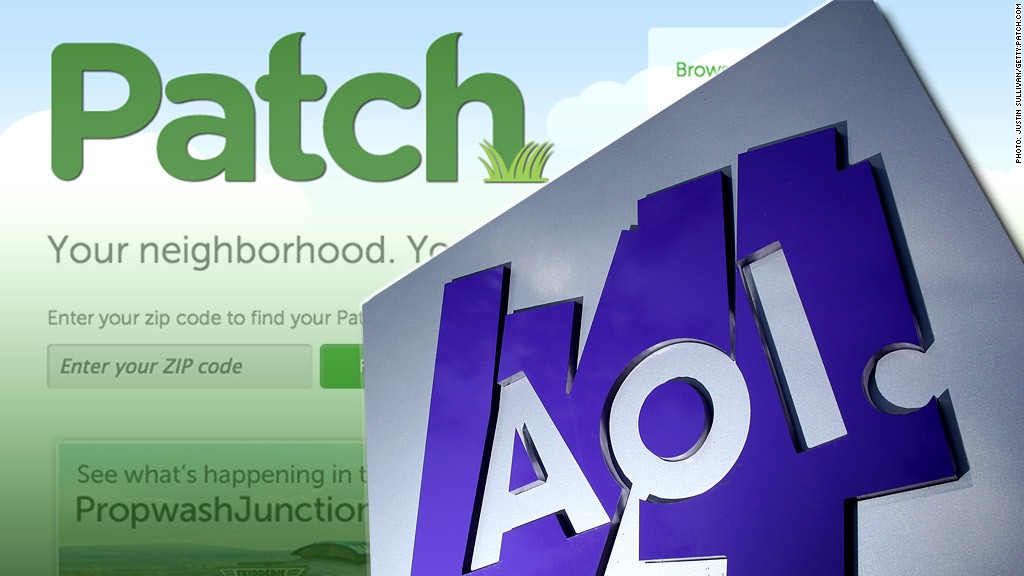 AOL announced plans Friday to cut 10% of its workforce, with staff from its Patch division bearing the brunt.
AOL (AOL) said in a filing with the Securities and Exchange Commission that it had approved a restructuring plan on Thursday for Patch, a collection of community news websites spread around the country.
"The Patch restructuring plan and other Company restructuring actions are currently expected to include the reduction of approximately ten percent of the Company's employee base, the substantial majority of which are at Patch," AOL said.
CEO Tim Armstrong said on a conference call last week that about a third of Patch's 900 sites are underperforming on traffic and revenue. He wants the division to be profitable by year's end.
It's not clear exactly how many Patch sites or employees are being axed; AOL did not immediately respond to a request for comment.
AOL said it will book charges of between $14 million and $18 million this year as a result of the restructuring, but that the resulting cost savings will boost operating income by at least $30 million.
Related: AOL CEO says publicly firing employee was a mistake
Co-founded by Armstrong in 2007, Patch was designed to replace local newspapers around the country. Patch sites typically cover single neighborhoods, with one or two journalists posting stories on local politics, schools, crime and community news.
AOL acquired Patch for an estimated $7 million when Armstrong became CEO in 2009 and has since invested millions of dollars in the venture.
Armstrong said last week that AOL had already reduced Patch-related costs by 25% this year, but that further cuts were coming.
Related: Journalist jobs are picking up
AOL's other media properties include The Huffington Post and TechCrunch.
CNNMoney's Katie Lobosco contributed reporting.