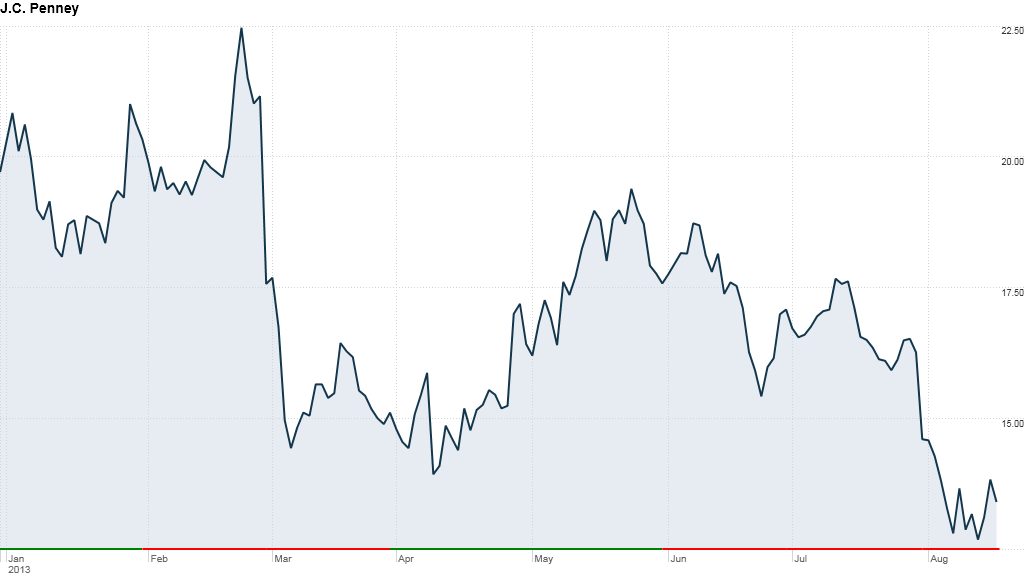 Bill Ackman may no longer be the main source of tension at J.C. Penney after quitting the company's board last week. But the beleaguered retailer's troubles are far from over.
J.C. Penney (JCP) is slated to report its second-quarter results Tuesday morning, and it's unlikely that the retailer will have much good news to share with investors.
In fact, analysts are expecting a ninth straight quarterly drop in sales and another large loss, even as returning CEO Mike Ullman aggressively tries to clean up the mess left by ousted CEO Ron Johnson.
"The bottom line is that the second quarter is going to be really bad for J.C. Penney," said Brian Sozzi, chief equities strategist at Belus Capital Advisors. "It's still fighting with the ghost of Ron Johnson when it comes to the merchandise, so customers still haven't regained their trust in J.C. Penney."
Related: J.C. Penney: A buy or a sell?
Investors will be looking for a possible glimmer of hope though. According to a report in The New York Post last week, J.C. Penney's same store sales, a key measure of health for retailers, began to improve in August.
"We need to know whether or not J.C. Penney has achieved stabilization in sales and whether it has any momentum going into the end of the year," said Sozzi. The second half of the year is typically much stronger for retailers. Back-to-school shopping kicks in during August while the fourth quarter includes the holiday shopping season.
With that in mind, analysts are eager to see if J.C. Penney is able to provide any upbeat guidance about the third and fourth quarter. But It doesn't help that many other retailers in a stronger position than J.C. Penney all issued relatively weak outlooks last week. Wal-Mart (WMT), Macy's (M) and Nordstrom (JWN) all disappointed investors.
"The holiday quarter is critical for any retailer, and they'll need to show they're on the road to making some serious improvements because their future is dependent on it," said Paul Swinand, Morningstar analyst.
"A lot of J.C. Penney's wounds are self-inflicted," Swinand added. He argued that J.C. Penney does have a chance to fix itself with the "right merchandise and pricing." The company isn't necessarily struggling from online competition in the way that Blockbuster, Borders, Circuit City did. Those three retailers all went bankrupt. Borders and Circuit City were forced to shut their doors for good.
Related: Bill Ackman rides the crazy train
Nobody is really talking about the possibility of a Chapter 11 filing for J.C. Penney just yet. But its balance sheet will be in the spotlight amid ongoing liquidity concerns.
The retailer shot down reports earlier this month that commercial lender CIT stopped providing financial support to small suppliers that sell merchandise to it. Despite the denials, analysts remain worried that CIT (CIT) could eventually halt lending to suppliers. If that happens, J.C. Penney would either need to pay its suppliers in cash or cut back on its inventory.
Still, J.C. Penney should be helped by the fact that Ackman will be less of a distraction. With the backing of the rest of the board, Ullman should be able to focus on executing his turnaround strategy.
But Ackman could still crate some trouble. Just a few days after Ackman left the J.C. Penney board, he reached an agreement with the company that allows him to register to sell shares of J.C. Penney in up to four separate blocks.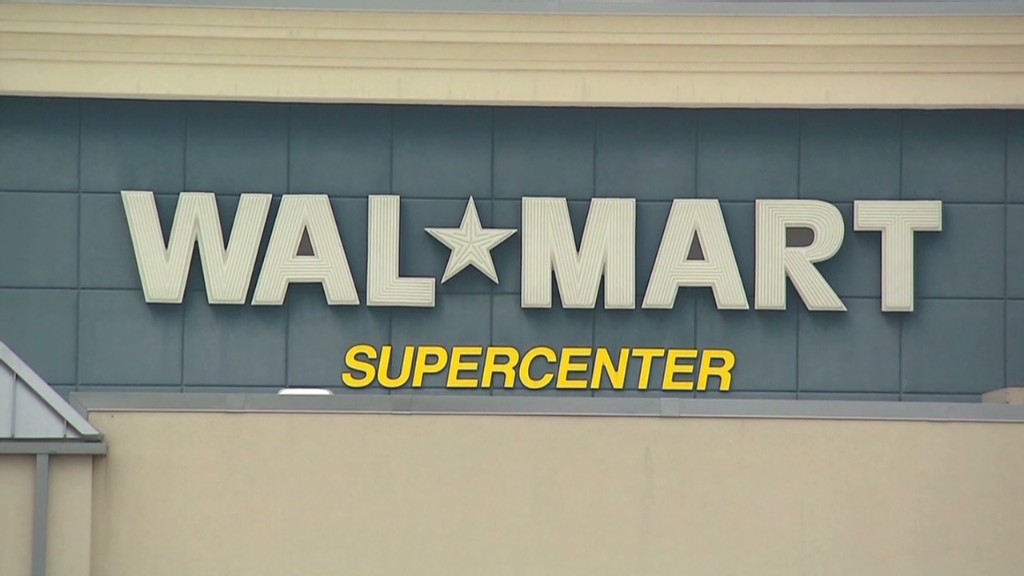 Ackman owns a 18% stake in the company. So once he does start selling, that could create more problems for a stock that is already down more than 30% this year, and more than 60% since the start of 2012.
"The fact that Ackman will be creating fewer headlines will be important for Ullman and overall confidence among vendors and investors," said Sozzi. "But I worry about that signal to the market when Ackman begins dumping his stock. He has been privy to all sorts of information for a long time, and if begins selling sooner than later, he'll be showing that he's willing to take a loss for fear of losing more money."