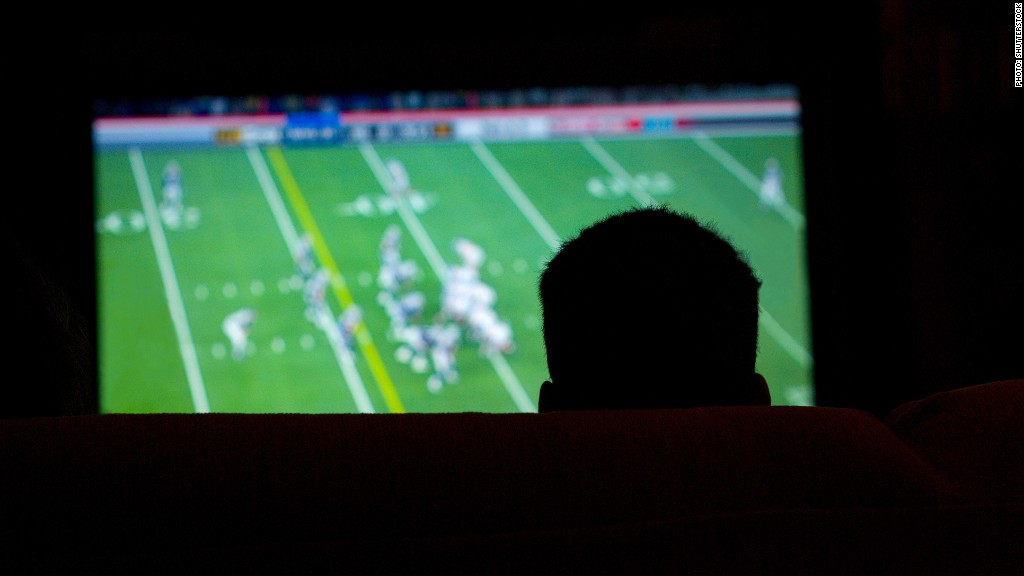 Here's an idea for what Apple should do with its $147 billion in cash: buy the digital rights to National Football League games.
AllThingsD reported on Wednesday that Google's top brass recently met with NFL Commissioner Roger Goodell to discuss broadcasting live NFL games on YouTube. It's a neat idea, particularly when combined with Google's new $35 Chromecast gadget that allows users to stream YouTube videos on their TV sets.
NFL spokesman Brian McCarthy confirmed that the meeting took place. Google did not comment.
But if Apple (AAPL) really wants to get serious about television (stop me if you've heard that rumor before), adding the NFL is a no-brainer.
Apple already airs professional baseball, hockey and basketball games on the Apple TV. It also comes with the Watch ESPN app, which allows users to watch live tennis matches, golf tournaments and college football and basketball games aired on the Disney (DIS)-owned sports giant. But in the United States, the NFL is the crown jewel.
Fox (FOXA) and CBS (CBS) have agreements to air games locally. Comcast's (CMCSA) NBC has the rights to Sunday night games while ESPN airs "Monday Night Football."
DirecTV (DTV) currently has the exclusive broadcast rights for a package that lets fans watch any NFL game they want on Sundays. That's part of a contract that lasts for two more seasons (including this year's, which starts in a couple weeks). More than 2 million DirecTV customers subscribed to its NFL Sunday Ticket package last season.
One potential hangup: The satellite provider is likely losing money on its NFL deal. DirecTV pays the NFL $1 billion a year for the package, and subscribers pay between $200 and $300. That's why DirecTV's NFL deal appears to be more about adding subscribers than financial gains.
Related story: Apple TV adds HBO Go and WatchESPN
Apple isn't known for entering expensive, money-losing ventures. But there's a chance it wouldn't have to pay upwards of $1 billion for the deal. For the exclusive mobile rights to NFL games, Verizon (VZ) pays about a quarter of what DirecTV pays.
Even if Apple did end up losing money, the prospect of adding the NFL exclusively could add some steam to Apple TV's tepid adoption. Apple has only sold about 13 million of the devices since it debuted in 2010. Sales have begun to speed up this year though as Apple began to add new premium content, including the popular HBO Go service -- owned by CNNMoney parent company Time Warner (TWX).
Apple was not immediately available for comment about this story.
If Google (GOOG) bought the NFL rights, it's possible that Apple TV users would still be able to watch football games via the YouTube app. But so could users of Roku, Microsoft's (MSFT) Xbox, Sony' (SNE)s PlayStation and so on. But if Apple won exclusive rights, it seems a good bet that Apple would sell many more of those $99 Apple TV set-top boxes.
Well, in the United States anyway -- the NFL hasn't taken off in other countries that play the other football.
-- CNN's David Close contributed reporting to this story.