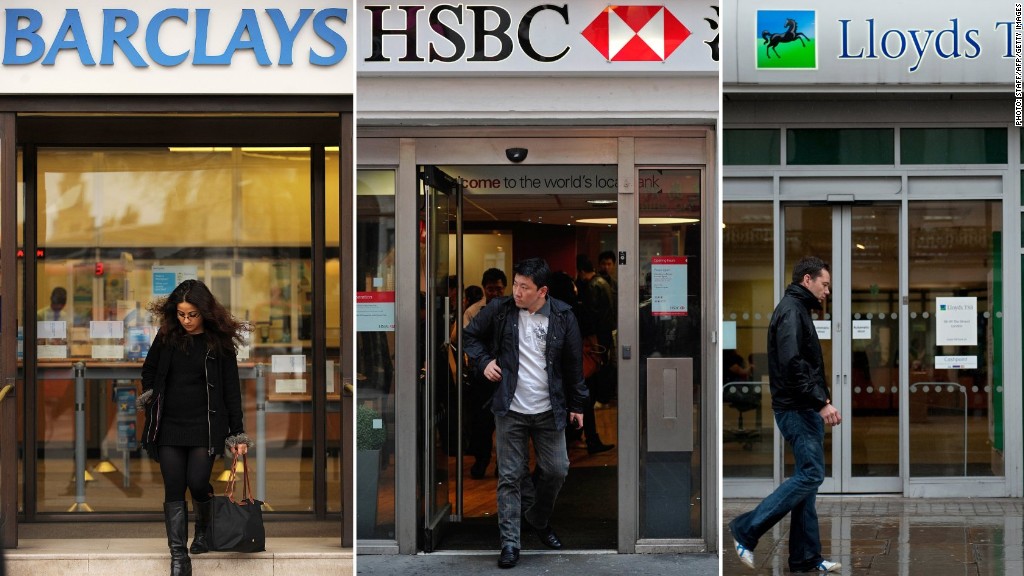 Banks and credit card issuers will have to pay up to £1.3 billion ($2 billion) compensation to British customers who were sold identity theft and fraud protection policies they didn't need.
It's the latest in a series of fines, settlements and compensation payments in the industry as banks try to move on from a recent sorry history of manipulating interest rates, breaking money-laundering laws and selling individuals and businesses complex products that were inappropriate or not properly explained.
Regulators said they were setting up a program to allow seven million customers to claim compensation relating to 23 million insurance policies sold by Card Protection Plan (CPP), which was fined £10.5 million in November 2012.
"Customers were given misleading and unclear information about the policies so that they bought cover that either was not needed, or to cover risks that had been greatly exaggerated," the Financial Conduct Authority said in a statement.
Related: America's favorite credit cards
The policies cost between £30 and £80 per year and were widely mis-sold by CPP. Many customers were referred to CPP by the biggest names in U.K. financial services.
Thirteen banks and credit card issuers, including Barclays (BCBAY), HSBC (HBC), Morgan Stanley (MS) and MBNA, will join CPP in the compensation program, which is open to anyone who bought one of the products since 2005.
Customers due compensation will be entitled to the amount they paid for the policy, less any payouts, plus 8% interest on the amount owed.
Other banks participating in the compensation program are Lloyds (LLDTF), Canada Square Operations Limited (formerly Egg Banking), Capital One (COF), National Australia Group, Home Retail Group (HMRLF), Nationwide Building Society, Santander (SAN)and Tesco (TESO)Personal Finance.
Related: Ex-JPMorgan bankers charged over London Whale
The bill is small compared to the $20 billion the U.K. sector has already paid out to compensate buyers of payment protection insurance aggressively sold at inflated prices alongside mortgages and other loans for more than a decade.
But it comes as banks are still struggling to strengthen their balance sheets to make up for the cost of past misconduct and to meet new tougher rules on capital and liquidity introduced in the wake of the global financial crisis.
Barclays said last month it was looking to raise £7.8 billion by issuing new shares and debt to help plug a £12.8 billion cash gap identified by regulators. It is also shrinking its balance sheet.