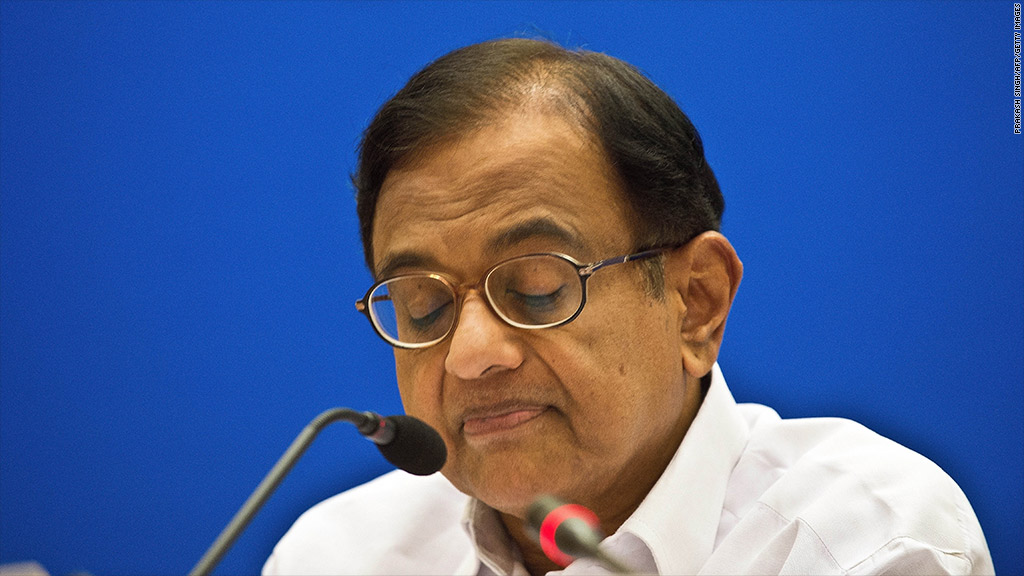 India's finance minister is trying hard to restore calm to the country's financial markets.
India has had a rough few weeks, with the rupee falling to a historic low and equity markets tumbling by 11% as investors pull their money out of the country.
In a press conference Friday, Finance Minister P. Chidambaram tried to restore confidence even as he acknowledged that the country was facing a challenging time.
"We believe that the rupee is undervalued and has overshot what is generally believed to be a reasonable and appropriate level," he said, according to a written statement. "Capital inflows will, in due course, correct the position."
India has been caught up in an emerging markets sell-off, triggered by talk of tighter U.S. monetary policy. But the slide has been exacerbated by local factors, including a large current account deficit, which reflects the nation's tendency to import more than it exports and leaves it reliant on foreign capital.
Chidambaram vowed to shrink India's current account deficit this fiscal year, bringing it down to $70 billion from $88 billion in 2012-2013.
He reassured investors that "there was -- and is -- no intention to introduce any type of capital control", which could further choke off foreign investment.
Related: Indian stocks plunge 11% in a month
Despite vows to stabilize the economy and allow the free flow of capital, investors and economists seem unconvinced.
Chidambaram's words appear to contradict the government's controversial move last week to restrict the amount of money Indian citizens can take out of the country. Similar restraints on how much Indian companies can invest abroad sparked concerns that foreigners may be subject to restrictions on their cash.
Kathleen Brooks, a research director at FOREX.com, said that policymakers' reaction to the slide in the rupee has been "piecemeal" and contradictory.
"They have limited the flow of money, and that's a capital control," she said.
Related: Nissan resurrects Datsun in India
India's economy grew by 5% in the year to March 31, 2013, its slowest pace in a decade, and failed to pick up pace in the first quarter of the current fiscal year.
Chidambaram said he was considering further economic reforms and forecast that growth would accelerate over the next few quarters.
"Therefore, there is no cause for the panic that seems to have gripped the currency markets and that is feeding into other markets," he said.
Chidambaram's reassurances that growth will soon gain speed may be optimistic. Analysts say corruption and bureaucracy are slowing progress.
"India has been ravaged by crony capitalism and corruption in the last five years," said Sourindra Banerjee, assistant professor of marketing at the Warwick Business School. "The country has always suffered from this, but with so much foreign investment now tied up in Indian financial markets it can't get away with it anymore."
And time for making bold new reforms is running out with national elections due to take place by May 2014.
On Thursday, the rupee hit a record low versus the U.S. dollar, falling by roughly 20% in less than a year. The rupee recovered slightly Friday and the country's benchmark index, the Mumbai Sensex, bounced back at the end of the week from its latest series of falls.