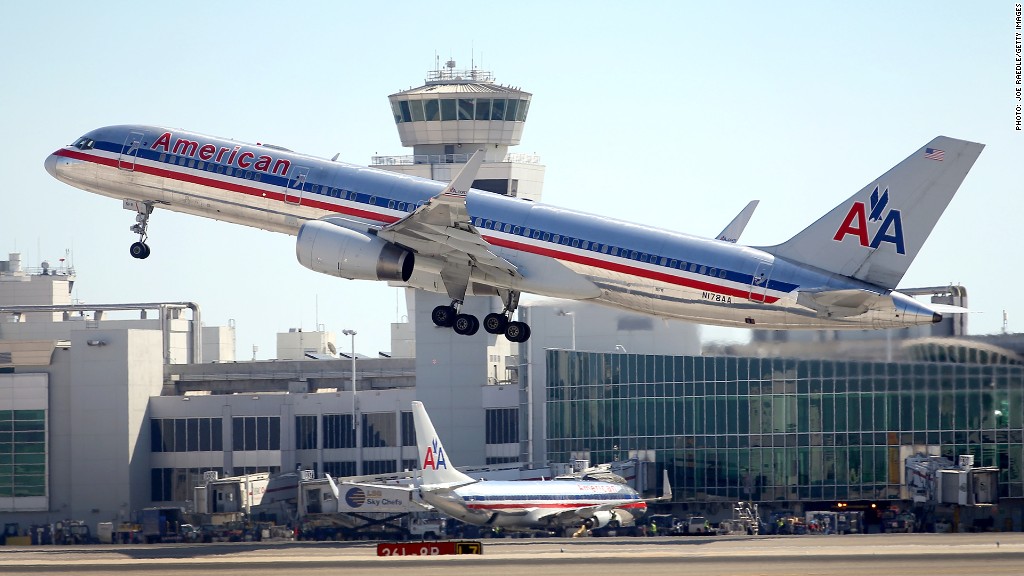 American Airlines posted a record monthly profit in July -- not bad for a company that's still in bankruptcy.
The airline said in a securities filing Monday that it earned a record $349 million in July, or $292 million when reorganization costs were taken in account.
"[W]e are completing one of the most successful turnarounds in aviation history," Tom Horton, chairman and CEO of American parent AMR (AAMRQ), said in a memo to employees.
The news comes after the Department of Justice filed a lawsuit earlier this month in an attempt to block the proposed merger between American and US Airways (LCC), saying it would "substantially lessen competition" for commercial air travel. The DOJ argued that the two companies would remain viable without merging, saying American had used the bankruptcy process "to lower its costs and revitalize its fleet."
"A revitalized American is fully capable of emerging from bankruptcy proceedings on its own with a competitive cost structure, profitable existing business, and plans for growth," the Justice Department said.
Related: Questions about price hikes surround American-US Airways deal
American earned $135 million in July of last year after reorganization costs. The airline posted $1.94 billion in passenger revenue last month versus $1.81 billion a year prior, while labor costs fell to $523 million from $597 million in July 2012.
AMR filed for Chapter 11 bankruptcy in November 2011, a move that followed a round of aviation bankruptcies in the preceding decade from carriers including US Airways, Delta, Northwest and United. At the time, Horton said the company was forced into Chapter 11 because of cost disadvantages it faced compared to rivals that had already gone though bankruptcies
The proposed merger of American and US Airways would create the world's largest airline. The two companies have said the deal "provides the best outcome for AMR's restructuring."
Earlier this month, a judge deferred approval of American's plan to emerge from bankruptcy, citing concerns about the impact of the Justice Department lawsuit. The two companies are seeking a November trial date to contest the suit.
"We're ready to make our case in court for the merger's significant benefits to all of our stakeholders and the communities we serve," Horton said in his memo Monday.