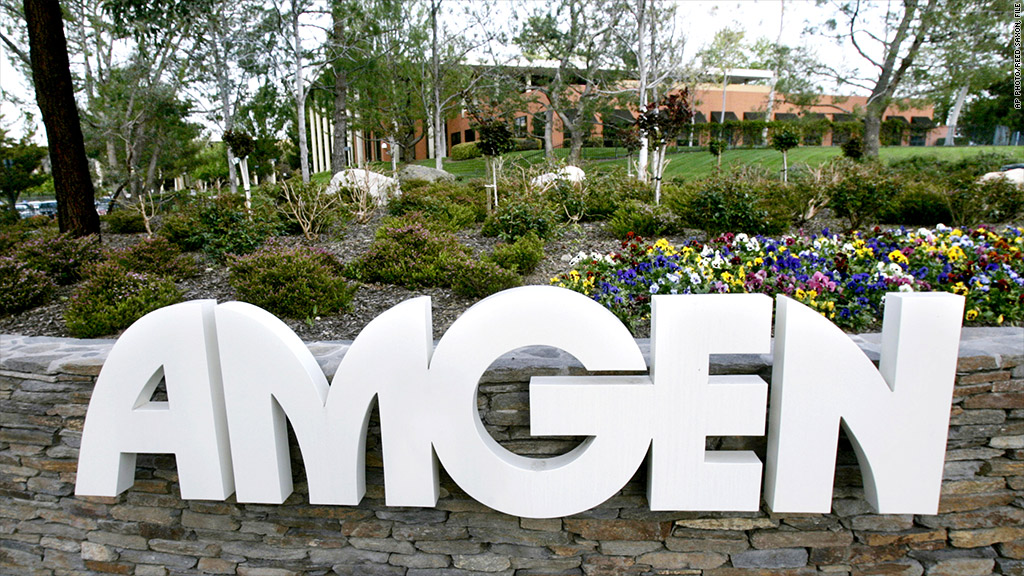 Looking to get a stronger footing in the cancer drug market, Amgen, the world's largest biopharmaceutical company, has struck a deal to buy Onyx Pharmaceuticals for $10.4 billion.
The agreement, announced Sunday, sent Amgen (AMGN) shares up 9% and Onyx (ONXX) shares up 5% in midday trading Monday.
Amgen has agreed to acquire all outstanding Onyx shares for $125 per share, a deal it expects to close at the start of the fourth quarter. Both companies are based in California.
The deal gives Amgen access to Onyx's three cancer treatment drugs: Nexavar, Stivarga and palbociclib. The acquisition will also position Amgen to benefit from the launch of Onyx's Kyprolis, a drug for myeloma, a type of bone cancer.
Related: China widens drugs corruption crackdown
Amgen has long had its eye on Onyx. In June, Amgen made an unsolicited takeover bid for $120 per share. Onyx rejected it, saying the deal "significantly undervalued Onyx" and "was not in the best interest of Onyx or its shareholders."
The second time proved a charm. In a statement Sunday, Amgen CEO Robert A. Bradway said, "I look forward to bringing the talented people of Onyx and Amgen together as we continue to fulfill our commitment to unlocking the potential of biology for patients suffering from serious illnesses."
The acquisition might be a way to stave off investor fears that Amgen's product line has grown old.
Standard & Poor's analysts noted the problem in a 2009 report, saying that "Amgen is facing several years of low sales growth" due to its older drugs. Access to Onyx's line would change that.