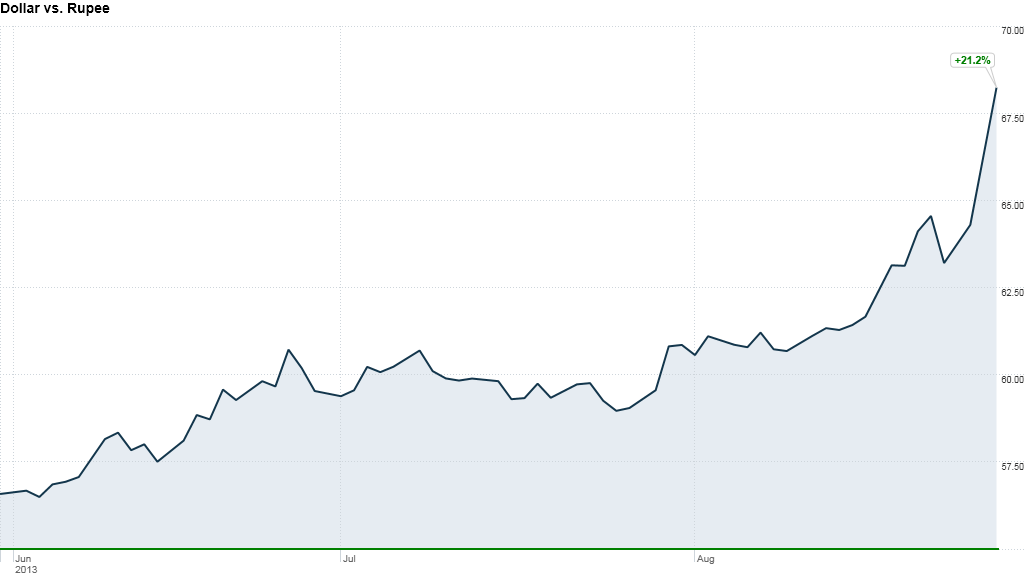 The Indian rupee extended losses to another record low on Wednesday as government efforts to stabilize markets failed and investors continued to pull money out of the country.
The battered Indian currency lost more than 3.5% in early trading before finding support. The initial drop pushed the rupee close to 69 against the dollar, a level that was unthinkable only a few weeks ago.
The Mumbai Sensex, the country's benchmark index, followed the rupee lower before mounting a recovery. The index has lost 11% of its value in the past month.
"All the markets are linked right now," said Samir Lodha of Indian financial advisory firm QuantArt Market. "Growth is slowing down; interest rates are very high. Combine that with the global problem of stimulus unwinding by the Federal Reserve, and that takes investment out of emerging markets."
Related: India's finance minister tries to stem panic
The threat of a military strike against Syria by western powers has further unsettled investors and sent oil prices soaring. The timing could not be worse for India, which is the world's fourth-largest oil importer, bringing in on average nearly 3 million barrels a day.
Even before the spike in oil prices, investors were worried about India's $88 billion current account deficit, which reflects the nation's tendency to import many more goods than it exports and leaves it heavily reliant on foreign capital.
India's troubles this month have been mirrored in other emerging markets, which have endured a sell-off triggered by talk of tighter U.S. monetary policy.
In response, policymakers in India have unveiled a series of measures designed to support the rupee, including limits on the import of gold, oil and other key commodities.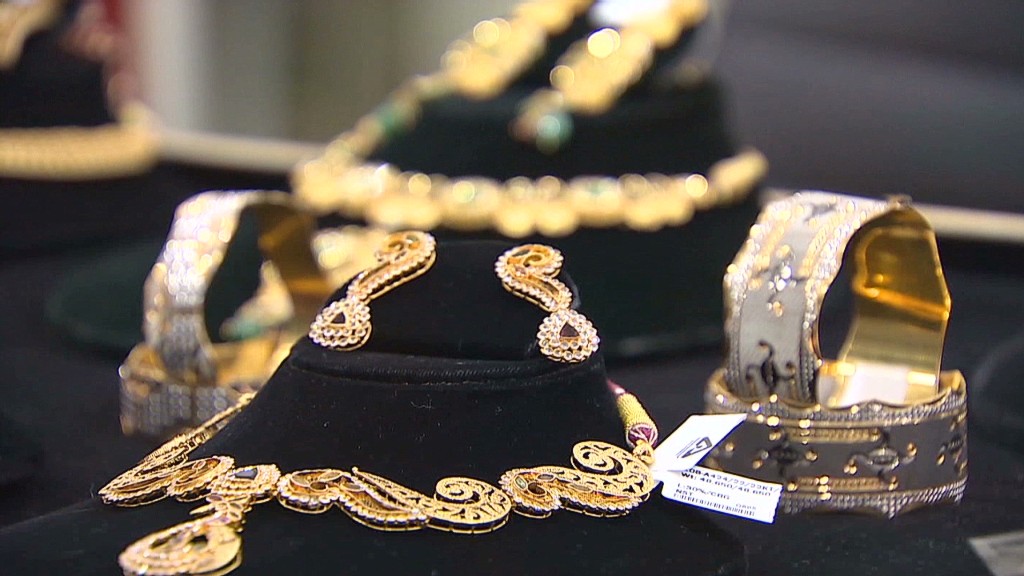 The government made another controversial move to restrict the amount of money Indian citizens can take out of the country, and similar restraints were placed on outgoing corporate investment.
India's economy grew by 5% in the year to March 31, 2013, its slowest pace in a decade, and failed to pick up pace in the first quarter of the current fiscal year.
Related story: BRIC markets left in the dust
Economists have long argued that India needs to implement structural economic reforms to bring about meaningful progress.
Last year, parliament lifted restrictions on foreign direct investment after much debate -- a key step.
But investment dollars have not materialized as international companies seek more details about the new policy and remain wary of a change in the political winds that could reverse the decision.
Earlier this week, lawmakers took another controversial step, passing a bill to provide cheaper grain to the poor. While the measure will bolster the leading party's political position, analysts worry it will also cause the country's fiscal deficit to increase further.