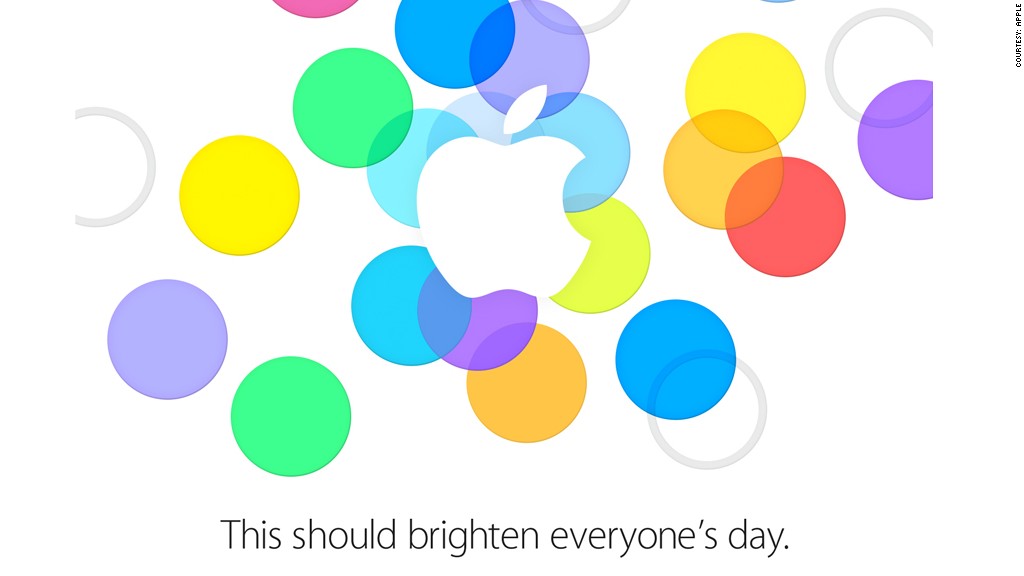 It's official: Apple sent invitations for a much-buzzed about event in Cupertino on Sept. 10.
Hype has been building for weeks that the company would unveil new products the second week of September, but Apple (AAPL) made it official Tuesday.
The company has all but confirmed it will be launching a new iPhone, and the invitation does nothing to quell the rumors. The invite is bursting with bright pastel bubbles in the same color scheme that's used for the iOS 7 operating system on which its new iPhone will likely run.
Related: 5 rumors likely to come true
Along with a new iPhone, reports are split on whether a refreshed iPad is also on tap. There's a lot of speculation about what products Apple might come out with next, including a low-cost phone, an iWatch and its long-awaited TV.
The event comes at a crucial time for the company. While sales for the iPhone and iPad have mostly been rising, Google's (GOOG) Android is growing at a much faster clip. Thus far, Apple hasn't been able to pump the brakes on the trend.
Part of the problem is that Apple hasn't launched a new smartphone or tablet in about a year, while rivals are releasing new devices far more frequently.
Shares of the company were up about 1% in midday trading.
--CNNMoney's Julianne Pepitone contributed to this report.