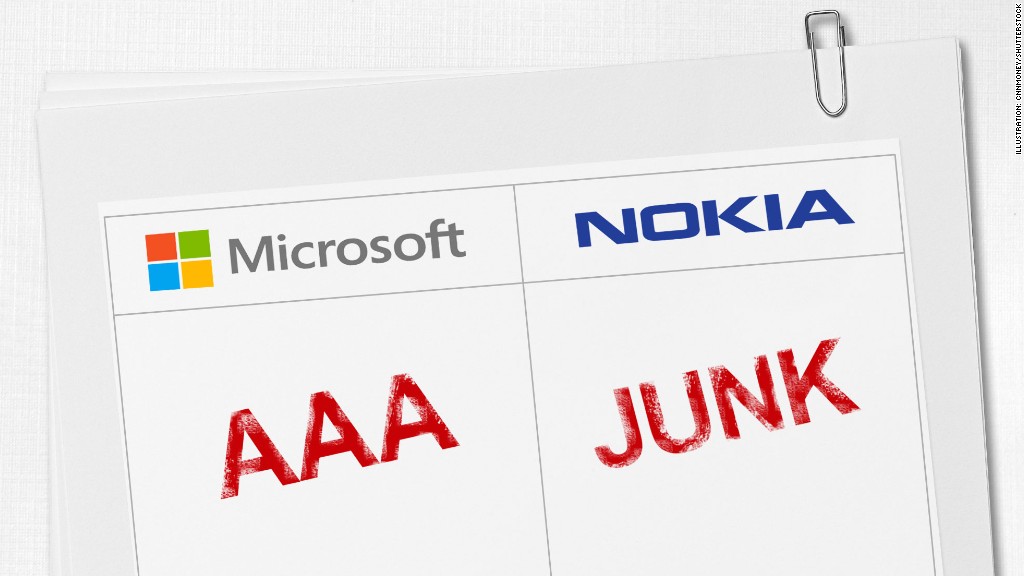 It's a marriage of unequals: A U.S. firm with the highest credit rating is coupling with a company technically known as "junk."
Microsoft is one of only four U.S. companies that currently holds a top-tier AAA credit rating. And on Monday, it said it would buy Nokia, which carries a "junk" rating.
Nokia's (NOK) phone division isn't small potatoes. Microsoft (MSFT) will be adding about $20 billion in annual revenue and 32,000 new employees to its ranks, increasing its headcount by a third and its sales by a quarter.
But will the purchase impact Microsoft's credit rating? Standard & Poor's said the acquisition "does not materially alter our view of Microsoft's excellent business risk profile."
Moody's (MCO) and Fitch Ratings, the other two largest credit rating agencies, declined to comment.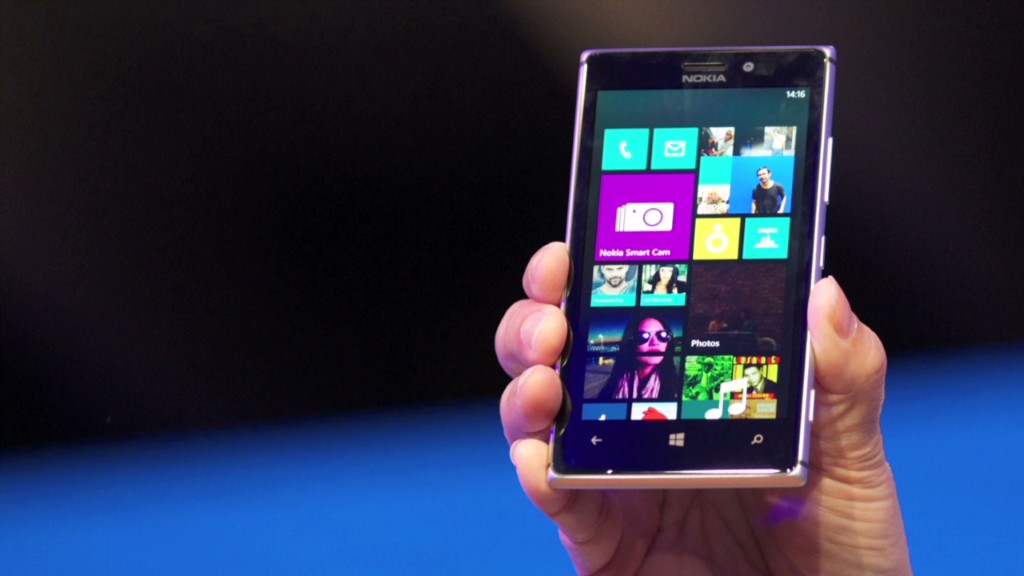 Credit ratings help bond investors determine the likelihood that a company will repay its debts. A lower rating means a company is more likely to default, typically forcing those companies to pay higher yields on money they borrow.
If Microsoft does get taken down a couple of notches, it will be because Nokia is a deeply troubled company. It lost €3.3 billion ($4.3 billion) over the past eight quarters and is rapidly losing relevance in the mobile market it once led for 14 straight years.
Related story: Microsoft and Nokia are a marriage of necessity
When Fitch first downgraded Nokia to "junk" status last year, it cited "the deterioration in the company's core devices and services division" and its continued losses. Fitch reaffirmed that rating last month, noting that Nokia's situation hasn't vastly improved.
S&P also rated Nokia as junk, but Moody's placed the company's credit on the low end of "investment grade." Both companies gave Microsoft's credit a perfect AAA rating, while Fitch placed it one notch below at "AA+."
Microsoft is joined by Automatic Data Processing (ADP), Exxon Mobil (XOM) and Johnson & Johnson (JNJ) as the only U.S. companies to hold a AAA rating.