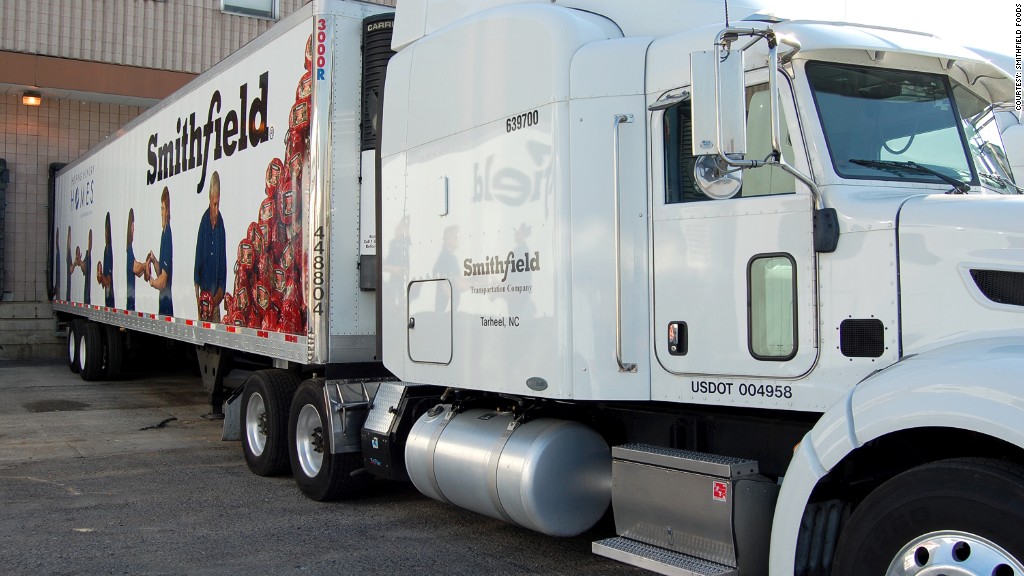 A U.S. review of the controversial proposed buyout of Smithfield Foods by Chinese firm Shuanghui International could wrap up on Friday.
If approved, the nearly $5 billion deal would be the largest acquisition of a U.S. company by a Chinese buyer.
Smithfield Foods (SFD), the world's largest pork processor, and Shuanghui International announced the proposed acquisition in late May, saying it would open more of the Chinese market to Smithfield products at a time when pork consumption in China is rapidly growing.
When a foreign entity seeks to gain control of a U.S. company, the deal undergoes a detailed review by the Committee for Foreign Investment in the United States, known as CFIUS, to assess any potential national security impact.
Related Story: China's expensive love affair with pork
Smithfield and Shuanghui voluntarily submitted the deal for review. If the committee determines there are concerns that can't be resolved, it can recommend a presidential review. Only the president has the authority to suspend or prohibit a transaction.
In late July, Smithfield said the CFIUS review had been extended for an additional 45 days and was expected to conclude no later than Sept. 6.
Related Story: Is pork a national security asset?
A spokeswoman for the Treasury Department, which oversees CFIUS, declined to comment, saying that by law the agency cannot disclose any information under review.
The proposed deal has become a lightning rod for criticism from U.S. lawmakers and industry groups who say it could be detrimental to American industry, intellectual property and national security.
Related Story: Smithfield CEO: No meat will be imported from China
The backlash prompted a July hearing by the Senate Committee on Agriculture, Nutrition and Forestry. Smithfield CEO Larry Pope told lawmakers during the hearing that Shuanghui's planned purchase "will not result in any U.S. imports of food from China."
Pope said the deal is aimed at significantly expanding the market for Smithfield products in China but it wouldn't change how Smithfield does business.
To that end, Shuanghui said it intends to retain Smithfield's management team, plants, employees and contracts with more than 2,000 hog farmers across the United States.