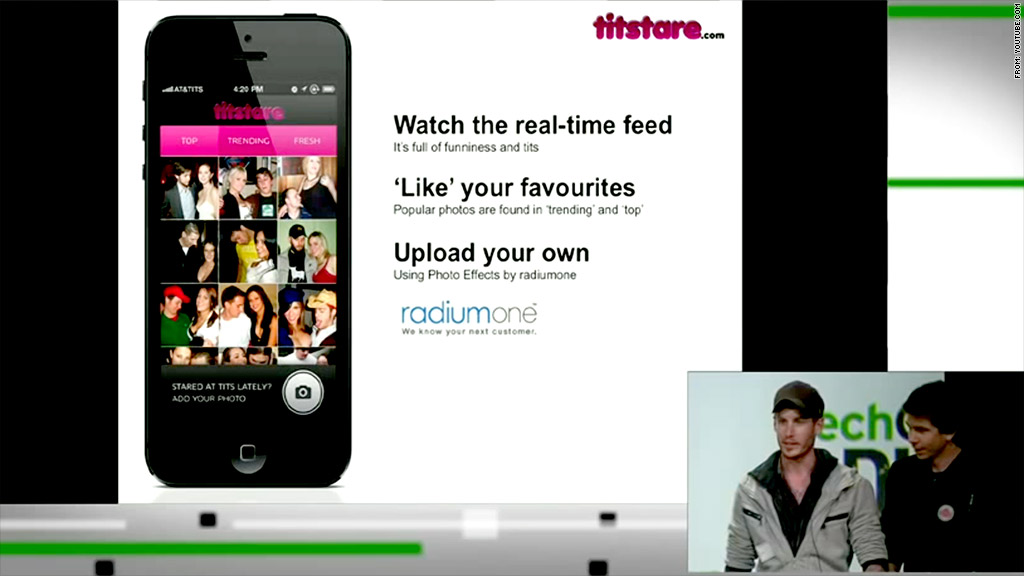 Two controversial new apps unveiled at the annual TechCrunch Disrupt technology conference on Sunday promoted masturbation and staring at women's breasts, sparking yet another debate about sexism in the tech world.
A duo of entrepreneurs from Australia showed off an app called "Titstare," which featured photos of people looking at women's cleavage. Presenting what they had created during a hackathon to an audience of other entrepreneurs and influencers, the duo deemed it the "breast" hack ever.
Another entrepreneur demoed "CircleShake," an app that measures how quickly someone can manually shake his or her phone. As part of the presentation, the hacker pretended to masturbate on stage.
While the audience chuckled and cheered, not everyone was amused.
"There goes my attempt to teach my 9yo girl how welcoming tech industry is to women :/," Silicon Valley startup veteran Richard Jordan posted on Twitter. His daughter was presenting her own hack.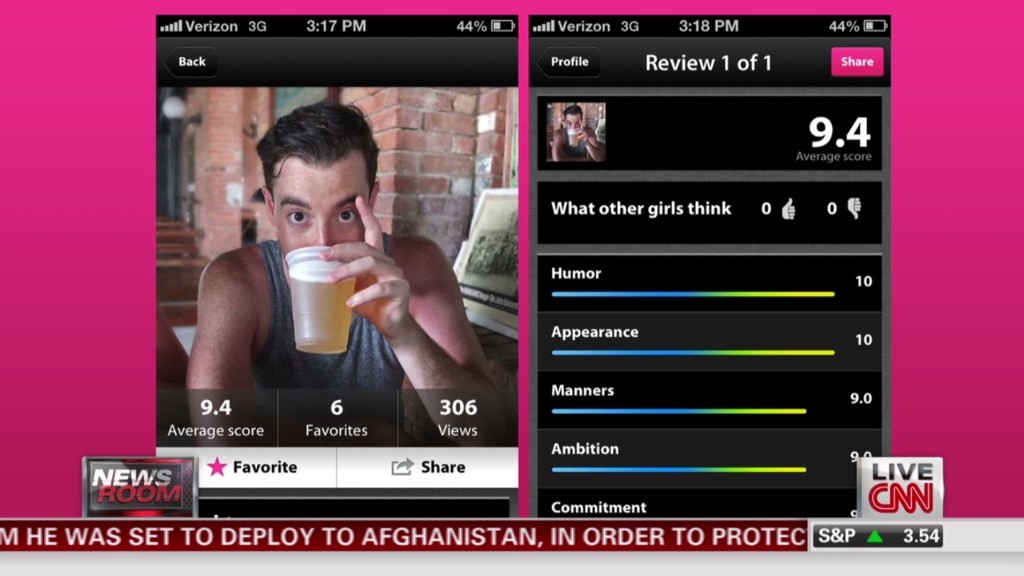 Jordan signed up for the hackathon to encourage his nine year old daughter, Alexandra to pursue her interest in technology. Currently taking online coding classes, she was present for both presentations.
"I felt uncomfortable and I thought if I were a woman, I would have felt tremendously like this is not a group of people that are letting me in," Jordan told CNNMoney.
Related story: Startups have a sexism problem
Had both presentations been met with silence, Jordan said the impact would have been less severe.
"But when they're getting cheers," he said. "It's like the whole room's not with me on this."
TechCrunch editors immediately issued an apology and vowed to screen future presentations ahead of hackathons, banning "sexism or other discriminatory speech."
"Normally our hackathons are a showcase for developers of all stripes to create and share something cool," the AOL-owned (AOL) site posted. "But earlier today, the spirit of our event was marred by misogynistic presentations. Sexism is a major problem in the tech industry, and we've worked hard to counteract it in our coverage and in our hiring."
The conference, which attracts tech titans like Facebook's (FB) Mark Zuckerberg, LinkedIn's (LNKD) Reid Hoffman, Yahoo's (YHOO) Marissa Mayer and a host of burgeoning startup entrepreneurs has been a launching venue for startups since 2010. Each year, TechCrunch Disrupt kicks off with a hackathon, in which entrepreneurs spend hours building out new tech ideas.
Whether made in jest or not, misogynistic comments are increasingly in focus at tech conferences. In March, two male attendees at software developer conference PyCon made a joke about "big dongles" and "forking," a play on tech terminology. The joke was made public and sparked controversy after developer Adria Richards snapped a photo and posted the image with a caption on Twitter.
One of the developers was fired, and in a bizarre twist, Richards was fired for "publicly shaming the offenders."
Despite the obstacles, Jordan still wants his daughter to pursue her interest in technology. Her presentation, an app to help schedule playdates, made headlines.
"It's all about her having a good experience because at this sort of age, it's the age we lose our young women from the sciences and technology," Jordan said.