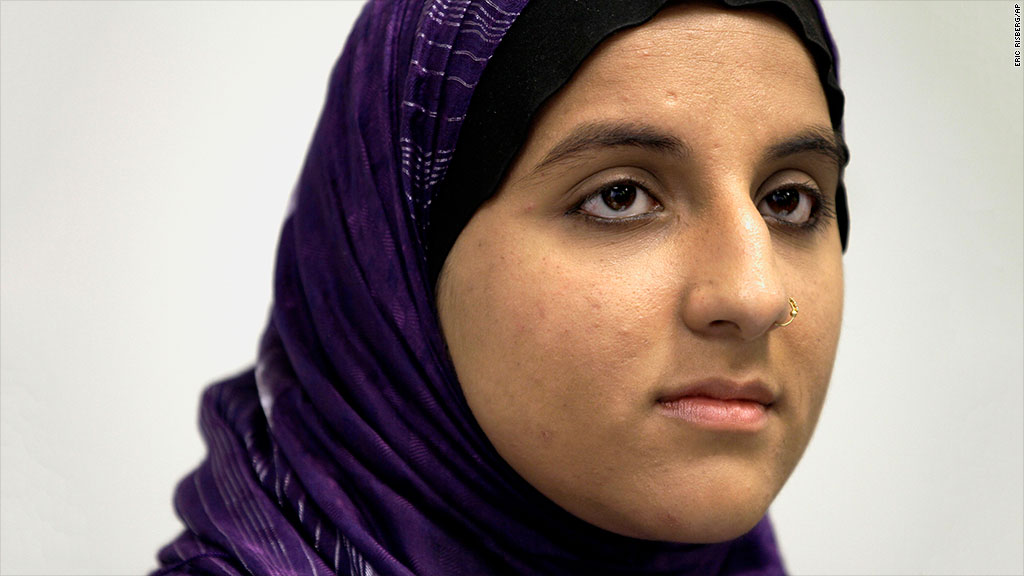 A federal judge in California ruled that Abercrombie & Fitch violated the law in firing a Muslim employee for refusing to take off her religious head scarf at work.
The lawsuit, originally filed in 2011, accused Abercrombie of discriminating against Umme-Hani Khan.
Abercrombie fired Khan, then 19, from a store in San Mateo.
"I was just really upset about what happened and I didn't want it to go by, because if it happened to me, it could happen to anyone," Khan told CNNMoney.
Related: Abercrombie dissed The Situation
The judge said that store managers initially allowed Khan to wear her head scarf, or hijab, as long as it "matched company colors." But after Khan worked there for several months, a district manager visited the store and asked her to take it off.
Khan refused, on the basis of her religious beliefs, so she was suspended. The manager asked her a second time to remove the head covering, and she refused again and was eventually fired, said the judge.
"Khan's refusal to remove her hijab was the sole reason for her suspension and termination," reads the court document.
Related: Job applicants dance for their jobs at British retailer
Abercrombie denied the allegations in a prepared statement to CNNMoney: "Abercrombie & Fitch (ANF) does not discriminate based on religion and we grant religious accommodations when reasonable."
Abercrombie & Fitch has an employee dress code called a "look policy" that forbids head coverings. But it also has a section of its web site called "diversity & inclusion," which includes a quote from Chief Executive Mike Jeffries: "We are determined to have a diverse culture, throughout our organization, that benefits from the perspective of each individual."
The U.S. Equal Employment Opportunity Commission said federal judges have found Abercrombie liable in two other discrimination cases, for refusing to hire hijab-wearing job applicants in Northern California and Tulsa, Okla.
Khan, now 23, said the experience had taught her "to stand up for what I believe in."
"The law protects us, and we need to speak up and challenge discrimination when it happens," she said.
CNNMoney's James O'Toole contributed reporting.