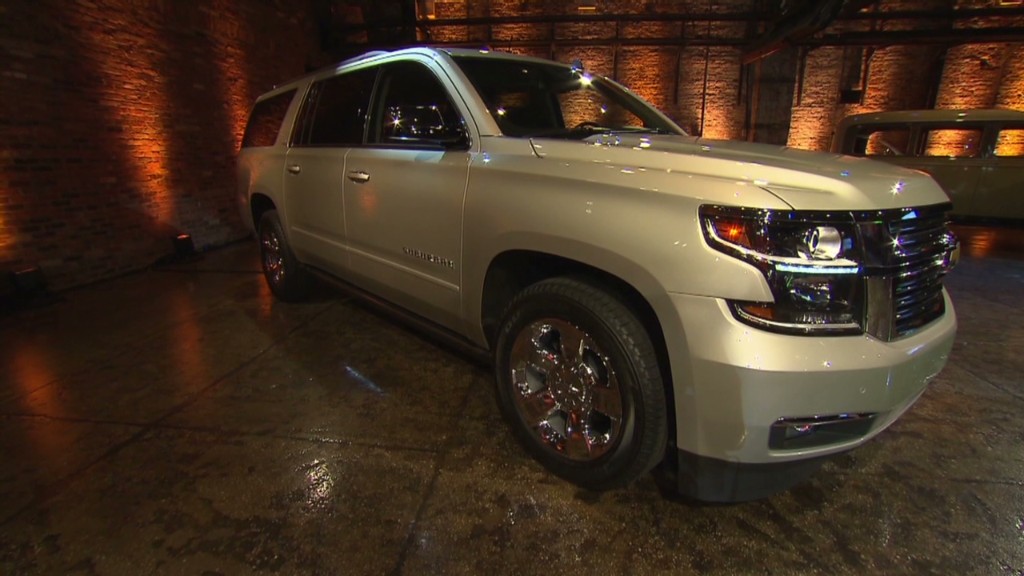 General Motors unveiled all-new versions of its full-sized GMC Yukon, Chevrolet Tahoe and Suburban SUVs on Thursday.
These SUVs are a big deal for GM (GM) because, although full-sized SUVs make up a small slice of the overall passenger vehicle market, GM sells the majority of them. Of all the full-sized non-luxury SUVs sold in the U.S. last year, three out of four were made by GM, according to data from LMC Automotive.
"This is an important and profitable segment and we have set the bar high to ensure we provide our customers with great quality and performance they expect and deserve," GM's Chief Financial Officer, Dan Ammann, said in a statement.
Besides new, more angular, body styles the new 2015 SUVs feature a number of improvements. There's more rear seat legroom and the third row seats actually fold down flat, as they do in other SUVs. In current versions, those seats fold down but have to be removed in order to get the most space.
Related - Six-wheeled Mercedes monster truck among Frankfurt debuts
GM also promises better fuel economy, although exact fuel economy estimates are not yet available. The SUVs will be available with an improved 5.3-liter V8 engine which will include high-tech features like cylinder deactivation in which half the engine's cylinders are shut off when full power isn't needed. The engine will also have direct fuel injection and continuously variable valve timing. The SUVs will also be equipped with a new six-speed transmission.
Higher-end models will also have the latest version of GM's adaptive suspension system which continuously responds to road surface changes to provide the best possible combination of ride and handling, according to GM.
Big SUVs are a shrinking market segment, though. Full-sized non-luxury SUVs represent just 1.6% of the passenger vehicle market, according to data from industry analysts at RL Polk. That's down from 2.7% in 2008. The Tahoe and Yukon were last redesigned for the 2007 model year.
These new vehicles remain body-on-frame SUVs, a type that the industry has been moving away from for a long time. Body-on-frame vehicles are usually heavier and not as fuel efficient as unibody, or car-based crossover SUVs, but they're generally better for towing and hauling heavy loads.
GM also sells the V6-powered Chevrolet Traverse and GMC Acadia crossover SUVs which get better gas mileage than the present Tahoe and Yukon. The crossover vehicles also have similar passenger space with even move luggage space.
Related - 8 small cars: Cargo space vs. parking space
Tahoe and Yukon buyers might simply be attached to the idea of driving a truck-like vehicle, said Tom Libby, an auto sales analyst with RL Polk, rather than crossover SUVs which some feel are too reminiscent of minivans.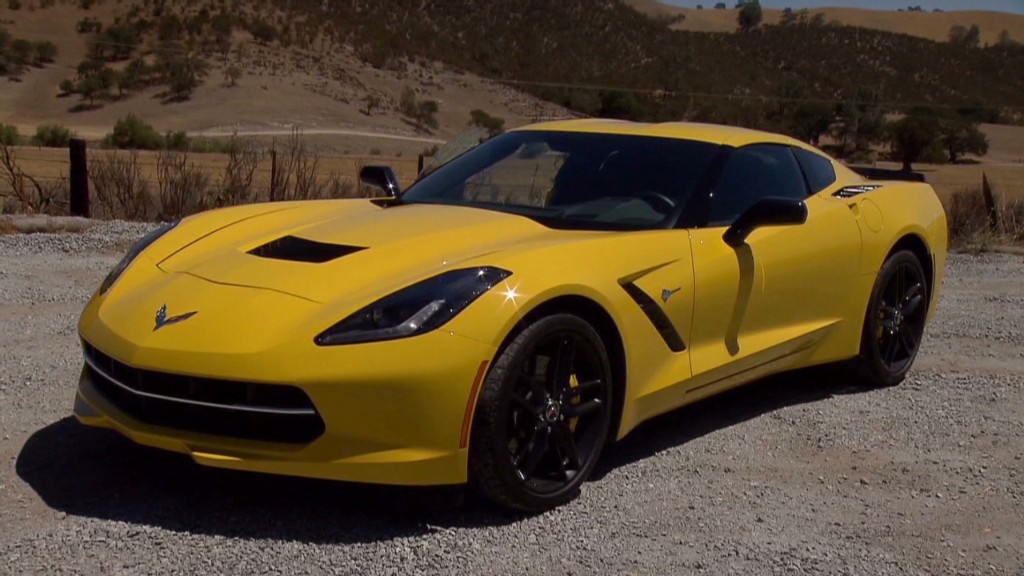 The Tahoe and Yukon also come in extra-large variants for those who really need a lot of space. (The Suburban, for instance, is really a stretched-out version of the Tahoe.)
A large percentage of Tahoe and Yukon buyers are corporate fleets. So far this year, about half of Tahoes sold were purchased for fleets, according to KBB.com.
The SUVs will be built in GM's Arlington, Tex., assembly plant and will go on sale early next year. Pricing has not yet been announced. Their redesign follows the recent introduction of GM's redesigned pick-ups which share much of the same engineering.