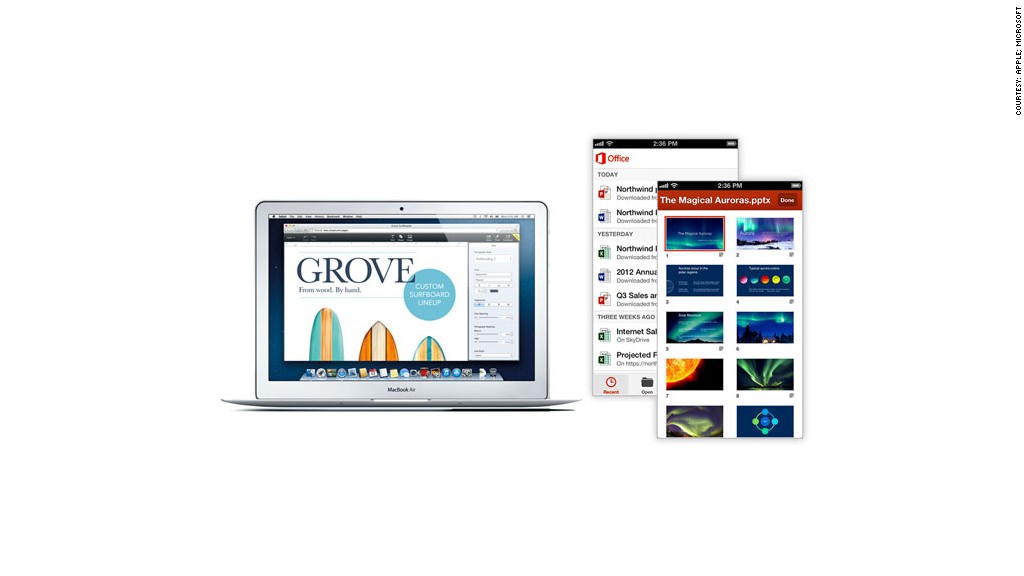 Apple's rivals are always on edge when new iPhones are unveiled, but Tuesday's iPhone 5S event made an unlikely loser out of Microsoft.
Apple is now offering its five iWork productivity apps for free on new iPhones and iPads -- a direct challenge to Microsoft's Office. Apple (AAPL) CEO Tim Cook said the apps in the iWork suite, which previously cost $40, are the best-selling mobile productivity apps on any platform.
Microsoft (MSFT), by contrast, only recently began seriously competing in the mobile productivity realm, despite Office's long-held reign as the king of spreadsheets, documents and slide shows. The company finally launched Office apps for iPhone and Android phones in June.
The Office Mobile apps come with two big catches that Apple's iWork doesn't have: Office Mobile is available only for users who subscribe to Office 365, Microsoft's cloud-based Office service that costs $100 per year. And the Microsoft apps don't work on tablets -- likely because Microsoft wants to give its own struggling Surface tablet a fighting chance.
Related story: At long last, Office comes to the iPhone
That's not going to cut it, particularly now that iPhone users can get iWork with no price tag or other strings attached.
"It's time for Microsoft to get its head out of the sand and respond very vigorously," said Laura DiDio, principal analyst at research firm ITIC. "They need to be proactive and not reactive."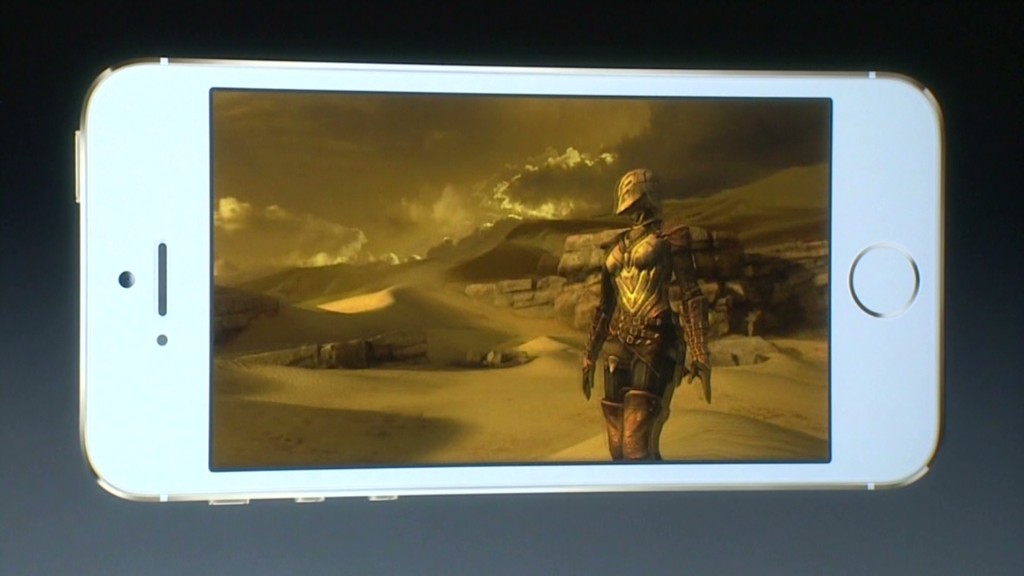 Apple iWork is the scariest foe that Microsoft Office has yet faced, according to Zeus Kerravala, an independent analyst. Apple's offering, which includes iPhoto and iMovie, plus three services that let users create documents and presentations, has deeper functionality than other popular free alternatives, including Google (GOOG) Docs, Evernote and Dropbox.
To counteract the threat, Kerravala thinks Microsoft should make full-functionality Office Mobile apps available to all Apple and Android non-corporate users.
"If you were going to lose that person to another platform, you're going to have trouble monetizing them anyway," Kerravala said. "And then you can still charge for the corporate version of [Office] 365, which is a huge business."
Related story: Apple unveils iPhone 5S and $99 iPhone 5C
Microsoft didn't comment on Apple's announcement specifically. A spokesman said simply that the company is "seeing great adoption of Office 365." An Apple spokesman also declined to comment.
The software giant is still in an enviable position. Despite Microsoft's slow transition to mobile, the Office division logged $27.4 billion in revenue in the company's last fiscal year.
DiDio, the ITIC analyst, credits Microsoft's customer support and reputation among IT managers with keeping Office strong -- and those pluses could help it fend off attacks from the likes of a free iWork suite.
"There's no question that Microsoft needs to keep proving itself to customers," DiDio said. "But with free apps, when it comes to support, security and consistency, you don't get what you don't pay for."