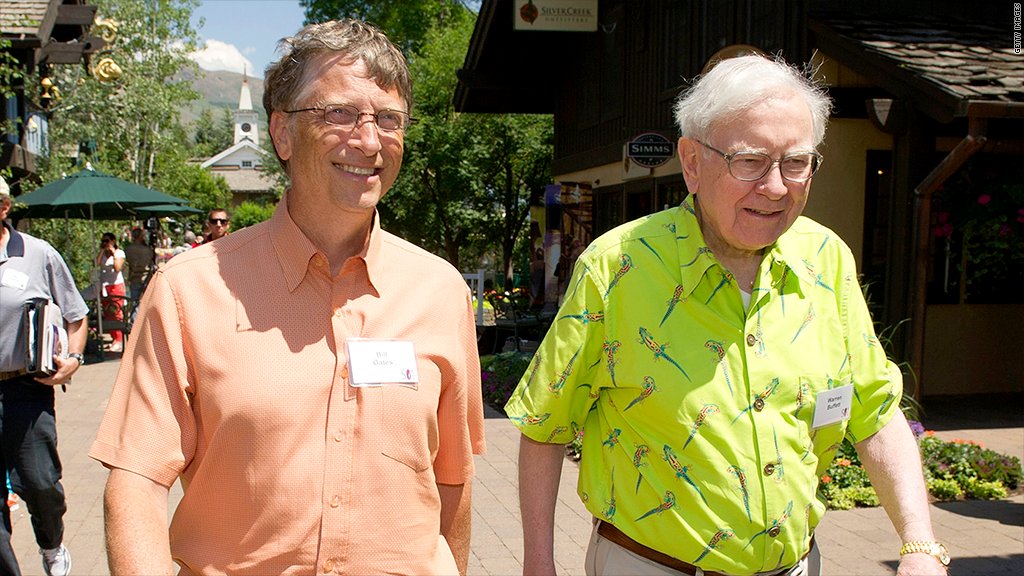 The 400 richest Americans are the richest they've ever been, according to Forbes magazine.
The combined net worth of the people on the list hit a record $2.02 trillion, up 19% from last year's total of $1.7 trillion, thanks in large part to a strong stock market and a real estate recovery. The average net worth of members of this year's list is $5 billion, up $800 million from a year ago.
Microsoft (MSFT) founder Bill Gates took the top spot as the richest American for the 20th year in a row, with a personal fortune of $72 billion. Berkshire Hathaway's (BRKA) Warren Buffett came in second with a net worth of $58.5 billion. Buffett also posted the biggest dollar gains on this year's list, with his wealth climbing a staggering $12.5 billion.
Mark Zuckerberg also had a good year, thanks to the rebound in Facebook's (FB) share price. After dropping to number 36 last year, he returned to the top 20 with a personal fortune of $19 billion. His gain of $9.6 billion made him this year's second-biggest gainer.
Related: China's new richest man worth $22 billion
It took a lot more money to make this year's list, with the minimum net worth set at $1.3 billion. That meant that 28 people from last year dropped off the list, including T. Boone Pickens, whose wealth dipped to $950 million.
Forty-eight women also made the 2013 list, including Hyatt Hotels heiress Jennifer Pritzker, who was formerly known as James Pritzker, and is the first transgender billionaire, according to Forbes.
Meet the craft beer billionaire
Most of this year's billionaires had a good year: 314 members saw their fortunes climb this year, while only 30 members saw their net worth decline.