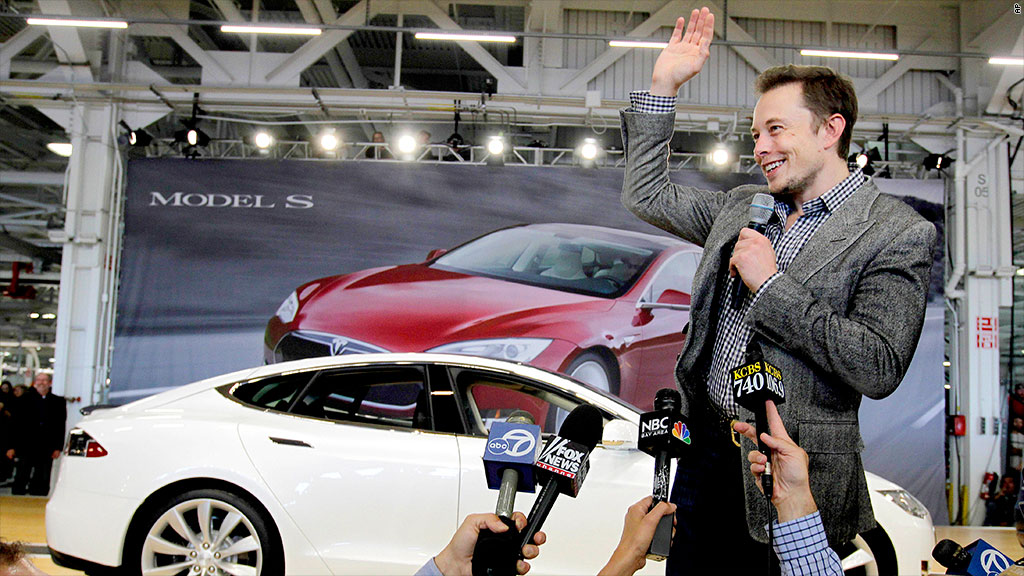 Tesla Motors has joined the ranks of car makers looking to develop autopilot systems.
Tesla CEO Elon Musk tweeted Wednesday that there is an "intense effort underway at Tesla to develop a practical autopilot system for Model S," the company's plug-in luxury sedan. He invited engineers interested in working on autonomous driving to apply for positions at Tesla that would report directly to him.
Tesla (TSLA) did not respond to a request for a follow-up comment.
Tesla doesn't appear to be targeting completely automated driving just yet. Musk told the Financial Times this week that he thought fully autonomous cars were "a bridge too far." He said he thought Tesla could get its vehicles to 90% of miles driven autonomously within three years.
"It's incredibly hard to get that last few percent," he was quoted as saying.
Related: GM wants to build a Tesla-beater
In an additional tweet Wednesday, Musk said Tesla's approach involved the use of radar and tiny flush-mounted cameras.
A number of cars now on the market, including the Mercedes-Benz S-class, already have features like active cruise control, which automatically keeps an even distance between cars in traffic, along with automatic braking and parking. The new Q50 from Nissan's Infiniti luxury division has some of these features as well.
Nissan said last month that it planned to sell self-driving cars by 2020.
General Motors (GM), Toyota and Audi are also working on self-driving cars, and Google (GOOG) has been experimenting with the technology for years as well.