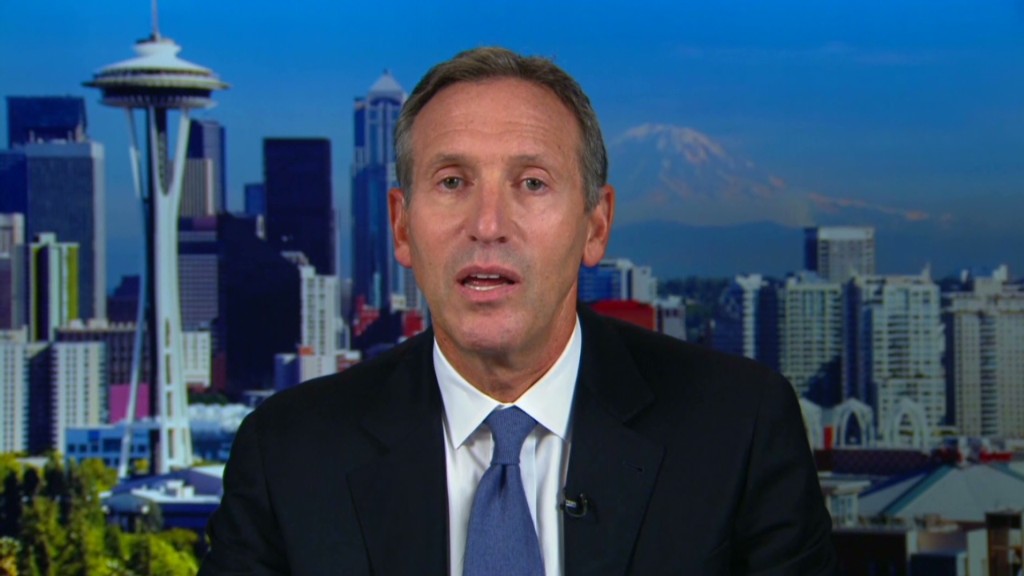 Starbucks CEO Howard Schultz has a message for gun owners: Please don't bring your weapons into our stores.
Schultz told CNN that the company is not instituting a ban, and is simply making a request "through the lens of civility and respect."
The company was roped into the gun debate last month when a group of gun owners announced plans online for a "Starbucks Appreciation Day" in recognition of the chain's policy of allowing gun owners to bring in their weapons where permitted by state law.
In response, the Newtown Coalition For Corporate Responsibility -- a group including family members of victims from last year's mass shooting at Sandy Hook Elementary School -- published an open letter calling on Schultz to ban guns in all Starbucks (SBUX) stores. One of those signing the letter was the father of Lauren Rousseau, a substitute teacher who was killed at the school who also worked at a nearby Starbucks.
"That hit home very hard for all of us at Starbucks," Schultz said. But he said the Newtown shooting did not prompt Starbucks' request to gun owners.
"We've seen advocates on both sides of this debate use Starbucks as a staging ground," Schultz said. "Starbucks is not a policy maker. We're not pro- or anti-gun," but believes that guns "should not be part of the Starbucks experience." He said people carrying guns into Starbucks have made other customers uncomfortable.
Starbucks is publishing an open letter from Schultz on the subject in The New York Times, The Wall Street Journal and a number of other newspapers.
Related: Read Schultz's letter
Schultz said customers who bring in guns will still be served and won't be asked to leave. Starbucks isn't imposing a ban on firearms because "we don't want to put our people in the position of having to confront somebody who's carrying a weapon," he said.
There are 43 states that have so-called "open carry" laws meaning you can visibly carry a licensed firearm in public. Many businesses, including Wal-Mart (WMT), Target (TGT) and Home Depot (HD) say if guns are allowed in the state, they're allowed in their stores.
But open carry laws don't require businesses to allow guns on their properties and other companies, including AMC Theaters, Peet's Coffee and Disney (DIS) theme parks have banned firearms on their property.
Related: Watch Schultz's full interview on guns here
The open letter is not the first foray by Schultz into public policy debates. The CEO has previously spoken out in support of gay marriage, and encouraged business leaders to withhold political donations until Washington gets its fiscal house in order. Speaking out, Schultz said, is part of part of the corporation's responsibility as a member of the community.
"I know there will be criticism of the company and me personally," he said. "We've tried to be as empathetic and as sensitive as possible."
Related: Starbucks won't cut benefits because of Obamacare
The CEO also said that his personal views on guns did not factor into the policy change. He refuses to comment on whether or not he is a gun owner.
"I don't think this is about Howard Schultz," he said. "This is about Starbucks Coffee Company, our customers and whether I am or am not a gun owner is not the issue."