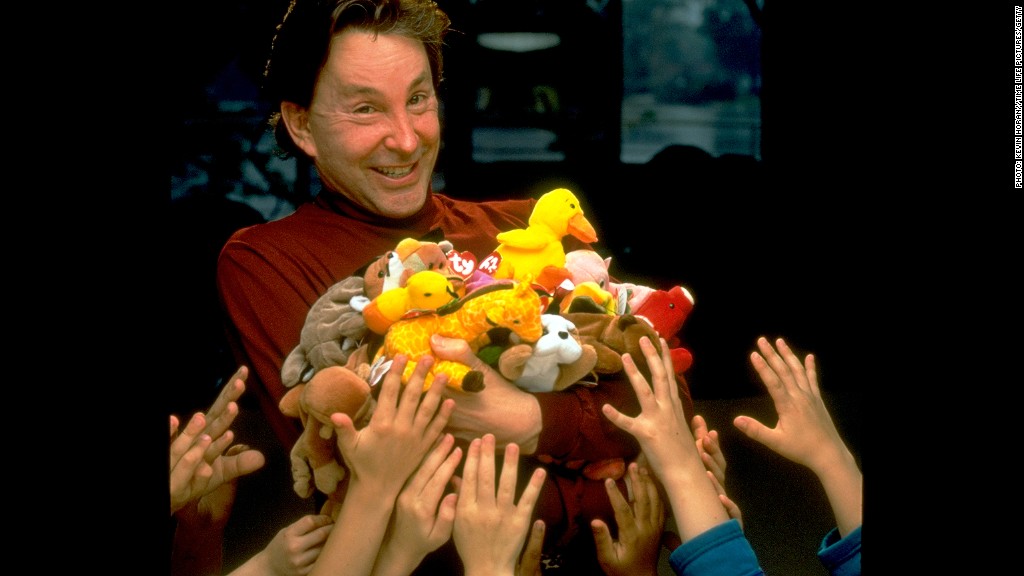 The creator of Beanie Babies is set to plead guilty to tax evasion after hiding millions of dollars in a secret Swiss bank account, the Justice Department announced Wednesday.
Ty Warner is the owner and founder of TY Inc., which hit it big in the 1990's when Beanie Babies became some of the nation's hottest toys and collector's items. The plush animals sell for as little as $5, though rare models can fetch thousands of dollars at auction.
Prosecutors say Warner, 69, stashed over $93 million in an account with Swiss banking giant UBS (UBS), and later with Switzerland's Zürcher Kantonalbank. He is accused of failing to pay $885,300 in taxes from 2002.
As part of his plea agreement, Warner will pay a civil penalty of $53.5 million for failing to report the account, his lawyer, Gregory Scandaglia, said in a statement. Scandaglia called the case "an unfortunate situation that Mr. Warner has been trying to resolve for several years now ."
"Mr. Warner accepts full responsibility for his actions with this plea agreement," Scandaglia said.
Gary Shapiro, the U.S. attorney in for Northern District of Illinois, said Warner "went to great lengths" to hide the income generated by his Swiss account.
"Regardless of wealth, everyone must pay taxes on all of their income, not just the amount they choose to report," Shapiro said.
The tax evasion charge carries a maximum penalty of five years in prison and a $250,000 fine.
Related: EU probes governments in corporate tax crackdown
While Beanie Babies have largely faded from the public consciousness, they've made a fortune for Warner, a resident of Oak Brook, Ill. Forbes Magazine estimates Warner's net worth as of this month at $2.6 billion.
Warner was among the taxpayers outed as a result of a 2009 deferred prosecution agreement between UBS and the U.S. government. UBS admitted to helping wealthy Americans hide their money from the Internal Revenue Service, paying a $780 million fine and agreeing to turn over the names of certain American customers to the U.S.
The affair strained relations between the U.S. and Switzerland, which had long been known for its bank secrecy laws.
In July, the Swiss government issued new guidelines for its banks that should make it easier for the U.S. to catch Americans hiding money in offshore accounts and will likely generate a flood of new disclosures to the IRS.