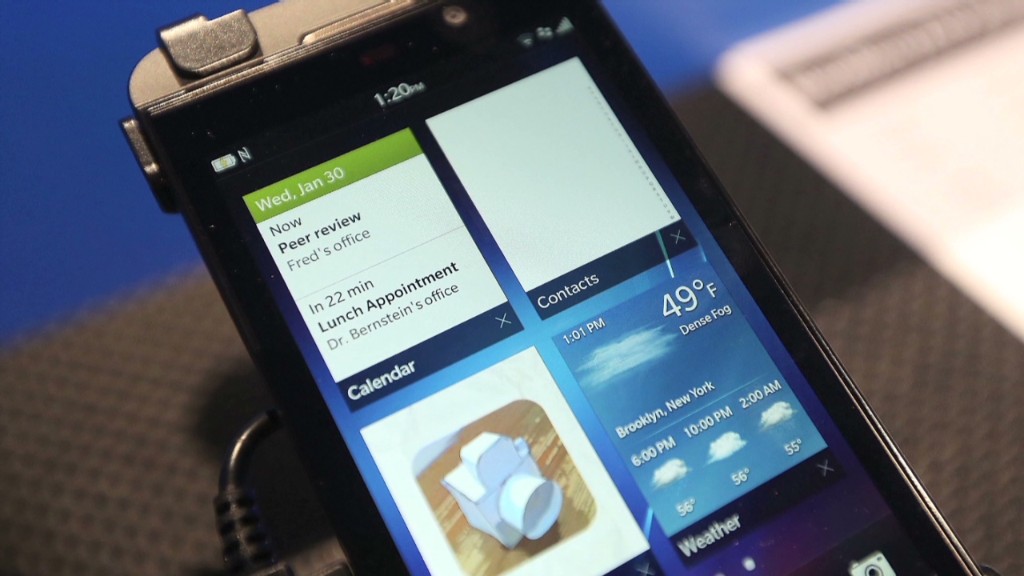 Another week, another spot of bad news for BlackBerry -- and its employees. The company's shares tanked Wednesday on a report that BlackBerry will soon lay off up to 40% of its workforce.
That's a staggering percentage, and BlackBerry shares felt the pain: The stock fell as much as 5% from their peak on Wednesday after the Wall Street Journal reported the layoffs.
The Journal article, which comes a little over a week before BlackBerry (BBRY) reports earnings, said the cuts will come before the end of the year. The layoffs "will cut across all departments and will occur in waves," the article added.
BlackBerry spokeswoman Lisette Kwong said in email that the company "cannot comment on rumors and speculation."
She did add, however, that "we are in the second phase of our transformation plan" and "[o]rganizational moves will continue to occur to ensure we have the right people in the right roles."
While a 40% workforce layoff is an eye-popping figure, it's not entirely surprising given BlackBerry's struggles. Just last month, the company said it will look into "strategic alternatives" to preserve its future -- including a possible sale.
Related story: BlackBerry is running out of options
Overall, it's been a terrible few years for BlackBerry. The company kept delaying the release of its Blackberry 10 operating system, which was meant to be the cornerstone of the BlackBerry turnaround.
The software finally came out in January, but sales of the first phones on the platform have disappointed. BlackBerry shipped just 2.7 million smartphones running its new operating system during the quarter that ended June 1, and the company also posted a surprise loss.
BlackBerry is in a particularly desperate situation because of its losses in the corporate market. BlackBerry once dominated the business world, but companies have been increasingly willing to let employees work on phones they choose -- and they're overwhelmingly selecting iPhones and Android smartphones.
Meanwhile, competitors like Apple (AAPL), Google (GOOG) and Microsoft (MSFT) have worked hard to improve their security and e-mail delivery capabilities, which helped them gain ground with corporate IT departments.
BlackBerry is still trying to regain ground where it can. Earlier on Wednesday, the company announced it will launch its BBM messaging service to Android phones and iPhones on September 21 and 22, respectively. BlackBerry also unveiled a 5-inch phone called the Z30.