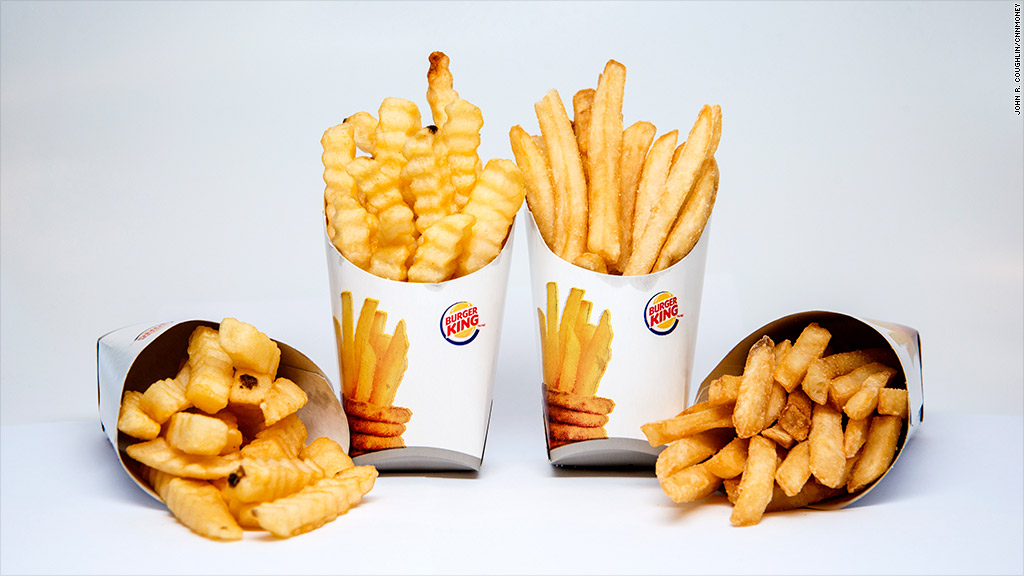 Burger King has launched the latest salvo in its French fries war with McDonald's: a new fry that it's billing as a lower-calorie alternative to its fattier rival.
The new fries are appearing in Burger King (BKW) restaurants nationwide this week. The company says they have 40% less fat and 30% fewer calories than McDonald's (MCD) fries.
On its website, Burger King is pitching the new products as Satisfries. But employees at a New York City restaurant were unfamiliar with that name and it did not appear on the menu, even though they sold it.
"Oh, you mean crinkle fries," said the cashier at the Manhattan Burger King.
Burger King spokesman Miguel Piedra confirmed that the "crinkle fries" were, in fact, Satisfries.
The fast-food restaurateur says that a 70-gram packet of Satisfries contains 6.3 grams of fat and 150.5 calories, compared to an identical amount of fries from McDonald's containing 11.2 grams of fat and 226.8 calories.
Burger King is still selling its more traditional fries, which contain about 25% more calories and one-third more fat than the Satisfries.
Related: Wave of fast-food strikes hits 60 cities
Satisfries at the Manhattan location are slightly more expensive than the traditional fries, retailing for $2.29 for a small-sized bag compared to $2.19.
In response to Burger King's move, McDonald's spokeswoman Ofelia Casillas said in an e-mail, "We know that our customers love McDonald's iconic world famous fries and we remain focused on serving them to our McDonald's 69 million customers every day around the world."
In another experimental move a few months ago, Burger King launched a hamburger with fries on it for $1.