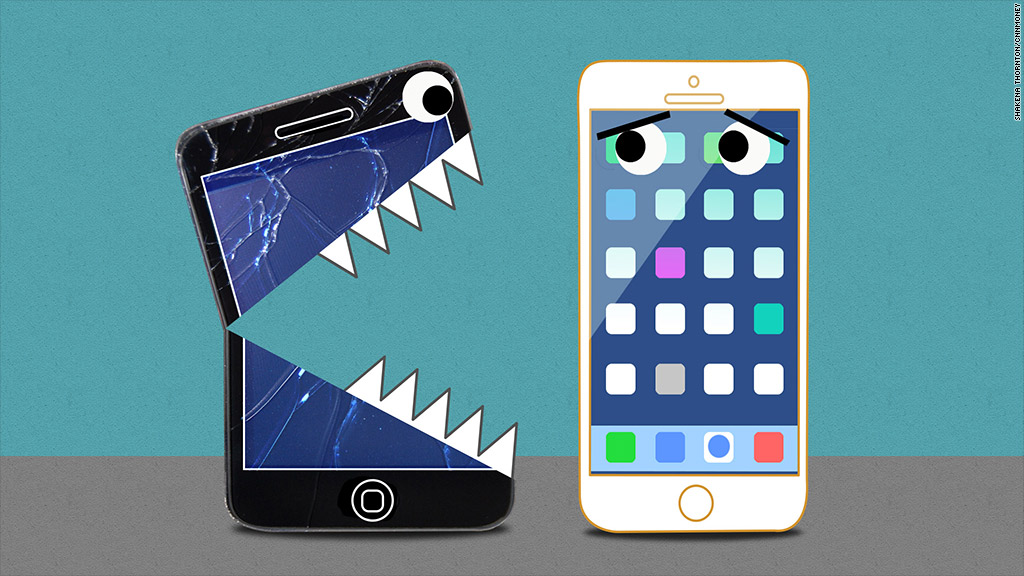 Since the new iPhone 5S went on sale last week, the smartphone trade-in market has been in full gear. But all those used phones flooding the market could actually hurt Apple and its rivals in the long run.
Used phones will cannibalize 8% of new smartphone sales by 2018, up from 3% this year, according to a recent report from Bernstein Research. The research group expects used phone sales to jump more than four-fold over that span, to 257 million devices.
That could have serious implications for device makers like Apple (AAPL) and Samsung, which rely on selling new phones to customers who are due for upgrades.
But the "re-commerce" trend isn't going away anytime soon. It's a big business for phone trade-in services, refurbishers, and wholesalers -- as well as customers who can score cash for the latest, hottest phone.
"Trade-ins are exploding because the opportunity is pretty clear," said Jeff Kagan, an independent telecom analyst. "Companies can come in and make money, and customers can save some money."
Related story: Localytics: China leads world in preference for iPhone 5S
Online services like Gazelle popularized the idea of treating your smartphone like a used car, instead of shoving it away in the junk drawer. Now, loads of brick-and-mortar stores have jumped into the market: Retailers including Walmart (WMT), Best Buy (BBY) and Amazon (AMZN) have launched their own trade-in services, as has Apple itself.
As trade-in programs expand, so does customers' awareness of their ability to recoup cash for old devices.
Bernstein estimates 12% of smartphone upgrades worldwide were a result of trade-ins, up from 4% three years ago. Rates are even higher in the United States, with a quarter of all upgrades now coming from trade-ins.
Apple's iPhones currently represent half of all traded-in phones, Bernstein said in its report, but that should fall to about one-third "as the resale market becomes more global."
That globalization has already begun to take place: Bernstein says about 70% of traded-in devices end up in emerging markets like China, while 30% are sold to developed markets like the United States.
The one potential positive impact that trade-ins could have for smartphone makers is that some customers are selling their old phones to upgrade to new ones more frequently. Cell phone carriers have even been adjusting their plans and pricing accordingly.