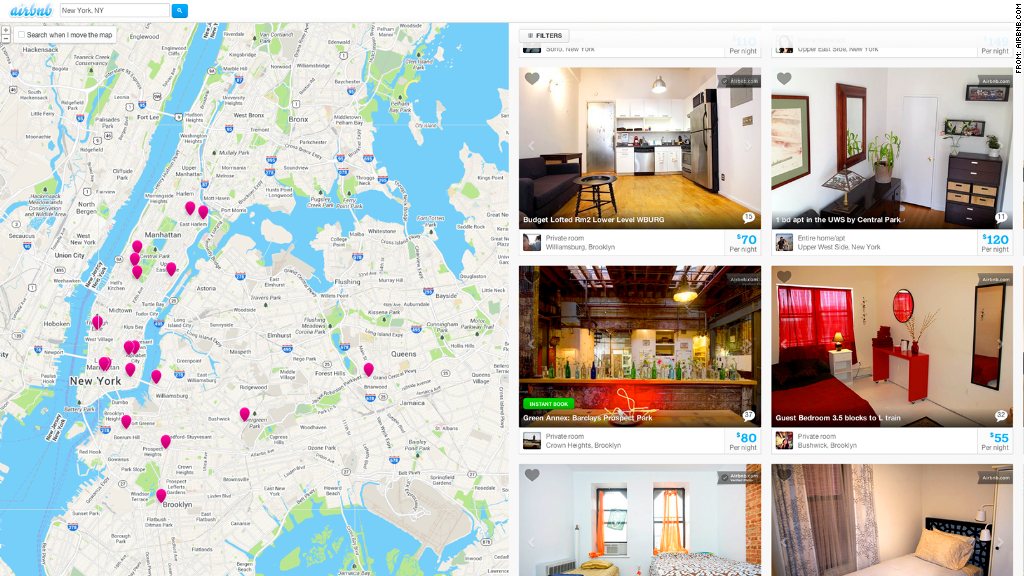 Airbnb earned a legal victory in New York City this week with the reversal of a fine issued after a user of the service rented out part of his East Village apartment last year.
Airbnb offers a platform for people to rent out their homes or apartments to travelers. New York's Environmental Control Board ruled Thursday that Airbnb user Nigel Warren was permitted under city housing laws to rent out a portion of the apartment through the service because his roommate was present at the time.
Warren's landlord had been facing a $2,400 fine following an earlier ruling.
The decision is a significant one for Airbnb, which has been frustrated in New York by a law stating that residents can't rent out all or part of a property for fewer than 30 days. Airbnb has argued that the law is meant to crack down on landlords who buy residential buildings and run hotels out of them, not on individual tenants.
Related: Hey, taxi company, you talkin' to me?
Airbnb called the decision "a victory for the sharing economy and the countless New Yorkers who make the Airbnb community vibrant and strong."
"This episode highlights how complicated the New York law is, and it took far too long for Nigel to be vindicated," the company said in a blog post. "That is why we are continuing our work to clarify the law and ensure New Yorkers can share their homes and their city with travelers from around the world."
Airbnb filed motions in support of Warren, though the site warns users in its terms of service that they're the ones on the hook if they fall into legal trouble.
The New York City Buildings Department did not respond to a request for comment.