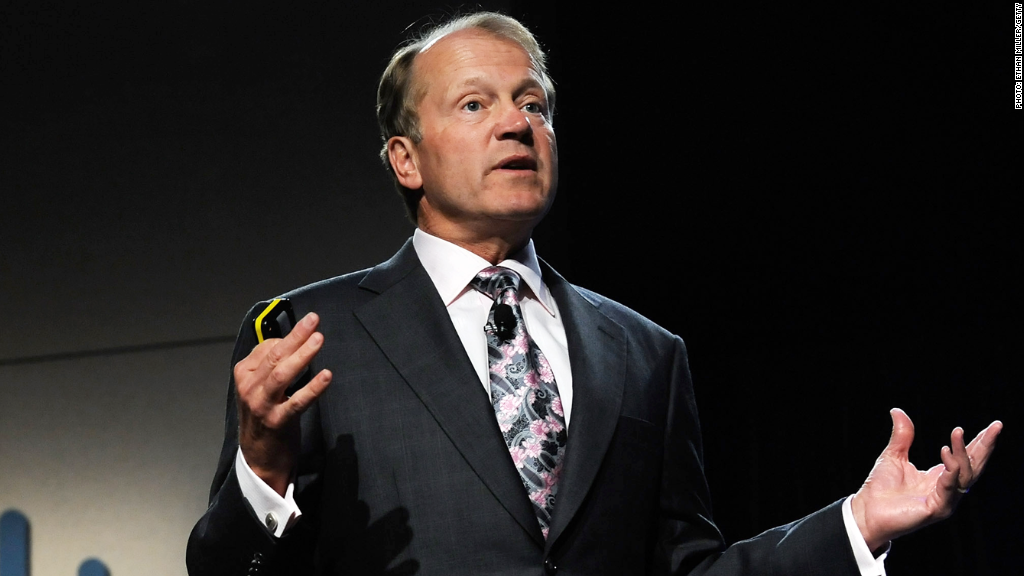 A massive stock award announced Monday propels Cisco CEO John Chambers into the upper tier of high-paid tech CEOs.
In a regulatory document filed late Monday, Cisco revealed that Chambers received $15.2 million worth of stock awards for the company's fiscal 2013 -- nearly double the $7.3 million he scored in 2012.
Cisco (CSCO) didn't specify the reasons behind the huge increase. The company was more clear about the reason for an increase in another piece of his compensation package: a salary boost to $1.1 million from $375,000.
At $375,000, Chambers' salary was "well below the 25th percentile" of his peers, Cisco said, and it hadn't changed since fiscal 2008.
On top of that, his cash bonus increased about $750,000 to $4.7 million.
Chambers was never considered a poorly paid CEO, but his $21 million total compensation puts him among the top five most highly paid tech CEOs -- somewhere between Salesforce's (CRM) Marc Benioff and AT&T's (T) Randall Stephenson. His total compensation was $11.7 million the prior year.
While Cisco has generally posted decent financial results in recent quarters, the company was forced to announce 4,000 job cuts during its report in August. Shares are down 3.7% over the past three months but up 19.3% year to date.