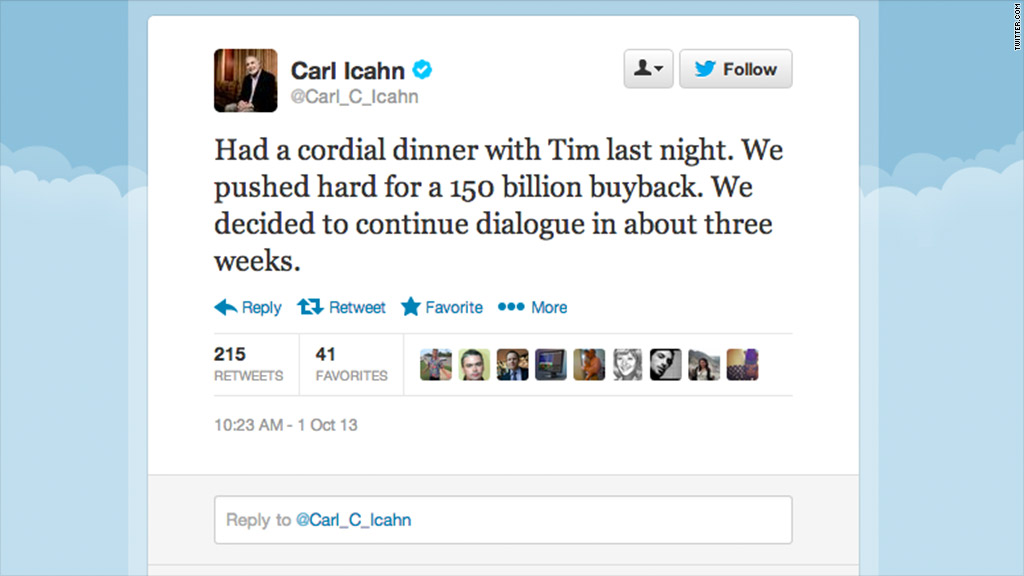 That was one expensive dinner.
Activist investor Carl Icahn revealed he had dinner with Tim Cook on Monday night, and he told the Apple CEO that he wants the company to issue a $150 billion buyback of its stock. It's a bid to get Apple to return more money to shareholders ... and Icahn said Tuesday he "isn't going away anytime soon."
Icahn tweeted: "Had a cordial dinner with Tim last night. We pushed hard for a 150 billion buyback. We decided to continue dialogue in about three weeks."
Shares of Apple (AAPL) were up about 2.5% midday Tuesday, adding gains after Icahn appeared on CNBC's Halftime Report at noon ET to discuss the dinner.
Icahn revealed during the CNBC interview that he now owns a nearly $2 billion stake in Apple, which he expanded by a few million dollars "a few weeks ago" when Apple's stock slumped.
He used the phrase "no-brainer" several times during the interview, adding, "it makes no sense for this company not to do a major, major buyback."
The reason is twofold, Icahn said: Apple's stock is undervalued, and the company "can borrow money so cheaply today ... they have a golden opportunity." He repeated several times that Apple choosing not to do a buyback would be "absurd."
Related story: Carl Icahn is having an amazing year
"The question is, why the hell wouldn't you just buy the hell out of it?" Icahn said.
Icahn declined to say whether Cook was receptive to the buyback proposal presented during the dinner -- which Icahn's private chef cooked. But Icahn did admit that the conversation "got a little testy" when Cook mentioned Apple's board and its wishes.
"The board isn't God," Icahn fumed.
Icahn declined to comment on his future plans if Apple doesn't issue the buyback he wants, but he noted that he he has a lot of options.
"I can't promise you that they're going to do the buyback, but I can promise you I'm not going away before they hear a lot more from me on this," Icahn said.
Icahn's first disclosed his plans for Apple via Twitter, posting on August 13 that he had bought a "large" stake in the "extremely undervalued" Apple. A week later, Icahn revealed he made September dinner plans with Cook, and that they would discuss the magnitude of a buyback.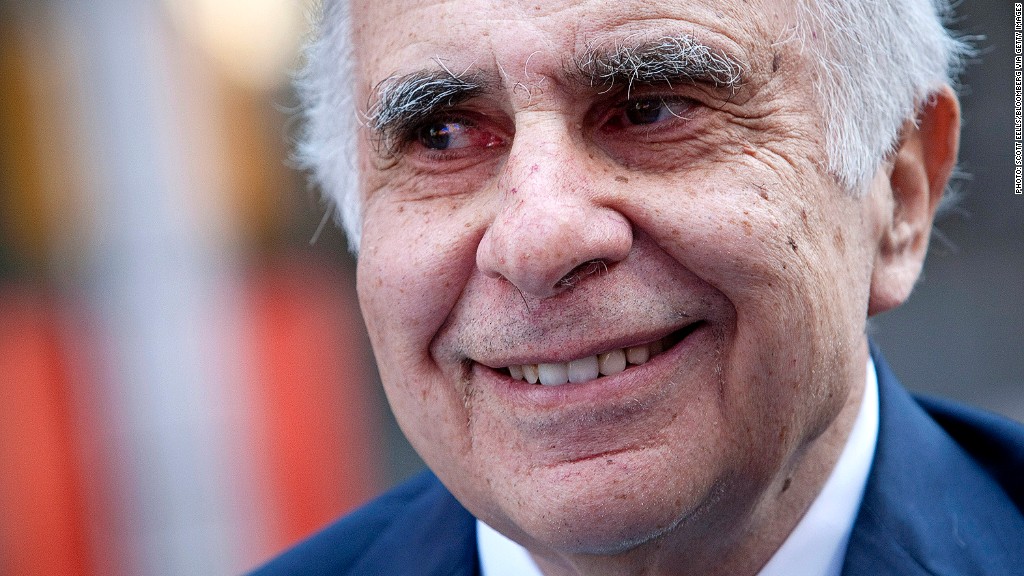 It's unclear whether Icahn wants Apple to start a new buyback, or if he wants the company to expand its current program.
Apple already announced in May that it will return $100 billion to shareholders over the next three years, through a combination of stock buybacks and a quarterly dividend of $3.05 per share. That announcement came shortly after David Einhorn of Greenlight Capital slammed the company for "hoarding" billions in cash. Apple had an impressive $147 billion in cash at the end of last quarter.
Icahn is experienced in buying up shares in order to leverage them into influence at dozens of companies. He led a hostile takeover of the airline TWA in 1985, tried and failed to win a board seat at Motorola, pushed BEA Systems to sell to Oracle (ORCL), attempted to take over Lionsgate (LGF), and advocated for CNNMoney parent Time Warner (TWX)to break into four companies.
Icahn had recently been in a prolonged fight with Dell (DELL), but he ended up admitting defeat in his attempt to keep the company public.