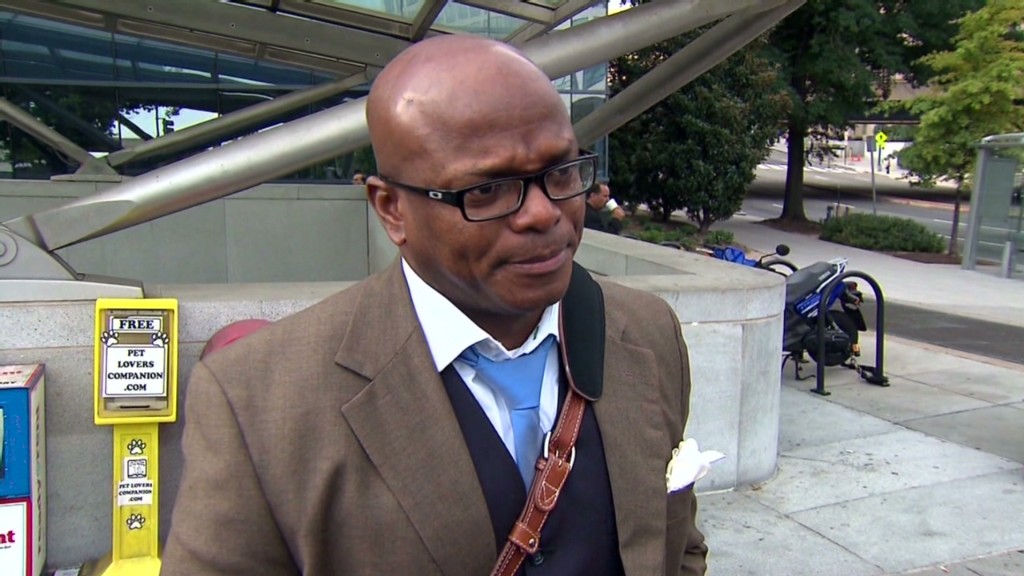 Slightly more Americans filed for jobless benefits last week, but the unemployment rolls could rise even more quickly in the weeks ahead if federal employees start filing claims during the shutdown.
About 308,000 people filed initial claims for unemployment benefits last week, up 1,000 from the prior week, the government reported Thursday morning. The Department of Labor's contingency plan allows for the release of the weekly jobless claims report during a shutdown.
The overall initial claims figure remains near its lowest level since 2007 -- an encouraging sign that layoffs are back to pre-recession levels.
But businesses aren't necessarily ramping up their hiring for new jobs.
A separate report released Wednesday by payroll processor ADP (ADP) shows private sector hiring muddled along in September. Businesses added 166,000 jobs, barely changed from their pace of hiring in July and August.
"Companies were not laying off workers ahead of the shutdown but they probably weren't hiring much, either," said Jennifer Lee, senior economist with BMO Capital Markets.
Related: Federal workers can collect unemployment during shutdown
The data does not yet include the impact of the government shutdown. About 800,000 federal employees were asked not to show up to work this week, and many of them are now eligible to receive unemployment benefits in their states.
However, the Department of Labor will report their claims separately, as is the agency's standard practice. The most recent data show about 1,000 federal employees filed initial claims for unemployment benefits in the week ending September 21. This category, which usually doesn't get much attention from economists and investors, will gain increased importance as the government shutdown continues.
The September initial claims data also came with a few caveats. A few states -- including California, Massachusetts and Nevada -- recently implemented new computer systems that, in some cases, led to errors in processing unemployment claims. In California alone, at least 80,000 people had their unemployment checks delayed.
Related: Private sector hiring just muddles along
Nationwide, about 2.9 million people received their second week or more of unemployment benefits in the week ending September 21, the most recent data available. These people account for only about a quarter of the 11 million people who remain unemployed in the United States. The other 75% do not receive unemployment benefits.
The Department of Labor's broader monthly jobs report, which was originally scheduled for release on Friday, will likely be delayed by the government shutdown.
The monthly jobs report and weekly initial claims report are compiled by different departments within the agency. The Employment and Training Administration, which compiles jobless claims, has 28 of its roughly 1,100 employees reporting to work during the shutdown, whereas the Bureau of Labor Statistics, which compiles the job report, has only three of its 2,400 employees working.