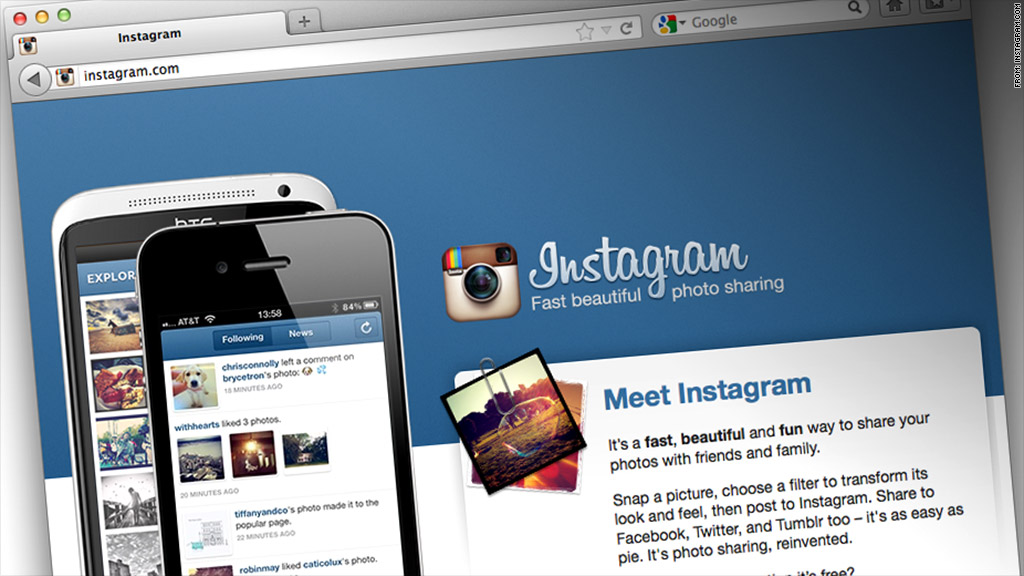 After hinting at an ad-supported future last month, Instagram took its first steps on Thursday to make that plan a bit more concrete.
On its company blog, Instagram confirmed that select users in the United States will begin seeing ads in their feeds over the next couple of months.
"Seeing photos and videos from brands you don't follow will be new, so we'll start slow," said the company in a blog post. "We'll focus on delivering a small number of beautiful, high-quality photos and videos from a handful of brands that are already great members of the Instagram community."
Instagram says it will work closely with a handful of brands at first, in an effort to exert some quality control over the content they're pushing into user feeds. And unlike its parent company Facebook (FB), Instagram will deliver ads to users regardless of their stated interests. Facebook, by contrast, seeks to advertise based on companies and brands users have liked and followed on the networks.
Related story: TSA confiscates guns, then Instagrams them
Starting from the moment it was purchased by Facebook in 2012, It was almost inevitable that Instagram would introduce ads in some form or another.
Mobile advertising comprises a large portion of the revenue generated by the likes of Facebook and Google (GOOG). According to research done by research firm eMarketer, spending in the mobile ad space has more than doubled to $8.8 billion in the past year alone.
But for Instagram, the introduction of ads is bound to cause some friction. Earlier this year, it changed its terms of service to allow the possibility of integrating users' photos into ad campaigns. After a considerable amount of user blowback, it quickly backed off that policy.
One planned feature -- the ability to hide ads -- may provide a middle ground for Instagram users who encounter a particularly bad piece of advertising.
And if it's anything like its parent company, Instagram will likely add and remove ad-based features while it begins to experiment with ads.