Tesla Motors' shares were up in midday trading Friday, following a three-day slide that shaved more than 10% off the value of the high-flying stock.
The sell-off had been sparked by reports of a car fire and an analyst's downgrade. The stock may have been helped Friday by Tesla's confirmation that it is talks with Korea's Samsung on a deal that would give the electric car maker another battery supplier.
Finding an additional supply of batteries is a top priority for Tesla.
CEO Elon Musk has said that access to additional batteries would be the "main constraint on our production growth probably for a few years to come." Most of Tesla's batteries now come from Panasonic. Sanyo is the only other battery supplier.
Tesla (TSLA) shares are still up more than 400% year to date, driven by much stronger than expected earnings and sales, coupled with rave reviews from magazines like Motor Trend, Automobile and Consumer Reports. Individual investors have rushed to buy the stock even as institutional investors have pulled back.
Tesla's bad week started with analysts at Baird downgrading the stock to "neutral" on Tuesday, along with some other negative reports.
Then, on Wednesday, the auto Web site Jalopnik.com posted photographs from a reader showing a Tesla Model S on fire near Seattle, Wash.
Tesla later issued a statement describing what happened.
"Yesterday, a Model S collided with a large metallic object in the middle of the road, causing significant damage to the vehicle," Tesla said.
Related: Tesla: A trap for small investors?
Automatic alerts warned the driver to pull over, the statement said, and the fire began only after the driver was out of the vehicle. The fire eventually consumed much of the vehicle's front end.
"All indications are that the fire never entered the interior cabin of the car," Tesla said in its statement. "It was extinguished on-site by the fire department."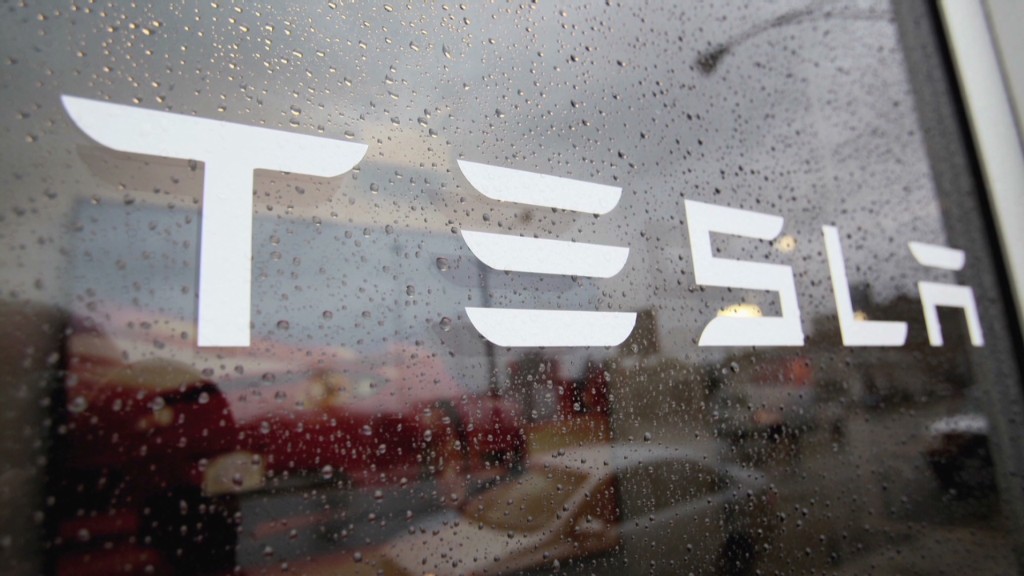 The Model S is a fully electric car with its battery pack housed in the floor of the vehicle. Tesla said the fire started when the metallic object directly hit one of the 16 modules within the Model S battery pack.
Related: What are people selling to buy Tesla?
"Because each module within the battery pack is, by design, isolated by fire barriers to limit any potential damage, the fire in the battery pack was contained to a small section in the front of the vehicle," a spokeswoman said.