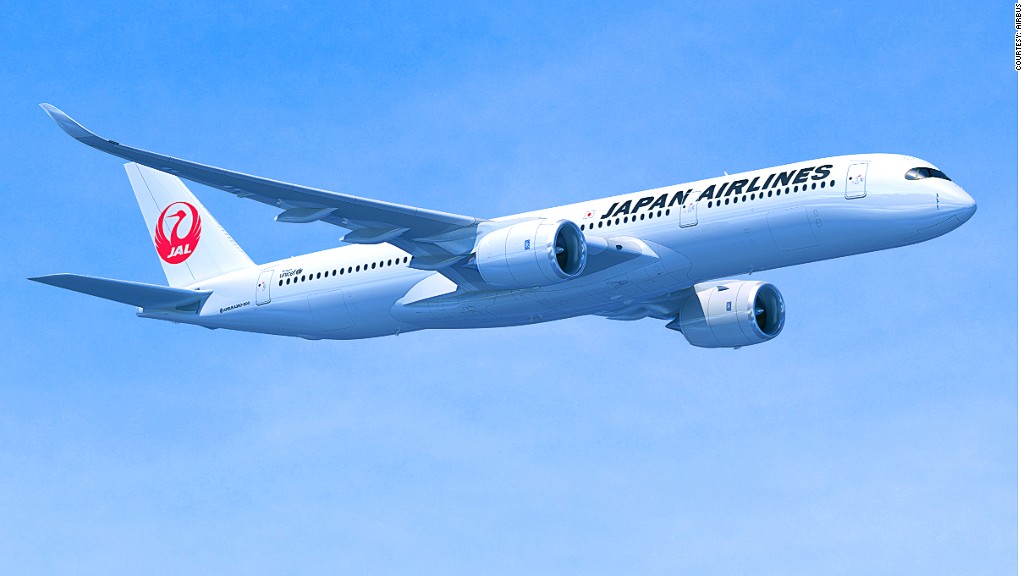 Airbus just inked its first deal with Japan Airlines on Monday, pledging to deliver 31 new A350 aircraft.
The landmark agreement -- worth as much as $9.5 billion based on list prices -- poses a threat to rival aircraft maker Boeing (BA), which has been the dominant player in the Japanese aviation market.
The new Airbus A350 models, which will go into commercial service next year, are competing directly with the Boeing Dreamliner for orders.
But the Dreamliner has faced a number of setbacks, including a problem with its batteries that grounded the entire fleet earlier this year.
"Airbus is inching into Japan with a competitive offer and it's coming at a time when Boeing is really suffering with its equivalent airliner, the Dreamliner," said Goodbody senior aviation analyst Dónal O'Neill. "It's time for people to consider the A350 because it's a very well regarded aircraft."
Related: Airbus sees global fleet doubling by 2032
This is the first order for A350s from a Japanese airline. O'Neill says it could be the first of many.
"This could be a good stepping stone for Airbus to secure some other sizeable deals in Japan," said O'Neill, explaining that Japan's ANA (ALNPY) might also now consider placing an order for A350s.
In a joint press release, Airbus and Japan Airlines said they expect the A350s will start flying for the airline starting in 2019.
Fabrice Bregier, president and CEO of Airbus, said, "It fills us with pride to see a leading Japanese airline start a new chapter with us."
Some analysts said Japan Airlines may have been tempted into buying Airbus rather than Boeing planes because of heavy discounting.
Sterne Agee analyst Peter Arment said the A350s were probably sold at a discount of more than 50% off list price so Airbus could gain a foothold in Japan.
Related: How much does it cost to rent a private jet?
Last month, Airbus, which is owned by the European aerospace group EADS (EADSF), predicted the number of aircraft worldwide would double over the next 20 years, spurred by rising demand from emerging markets.
Airbus said a swelling middle class and more affordable air travel were among the factors fueling the rise in air traffic, with most of the growth coming out of Asia.