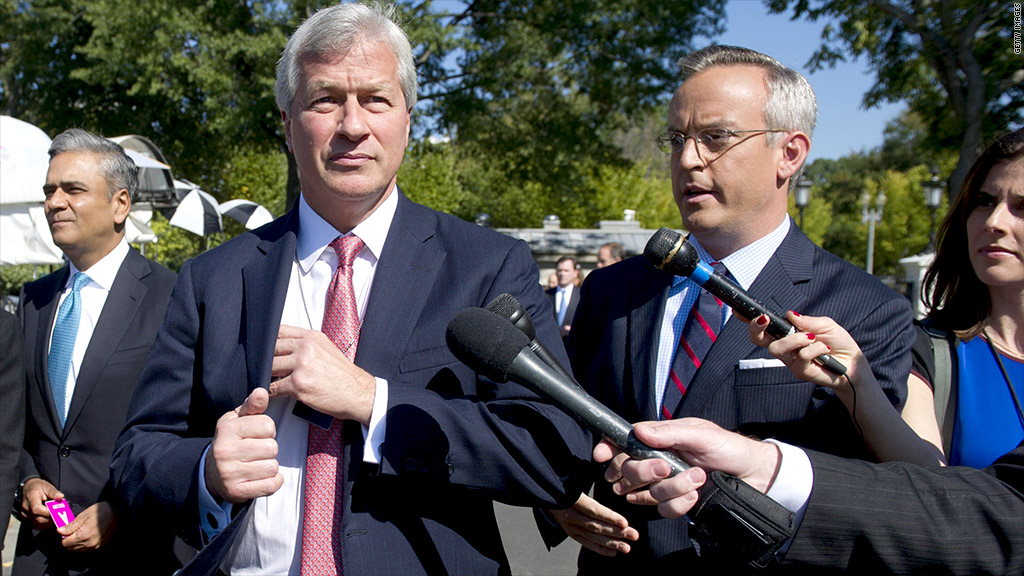 Jamie Dimon likes to point out that JPMorgan was "a port in the storm" during the financial crisis, but five years later, the bank now finds itself under the cloud of what could be one of the largest fines in U.S. history.
The firm is in negotiations with government officials over a possible settlement related to mortgage securities that JPMorgan and the firms it would later purchase, Washington Mutual and Bear Stearns, allegedly sold to investors while misrepresenting their quality.
The securities and related derivatives plunged in value as the housing bust hit and played a key role in causing the financial crisis.
The Justice Department has called for a settlement of at least $11 billion, including a $7 billion cash payment and $4 billion worth of consumer relief. Beyond the financial hit, a settlement of this scale would deal another blow to the reputation of a bank renowned just a few years ago for its prudent management.
"It's [Dimon's] challenge to try and reclaim more of the status they had a couple years ago," said Mike Mayo, a prominent bank analyst at CLSA, a brokerage and investment firm. "JPMorgan led the large banks through the crisis, but has had more than its share of problems in the last couple years."
It's still unclear what allegations will be covered by the potential settlement -- or even whether there will be a settlement at all. But one issue that has already prompted debate is whether JPMorgan ought to be held responsible for alleged misdeeds at Bear and WaMu from before it acquired them.
Commenting last year on litigation related to Bear, Dimon grumbled that the firm had been acquired during the turmoil of 2008 as "a favor" to the Federal Reserve.
Analysts at Oppenheimer argued in a recent research note that JPMorgan was being targeted unfairly and out of proportion with its role in the crisis.
"[O]ne reason why JPM was strong enough to absorb Bear and WAMU is precisely because its involvement in the mortgage mess was relatively small," the analysts wrote. "JPM's exposure got large because it helped the government by taking Bear and WAMU."
Others are less sympathetic, noting JPMorgan's initial enthusiasm over these deals and the revenues they've generated since.
"JPMorgan got the benefit of the acquisitions in terms of revenues and profits in the first few years, and if they now have to pay the price, that's the way the world works," Mayo said.
Related: Ex-JPMorgan bankers charged in 'London Whale' case
While the settlement may come at a high cost, it's unlikely to destabilize the country's largest bank.
Despite a variety of legal problems, JPMorgan (JPM) is still extremely profitable, booking over $21 billion in net income last year. The Oppenheimer analysts said the bank likely has "very significant reserves already set aside" to handle the potential fine.
The challenge now is to make sure the bleeding stops there. JPMorgan is reportedly pushing to resolve claims from a number of different government agencies in a single agreement, ensuring that it won't have to pay up again over the same issues in the future.
The bank is also likely pressing to avoid admitting wrongdoing as part of the agreement, which would provide ammunition for private lawsuits against the firm.
While JPMorgan may be able to contain the financial damage, the blow to its image is another matter, with the talks following a slew of other recent legal problems.
Just last month, JPMorgan agreed to pay $920 million in fines over the "London Whale" trading debacle, and $80 million more over allegedly unfair credit card billing practices. In July, the bank agreed to pay $410 million to settle charges that it manipulated electricity prices in California and the Midwest, and it's also facing scrutiny over its hiring practices in China and its alleged involvement in the Libor rate-fixing scandal.
"They are certainly not seen as quite as good at risk control as they previously had appeared to be," said Josh Rosner, managing director at Graham Fisher & Co.
A JPMorgan spokesman declined to comment on the current settlement talks, but Dimon has called addressing the bank's myriad legal problems his number-one priority for this year. In a letter to shareholders in April, he said the bank had "let our regulators down" in multiple areas.
JPMorgan has increased its spending on compliance and related issues by $1 billion this year, hiring 3,000 new employees as part of the effort, Dimon wrote in a company memo last month. The bank has provided extensive training in these areas to staff members, he said, and is "building a more open and transparent relationship with our regulators."
"If you don't acknowledge mistakes, you can't fix them and learn from them," Dimon wrote.