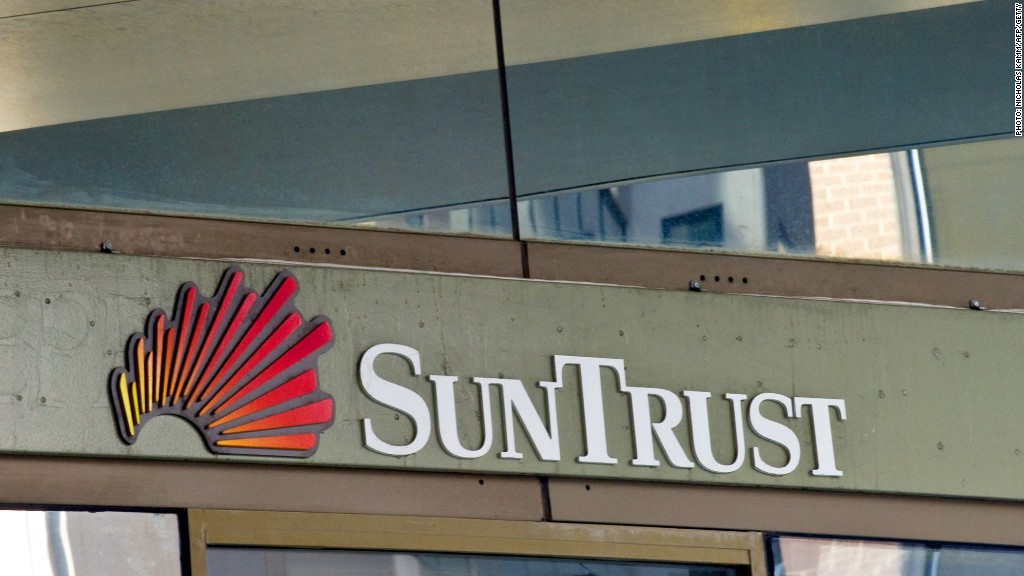 Big banks are still paying up over the foreclosure mess.
SunTrust Banks announced Thursday that it will pay nearly $1.2 billion in a series of agreements with government agencies and Fannie Mae over mortgage issues.
The deals relate to alleged violations in the firm's loan origination, servicing and foreclosure practices, similar to agreements struck by a number of other large banks in the past few years.
SunTrust (STI) has agreed in principle to pay a $468 million fine and offer $500 million worth of consumer relief as part of a settlement with the Department of Justice and the Department of Housing and Urban Development. SunTrust will pay housing finance giant Fannie Mae $228 million to repurchase loans that don't meet the government-supported firm's criteria.
The Atlanta-based lender also reached a settlement with the Federal Reserve, the penalties for which will be subsumed by the DOJ deal.
"These settlements reduce uncertainty, further improve our risk profile, and enhance our ability to focus on future growth," SunTrust CEO William Rogers said in a statement.
Related: JPMorgan working to contain damage as massive settlement looms
SunTrust's settlement with HUD and the DOJ covers the same issues as last year's National Mortgage Settlement, in which the country's five largest mortgage lenders agreed to pay $5 billion in fines and offer over $20 billion worth of consumer relief. That relief has taken the form of actions like mortgage modifications, refinancing and short sales.
The lenders were accused of extensive robo-signing -- authorizing foreclosure documents without reading them or verifying their accuracy -- as well as failures in processing paperwork and handling modifications.
Fannie Mae and Freddie Mac, meanwhile, have struck billions of dollars' worth of repurchase deals over the past few years. Last month, Wells Fargo (WFC) agreed to pay Freddie $780 million as part of a repurchase agreement.
Fannie Mae general counsel Bradley Lerman said the SunTrust agreement "is another sign of progress in addressing outstanding issues so that the housing market can continue to strengthen."
The Fed said it will "closely monitor" SunTrust's spending on consumer relief. Spokespeople for HUD and the DOJ could not be reached for comment.