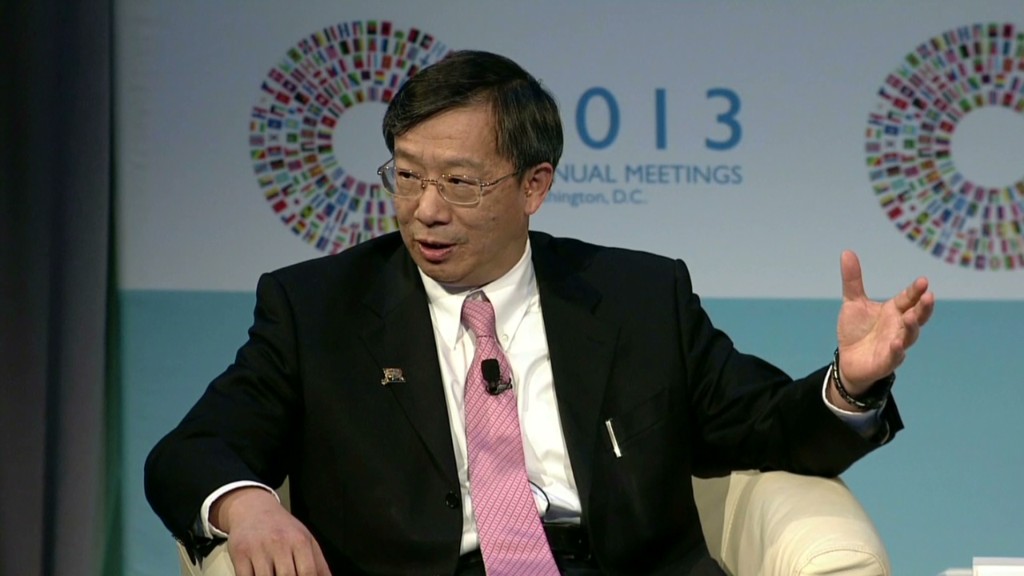 China is hoping for a speedy resolution to the U.S. debt ceiling debates, one of the country's top central bankers said Thursday.
"The market doesn't like uncertainty and we watch this drama very closely," People's Bank of China Deputy Governor Gang Yi told CNNi's Richard Quest, Thursday.
After Uncle Sam, China is the largest holder of U.S. Treasuries, so it's deeply invested in the debate. Yi stressed that if the United States defaults, it would hurt not just the two largest economies, but also the rest of the world.
"I think this is about the entire financial market of the world," he added. "Right now we see some recovery of developed economies and also emerging markets facing some difficulty. Adding this budget and debt limit uncertainty would be a hurdle for the recovery and the future development of the economy."
The comments came at CNN's Debate on the Global Economy, an event held in conjunction with the World Bank and International Monetary Fund's annual meeting in Washington D.C.
IMF Managing Director Christine Lagarde also said she believes U.S. lawmakers need to raise the debt ceiling as quickly as possible, and not just for a few weeks. Earlier Thursday, House Republican leaders said they will propose a temporary 6-week increase in the nation's borrowing limit.
"The more uncertainty there is, the more trepidation there will be in the markets," Lagarde said. "As much as 6 to 8 weeks is very welcome for the global economy. Much longer would be much better."
Related: China and Japan to U.S.: Don't default!
If the U.S. defaulted on its debt, she said "it will have financial consequences that will apply not just to this country but across the globe."
Other panelists included Spain's Minister of Economy and Competitiveness Luis de Guindos and Chairman of President Obama's Council of Economic Advisers Jason Furman.