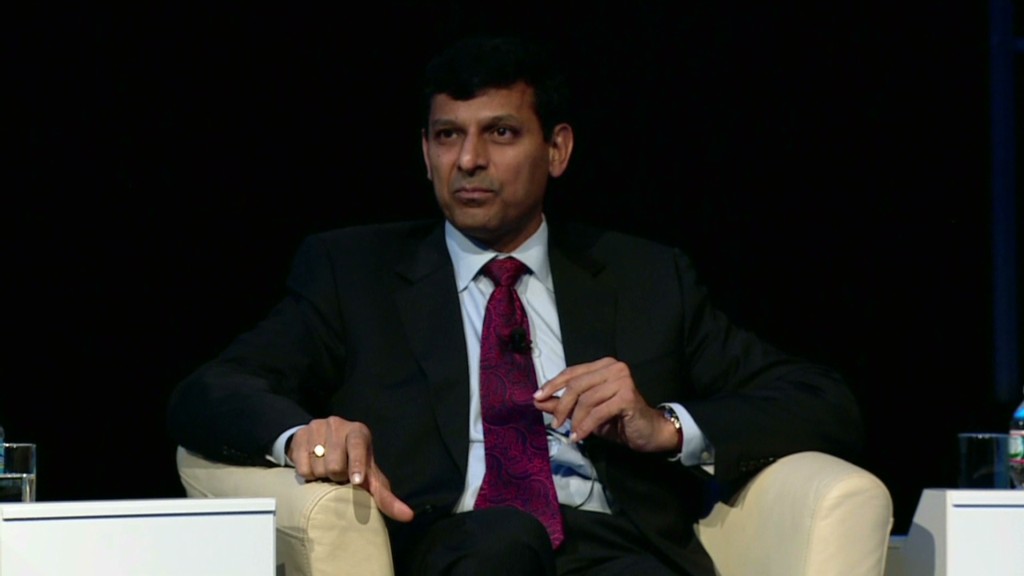 India has several problems but an impending economic crisis isn't one of them, the country's top central banker said emphatically Thursday.
"There's no way we are close to being a country in financial or economic crisis," Reserve Bank of India Governor Raghuram Rajan told CNNi's Richard Quest. "There's not a chance we will go to the IMF for money in the next 5 years."
The comments came at CNN's Debate on the Global Economy, an event held in conjunction with the World Bank and International Monetary Fund's annual meeting in Washington D.C.
Other panelists included IMF Managing Director Christine Lagarde, People's Bank of China Deputy Governor Gang Yi, Spain's Minister of Economy and Competitiveness Luis de Guindos and Chairman of President Obama's Council of Economic Advisers Jason Furman.
Rajan, who formerly served as head of the IMF, has faced a difficult task since being named India's top central banker in September: How to tame rampant inflation, without depressing economic growth even further.
Rajan's first attempt at a solution -- to hike interest rates -- shocked Indian markets three weeks ago.
"Inflation has been too high," he told Quest. "We have to combat it."
Related: India shocks markets with rate hike
The rupee has been weakening against the U.S. dollar since the Federal Reserve started hinting it might slow its bond-buying program later this year.
The weaker currency makes it more expensive for India to import fuel, which trickles down to other prices making necessities like food more expensive.
Rajan warned that "easy money" created by the Fed's stimulus policies is large part of the problem. He described unhealthy investment cycles, in which cheap money from developed countries flows into emerging economies, which then go into distress and push the money back to industrial countries. This cycle is now on its third rendition, he said.
"Easy money is part of our problem," Rajan said. "How do we stop this flow, which creates problems again, and again, and again?"
Rajan also spoke about India's "perception problem" as the emerging economy has slowed from a rapid 10% growth rate just three years ago, to a mere 4.4% growth rate in the second quarter this year.
India's growth may have slowed, but it still holds very large U.S. dollar reserves, and is also far less indebted than other major nations, he said.
"We need to bring back growth now. But we're still doing better than a significant number of economies in the world," he said.
Related: Trial by fire for India's new central banker
The U.S. economy, for example, will be lucky if it grows between 2% and 3% this year, according to most projections.
All the panelists voiced concerns about the debt ceiling debate in the U.S. but said they were confident Congress and President Obama would reach an agreement soon to avoid a default on the country's debt.
"We do have faith. I hope we won't be let down," Lagarde said.
Earlier Thursday, House Republican leaders said they will propose a temporary 6-week increase in the nation's borrowing limit.