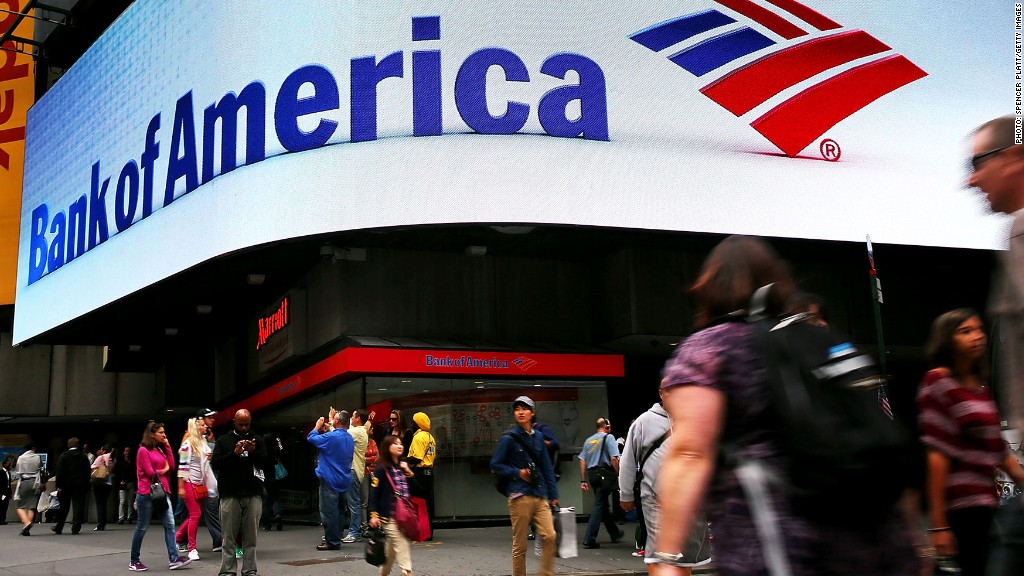 Bank of America swung to a profit in the third quarter after breaking even last year. And investors breathed a sigh of relief.
Investors cheered the bank's results, pushing shares of Bank of America (BAC) up more 1% Wednesday.
Despite the unfolding debt ceiling crisis in Washington, CEO Brian Moynihan sounded upbeat. "The economy and business climate will improve even more quickly as conditions normalize, and we are well positioned to benefit from that," Moynihan said in a release.
Related: Citigroup's weak earnings disappoint
Bank of America managed to beat analysts' profit expectations for the third quarter, but it failed to meet revenue forecasts.
The slowdown in mortgage lending weighed on Bank of America's revenues. However, cost cutting and $800 million from the sale of its stake in China Construction Bank (CICHY) helped Bank of America generate a profit.
Unlike most of the big banks that have reported earnings so far, Bank of America reported increased revenues in its consumer banking franchise helped by higher use of the bank's credit and debit cards. Small business lending rose more than 31% from last year.
Revenues dipped slightly in the bank's global markets business, which includes trading. Profits fell in that unit too. Bank of America's stock trading revenues increased but not by enough to offset the dip in bond trading that has hit all the major banks.
Bank of America has been aggressively cutting costs, largely by reducing its headcount. Since last year, Bank of America has eliminated more than 24,600 jobs, or 9% of its employees.
On a conference call, Moynihan said Bank of America will continue to cut staff that worked specifically on mortgage lending and refinancings. Moynihan warned that Bank of America could continue to take a hit from the drop in mortgage refinancings.
One set of costs that still worry analysts: litigation expenses. Bank of America recorded $1.1 billion in costs due to ongoing litigation related to the financial crisis and the bank's subprime lending. That was down from $1.6 billion in litigation costs a year ago but more than double what the bank spent in the second quarter.
Bank of America's CFO Bruce Thompson noted that litigation expenses were elevated but wouldn't predict whether or not costs would remain at these heightened levels.
Related: JPMorgan posts loss on big legal costs, but ...
The key numbers: Bank of America reported earnings of 20 cents per share on $2.5 billion on revenues of $21.7 billion. Analysts had expected the bank to report a profit of 18 cents per share on revenues of $22 billion.
Bank of America's stock is up 23% this year. Financial firms have been among the biggest winners in the market rally this year despite concerns about rising interest rates and the debt ceiling drama.
But third quarter results from rivals JPMorgan Chase (JPM), Wells Fargo (WFC) and Citigroup (C) have been mixed.
Investment banks Goldman Sachs (GVP) and Morgan Stanley (AACXX) will report earnings later this week.