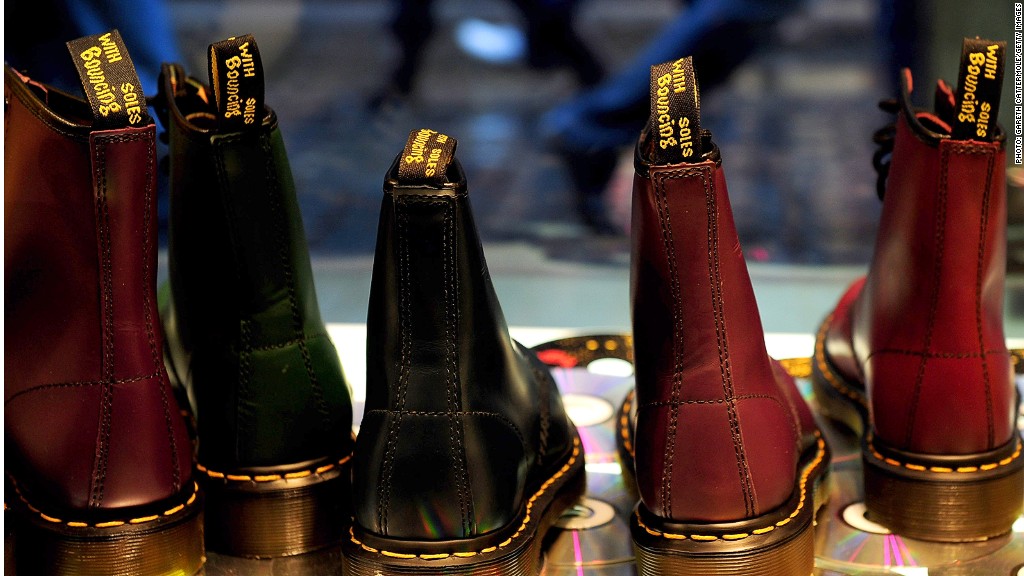 Britain's iconic Dr Martens boots look set to find a new home, ending more than 50 years of family ownership.
Sources familiar with the situation say the Griggs family is in talks to sell its 91.5% stake in the company to private equity firm Permira for £300 million ($486 million).
The remainder is owned by the management team. The purchase could go through in the next few weeks, the sources said.
Dr Martens and Permira declined to comment on the deal.
Dr Martens leather, lace up boots have been a signal of youth rebellion since they were first produced in 1960. Waves of subcultures -- from skinheads to punks and gothic followers -- have embraced the footwear.
Rock stars have also helped pump the brand, starting with The Who guitarist Pete Townshend and continuing with celebrities such as Rihanna and Miley Cyrus.
Related: Apple poaches Burberry CEO Angela Ahrendts
It's the second time in as many years the Griggs family has appeared close to selling its stake.
Private equity and trade buyers have been circling the firm for years. Talks between private equity firm Electra Partners broke down last year after Dr Martens was unsatisfied with the price tag put on the company, which saw pre-tax profit triple to £15.3 million in 2012.
Dr Martens are sold in 63 countries around the world, with the U.S. accounting for half of total sales.
Most of boots are now produced in Asia, with a small selection still made in their native England.
Buyout firm Permira has fashion pedigree. It owns Hugo Boss and U.K. high street retail chain New Look, and last year completed its sale of Valentino after controlling the Italian fashion house since 2007.