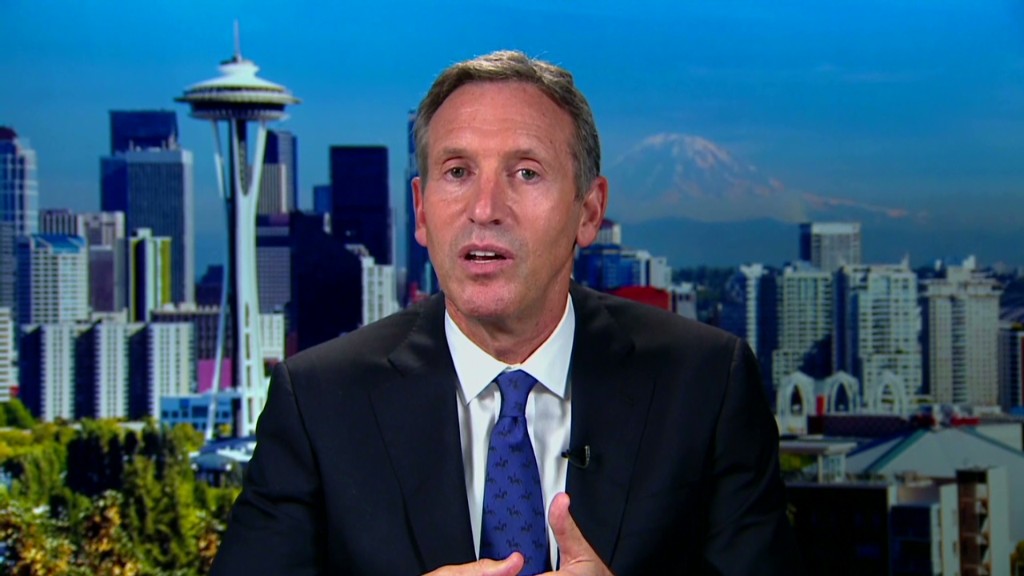 The shutdown may be over, but Howard Schultz isn't finished with Washington. Next up: A grande push to solve the nation's long-term debt problems.
The CEO of Starbucks already mobilized his customer base, gathering signatures to reopen the government and hike the debt ceiling in order to stave off a U.S. default.
The 1.7 million petition signatures that his baristas collected may or may not have had anything to do with the end of the stand off. But Schultz is convinced it helped.
On Friday Starbucks published ads in USA Today and the Washington Post taking a victory lap of sorts for the shutdown petition, saying "We are all reminded and inspired how a spirit of civility and common purpose can help move America forward."
Now he plans to call on his customers to push Washington to solve its budget woes. When Congress voted Wednesday night to reopen the government and raise the debt ceiling, it set new deadlines that will likely result in another budget showdown.
Related: Would you like some bipartisanship with your latte?
So in a second letter to the 300 other business leaders, Schultz has vowed to do more.
"I continue to believe we cannot be bystanders about our collective future," he wrote. " We are going to have to become more engaged so that Washington doesn't fall back into this kind of unnecessary crisis every few months."
Schultz didn't offer any details about his plans for the future. But he did say that the response to the petition drive "has inspired me to think more about what we can do at Starbucks to continue to use our scale for good."
Related: Starbucks CEO holds his ground on gay marriage
In December 2011, as Congress debated the so-called "fiscal cliff," he asked employees at its approximately 120 D.C.-area stores to write "Come Together" on coffee cups when serving customers. Earlier that year Schultz lead a group of more than 100 CEOs who pledged to halt all political campaign contributions until lawmakers, as Schultz put it, "stop the partisan gridlock in Washington, D.C."
Related: Starbucks to customers - please don't bring your guns
Schultz has also taken high-profile positions on several other controversial issues that have little to do with Starbucks' business.
Last month he issued a public plea asking customers not to bring their guns into Starbucks. He has also been an outspoken advocate of same-sex marriage, telling shareholders who don't agree "you can sell your shares of Starbucks."