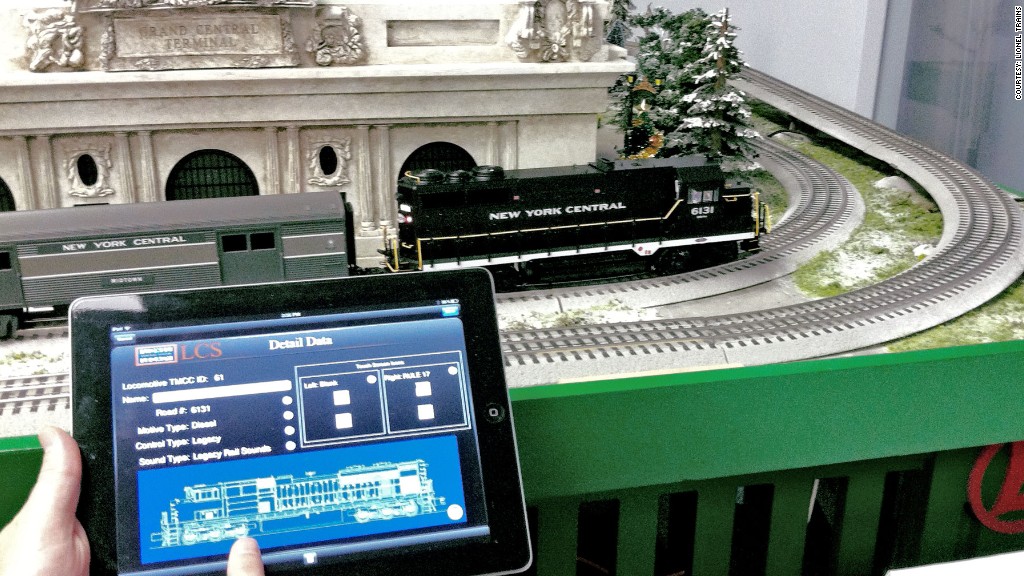 Their iconic model trains have been chugging through bedrooms and around coffee tables for the past 113 years. But now, New York-based Lionel Trains is getting a digital makeover.
"There are very few 113-year-old brands out there. This is both good and challenging," said CEO Jerry Calabrese. "While Lionel Trains is perhaps one of the most recognized brands of the 20th century, it isn't of the 21st century."
So Calabrese is on a mission to reinvent Lionel Trains, and going digital is a big part of that. His goal is to make the brand relevant to how kids play today while not alienating the legions of fans who grew up with the electric model trains.
Related: Check out Lionel's model trains over the last 100 years
To merge the old and the new worlds, Lionel recently launched an iPad app that interfaces with its model trains, allowing users to control the trains, tracks and other components digitally. The company also launched Lionel Battle Train, an iPad game where players fend off enemy attacks while moving their digital trains from one location to another.
Lionel has stood the test of time -- but it hasn't been easy. Over the past century, it changed ownership four times, went bankrupt and was brought back to life just as the U.S. economy fell apart.
Joshua Lionel Cowen, who also invented dry cell batteries, started Lionel in 1900. Cowen first made crude model trains that looked more like wagons and used his batteries to power the trains. He initially sold his train sets to local hardware stores to use as window displays.
Related: This Iron Man toy soars 200 feet
"People started liking them so much that they wanted to buy them for their homes," said Calabrese. "The business really took off after that."
It helped that railroads were a huge part of popular culture of the early 20th century. "Railroads then were the new frontier of science," he said.
By the 1930s, Lionel Trains had grown to became a household name, but the sets weren't cheap. A train set in the 1950s cost about $80, which was "the average mortgage payment of an average house in the U.S.," according to Calabrese.
Related: Hot toys for the holidays
At its peak, Lionel Trains employed about 3,000 workers at its factory in Hillside, N.J. After World War II, the glamor of train travel was supplanted by planes, and "trains weren't as sexy or exciting," said Calabrese. Struggling to stay relevant, Lionel licensed its trains to General Mills (GIS) in 1969.
That began its descent into financial ruin. Calabrese said the brand lost its luster, foothold and audience very quickly. Manufacturing moved to Michigan, then to Mexico, then back to Michigan, as the company switched hands several times.
In late 2004, Lionel which had since been bought by a private equity firm, was forced to file for bankruptcy after losing a patent infringement lawsuit and incurring a $41 million penalty.
Four years later, the company came out of bankruptcy and tried to rebuild in the midst of an economic slump.
Calabrese and his team have spent the past few years trying to get the company back on solid footing, looking for growth opportunities to bolster the company's $100 million annual revenue and honing its new digital effort.
"Digital gaming is the future. We want a new generation of kids to discover us digitally," he said. He also wants to partner with online marketplaces such as eBay (EBAY) and Amazon (AMZN) to launch future products. This holiday season, Lionel is also introducing a line of Christmas train ornaments, which it hopes will appeal to people's nostalgia.
"This brand has survived world wars and endured a lot of change over a century," said Calabrese. "It's in our interest to keep going."