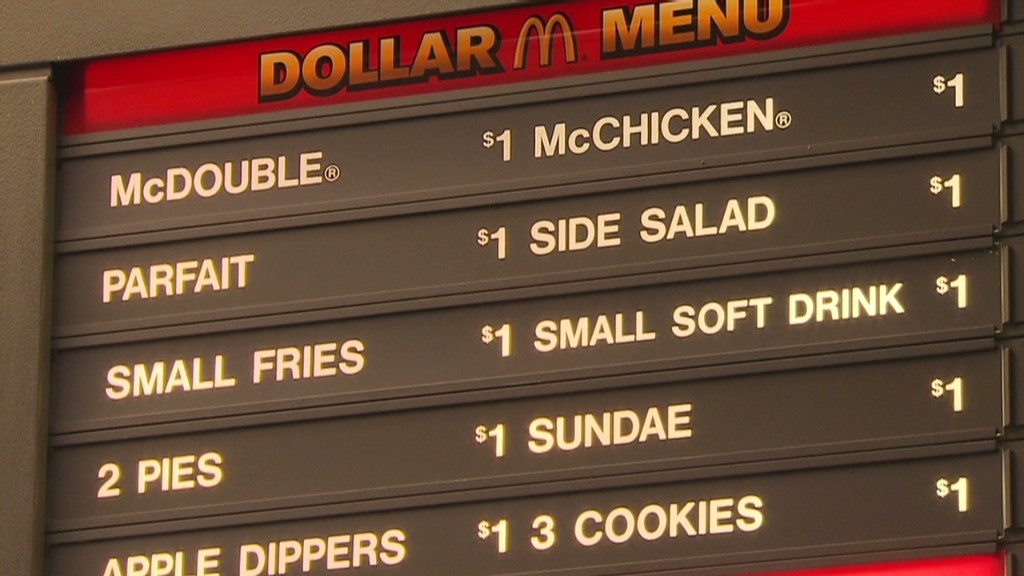 McDonald's is tweaking its fabled Dollar Menu to try and rise out of its sales slump.
McDonald's (MCD) renamed the menu Dollar Menu & More. Some of the items will still cost a dollar, but other items will cost more.
It sent this tweet from its official account on Wednesday: "Dollar Menu fans, don't worry...our new Dollar Menu & More will offer many options that are still $1 and some new choices too!"
The new menu will officially roll out on Nov. 4, according to a McDonald's spokeswoman, who said it will include some new items, which she declined to identify.
McDonald's could use a revenue boost. Last week, the fast food giant reported disappointing same-store sales, up less than 1% worldwide for the quarter compared to the prior year.
Related: McDonald's helps workers get food stamps
The company fared particularly badly outside of the U.S., with same-store sales dropping 1.4% in the Middle East, Africa and the Asia/Pacific region. Operating income plunged 12% in China, Japan and Australia because of an "ongoing challenging environment."
In test markets like New York City, a similar menu called the Extra Value Menu & More is already available. A worker at a Manhattan restaurant featuring an Extra Value Menu & More said it's been on offer since at least February, when he started working there.
Related: The real budgets of McDonald's workers
At that restaurant, the following items are still available for $1: two slices of apple pie, two bags of apple slices, and a "cone" (presumably with ice cream in it, but the menu didn't specify.)
Most of the other items cost a dollar and change, including the McDouble and McChicken, which each go for $1.69, and the four-piece McNugget, which costs $1.59.
The prices climb higher from there; the double cheeseburger costs $2.19 and the McFlurry is priced at $2.89. The most expensive item on the Extra Value Menu & More was the 20-piece McNugget for $4.99.