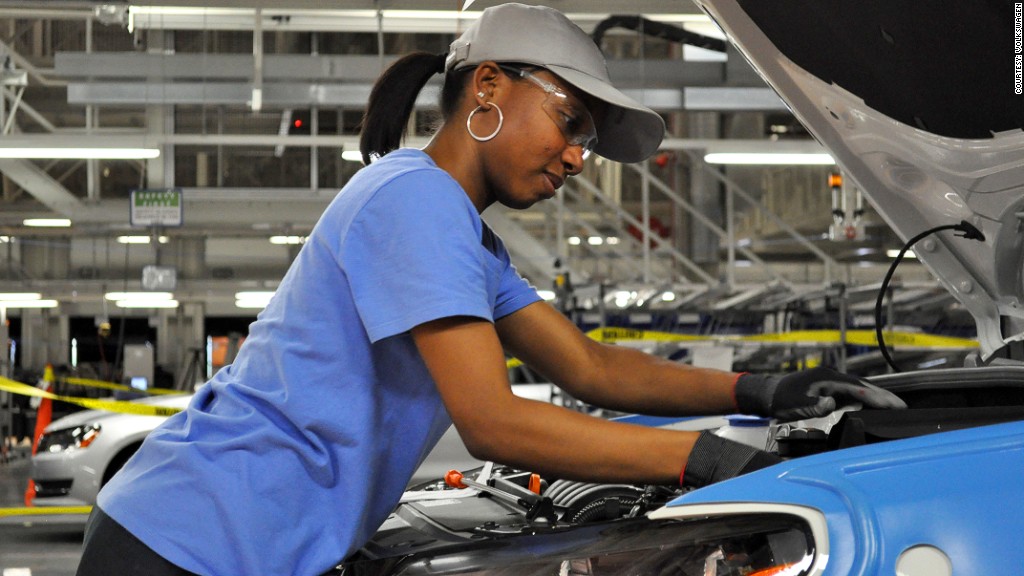 The United Auto Workers is close to getting a toehold in its first Southern auto plant run by an overseas automaker, a Volkswagen facility in Chattanooga, Tenn.
And some say Volkswagen management is encouraging, rather than discouraging, the UAW.
The UAW says it has union cards signed by a majority of the plant's hourly workers, a key step toward union representation. Workers at the VW plant make roughly $19 an hour compared with about $26 to $28 an hour for veteran hourly workers at the Detroit automakers, although the union's new hires are making closer to $17.
Why would Volkswagen management support unions?
VW says it wants German-style "works council" at the plant to get employees input. The councils meet on issues such as work rule disputes in order to improve plant efficiency.
VW, which has the best profit margins of any global automaker, has the works councils at more than 100 plants around the globe -- all except those in China and its sole U.S. factory.
But U.S. labor law makes it difficult to set up such councils without participation by a union.
Related: VW heading for a profit speed bump?
Anti-union critics say VW is illegally pressuring employees to accept a union many don't want. They also worry that a unionized plant would hurt bids to attract other automakers to Tennessee.
The National Right to Work Foundation, a leading anti-union group, has filed a complaint with the National Labor Relations Board about VW's efforts.
"They're worried about them getting a foot in the door," said Gary Chaison, professor of labor relations at Clark University. "Every time you get a large organizing campaign that is successful, it inspires more organizing."
VW unveils 'world's most efficient car
VW is somewhat less inclined to be anti-union than the typical U.S. company. Half its board is made up of employee representatives, mostly from Germany's powerful trade unions.
Still, the company denies it is backing the union effort, despite what critics fear.
"I think we've been very clear that that process needs to run its course, that no management decision has been made and that it may or may not conclude with formal, third-party representation," said Jon Browning, VW's U.S. CEO on a recent call with analysts.
UAW's membership has declined for decades and union leadership has made organizing the factories of Japanese and European automakers their top priority. So far, the efforts have all been unsuccessful.