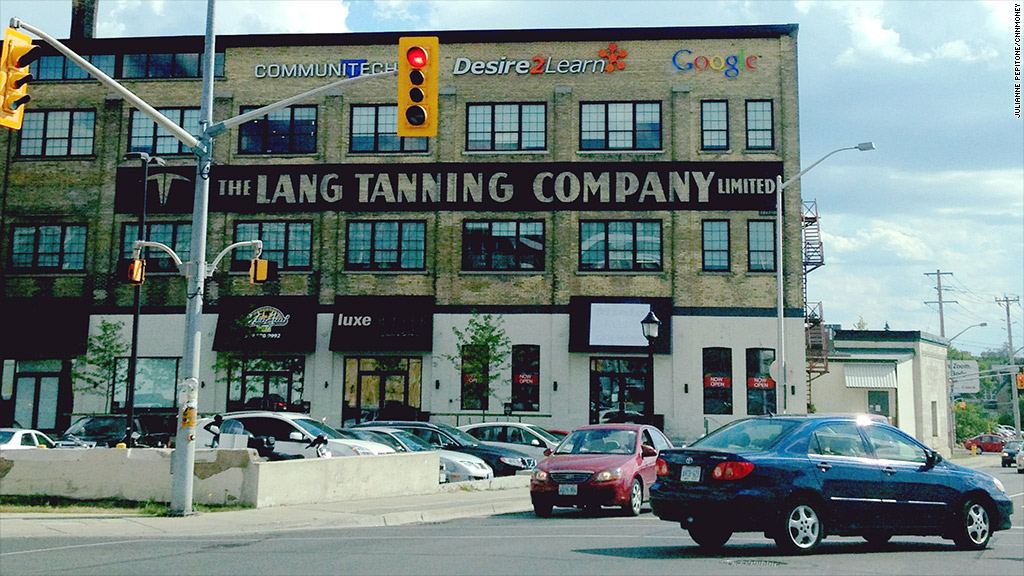 Irish pub Molly Bloom's, located in a plaza down the road from BlackBerry's Waterloo, Ontario, headquarters, enjoyed steady lunchtime and post-work business from BlackBerry employees for years.
"We used to pull out 20 extra chairs and squeeze 'em in for busy lunchtimes," said Molly Bloom's owner Brian Watson. "But we haven't touched them at all this year."
But lunchtime service at the 13-year-old Molly Bloom's has dropped "so dramatically," Watson said, that he's forced to send staffers home early because there isn't enough work for a full shift. One big group did drop in for lunch recently: a crew of BlackBerry employees who had been laid off.
Those sad scenes have become a common occurrence in BlackBerry's hometown, as the once-dominant Canadian smartphone company has been forced to enact waves of mass layoffs over the years. This month, BlackBerry (BBRY) began its steepest round of job cuts yet: The company is laying off 4,500 employees, or 40% of its workforce.
Other restaurants and bars in town have also noticed a "big slowdown," Watson said, and it shows no signs of stopping. BlackBerry's new smartphones failed to resuscitate the company this spring, and its future is in doubt.
Even the loyal cadre of local developers who create apps for BlackBerry devices is starting to lose hope.
Kirk Zurell says his fellow Waterloo-area app developers still pay attention to the BlackBerry platform because it's local. But "a lot of that optimism has changed" even over the past few weeks.
"You're starting to hear a little bit of cynicism for the first time," Zurell said. "There's no downright condemnation, but they're wondering the same thing everyone else is: What will happen to BlackBerry? They're kind of waiting for the fallout."
Related story: BlackBerry says it's not dead yet
BlackBerry was once the hero of Waterloo. Now, it is both a success story and a cautionary tale rolled into one.
Locals say BlackBerry is the inspiration for Waterloo's hundreds of homegrown startups, but they admit it's also the lesson about what happens when you don't innovate. They'll stress that Waterloo grew past BlackBerry a long time ago -- but in the next breath, they'll tell you building "the next BlackBerry" is still the dream.
Whether for good or bad, it's clear from talking to people in the Waterloo area -- which is usually lumped in with the nearby city of Kitchener -- that BlackBerry's influence still looms large in its hometown.
"As Canadians, we're kind of known for going for the bronze," said Iain Klugman, who runs the Communitech incubator at the heart of Waterloo's startup scene. "But BlackBerry showed us we could have big ideas. They introduced this community to the world."
But Klugman and others are quick to point out that Waterloo isn't a one-company town: The University of Waterloo is world-renowned for its engineering program. The city is home to other large tech companies including OpenText and Desire2Learn, as well as outposts for American giants, including Google (GOOG). And Klugman's Communitech has helped the region gain a reputation as one of the hottest startup cities in the world.
Related story: Apple throws recruitment party for BlackBerry employees
Locals note that Waterloo's surprising success as a tech hub is due largely to the fact that it's a deeply connected community, in which people celebrate each other's successes.
But that also means they feel BlackBerry's pain more acutely.
"Seeing BlackBerry in trouble hurts a lot," said Cédric Jeannot, founder of Kitchener-based startup I Think Security. "We're such a small city. Everyone here knows someone who works there ... or used to."
BlackBerry has been much more than just an employer to Waterloo. BlackBerry co-founders Mike Lazaridis and Jim Balsillie have each personally donated hundreds of millions of dollars to local causes, and the company actively recruits University of Waterloo students.
That adds to the fierce loyalty BlackBerry has earned from locals, some of whom complain that the reports of the company's death have been greatly exaggerated.
"They made mistakes, but I think the press coverage has been too biased," said Jeannot. "If BlackBerry was an American company, I don't think you'd see such bleak reports."
But many wouldn't even comment for this story to set the record straight. For a certain contingent of Waterloo residents, it seems that to knock the hometown hero is to disparage the hometown itself -- and city officials have discouraged such behavior.
Related story: BlackBerry co-founders want to buy the company
According to Canadian newspaper Globe and Mail, a Waterloo economic agency sent notes to business owners last year about dealing with media, coaching them to "demonstrate continued confidence in the potential of [BlackBerry]."
That may have softened a bit over the past year, but confidence in Waterloo, at least, remains constant.
There's reason to believe Waterloo will be strong after BlackBerry. Communitech, for instance, took in more than 500 startups this year, compared with just 50 five years ago. That's a big plus for Waterloo's tech scene, which has become successful enough to absorb ex-BlackBerry employees and move past the company's failures.
"In Waterloo, we are not dependent on anyone," said Tim Jackson, the University of Waterloo's vice president of university relations. "I can tell you the rest of the world is more worried than we are."
Of course, if your livelihood depends on BlackBerry it isn't so simple to move on.
But many involved in the Waterloo tech scene are holding out hope that "the next BlackBerry" will rise to fill the gap.
"We are absolutely going to have another BlackBerry," said Jackson, the university rep. "We've created the environment, and someone's going to build the next great Canadian company. It's only a matter of time."