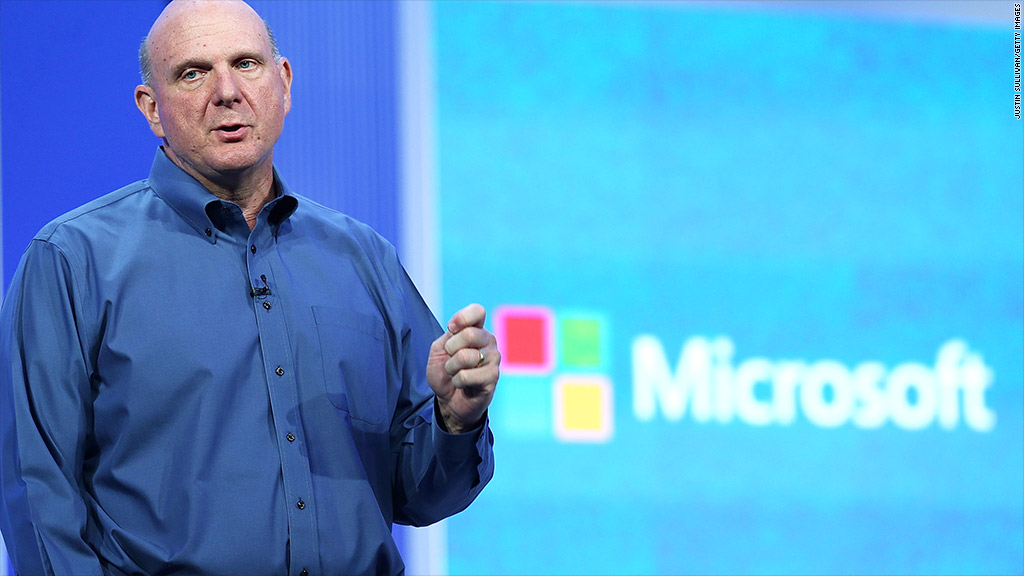 Microsoft reported quarterly sales and profits Thursday that rose from a year ago and easily trounced Wall Street's forecasts.
The Redmond, Wash.-based software giant said its net income in its fiscal first quarter jumped 17% to $5.2 billion, or 62 cents per share. Analysts polled by Thomson Reuters forecast earnings of 54 cents per share.
Sales also came in higher than expected. Microsoft's revenue rose 16% over the year to $18.5 billion, topping forecasts of $17.8 billion.
Those strong results pushed Microsoft (MSFT) 6% higher.
Microsoft CFO Amy Hood struck an upbeat tone on the post-earnings conference call with analysts and members of the press.
Microsoft's customers are happy with "the innovation and roadmap that we've shown," Hood said. She later added: "I do feel quite good about our competitive position."
While most of Microsoft's businesses did well in the quarter, one big sector bucked the trend: Windows sales slumped 7%. The completely redesigned Windows 8 operating system has largely failed to take off with consumers, which is a big disappointment for the company.
Still, the rest of Microsoft's businesses gained steam.
Ad sales for the much-maligned Bing search engine grew by 47% over last year. Microsoft partners with Yahoo (YHOO) in online search. Microsoft's giant -- and largely underappreciated -- corporate software business grew its sales by 10%.
Even Surface tablet sales took off after Microsoft slashed prices. Microsoft said it sold $400 million worth of Surface tablets in the quarter. In July, Microsoft was forced to write off a whopping $900 million worth of inventory Surface inventory.
Related story: Meet one of Steve Jobs' only bosses
Busy quarter: It was an extremely busy fiscal first quarter for Microsoft. In July, Microsoft instituted yet another management reorganization. One month later, CEO Steve Ballmer announced he will retire within the next 12 months.
Ballmer's decision to step down has been viewed by some on Wall Street as a recognition of the company's missteps in mobile. Apple (AAPL) and Google (GOOG) have a significant market share lead over Microsoft in mobile.
But Microsoft may have also bought a successor to Ballmer during the quarter. The company agreed to purchase the mobile devices business of Nokia (NOK) in September. Former Nokia CEO Stephen Elop, who left Microsoft to take the top spot at Nokia a few years ago, will be returning to Microsoft and is widely expected to be one of the frontrunners to replace Ballmer.
More recently though, there has been speculation that Microsoft's top choice may be Ford (F) CEO Alan Mulally.