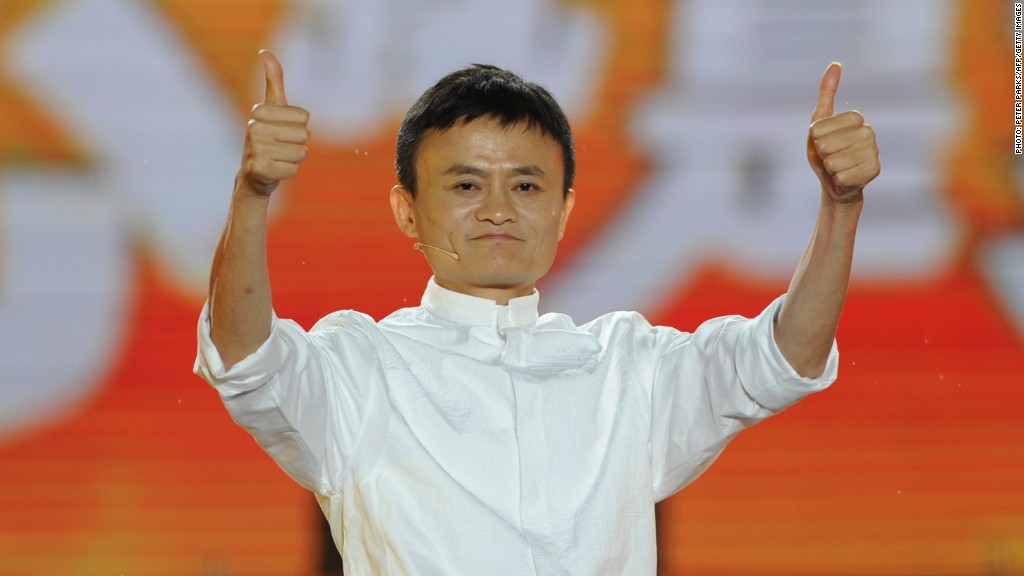 Chinese tech darling Alibaba may issue shares in Hong Kong after all.
Just weeks after talks with exchange officials broke down, prompting Alibaba to explore options for an IPO in New York or London, both sides appear willing to discuss a compromise.
Alibaba CEO Jonathan Lu signaled that the company was slowing its preparations to go public, a move that could give Hong Kong time to amend its governance rules -- the key stumbling block last time.
"We decided to put down the issue after the last round of discussions," Alibaba CEO Jonathan Lu told the South China Morning Post on Friday.
The listing would be a major prize for any exchange. Alibaba is expected to be the first of several influential tech companies coming out of China, and its IPO could raise more than $12 billion.
Hong Kong is the preferred destination for many of China's top companies seeking to go public, and it appeared to be a natural fit for Alibaba and founder Jack Ma. But negotiations broke down in early October after regulators refused to change the rules to allow Alibaba's partners to appoint board members.
Related story: Turning Alibaba away has risks for Hong Kong
Japan's Softbank Corp (SFTBF) is currently Alibaba's biggest shareholder, followed by Yahoo (YAHOY). Ma and a small group of executives currently own only around 10% of the company. The partners are clearly worried about losing control of the company and had lobbied furiously for a rule change.
When the Hong Kong exchange refused, Alibaba sought and received approval for its governance structure from the New York Stock Exchange and Nasdaq. It now appears that the threat of Alibaba listing elsewhere may have pushed Hong Kong to reconsider its position.
Exchange CEO Charles Li said Thursday that he wants to debate alternative governance structures -- something he suggests might be needed to attract tech firms.
"Losing one or two listing candidates is not a big deal for Hong Kong; but losing a generation of companies from China's new economy is," he wrote in a blog post.
Related story: Yahoo shares rise on Alibaba stake
Li went on to discuss governance structures that, while not as extreme as allowing dual class shares, would allow management to retain more control over a company.
"The vision and ideas of these founders are core assets of these companies," he said. "Protecting the founders and allowing them to deliver on their vision is usually in line with shareholders' interests."
Related story: Missing from Asia's boardrooms? Women
In the end, Alibaba could be too big a prize for Hong Kong to ignore -- especially as the exchange competes with London and New York.
So far this year, companies have raised around $7 billion through IPOs in Hong Kong. That figure trails both Nasdaq and the New York Stock Exchange, which clock in at $11 billion and $26 billion, according to data from S&P Capital IQ.
"It takes time for Hong Kong to digest innovative management concepts," Alibaba's Lu told reporters. "But Hong Kong has always been our favorite."