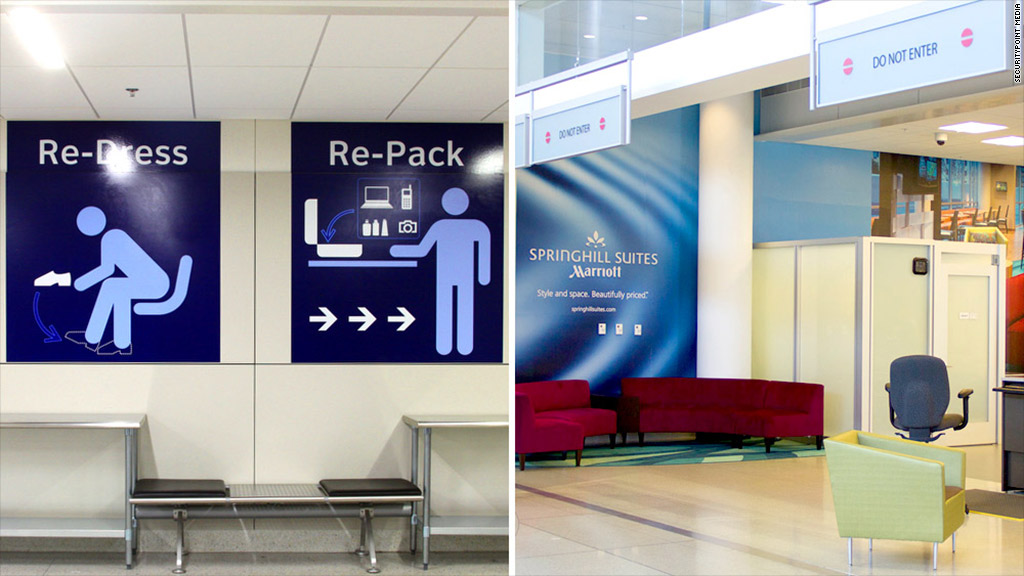 "Creative, comfortable and calm" isn't how most travelers would describe the airport security experience.
But one company is trying to change that, bringing couches, mood lighting and music into the world of rope lines, stainless steel and body scanners.
A trial of redesigned security checkpoints at the Dallas-Fort Worth and Charlotte airports opened this month.
"Airports spend a lot of time and money on [comfort from] curbside to planeside, but there has been a gap at airport security," said Joseph Ambrefe, president of SecurityPoint Media, the company behind the new amenities. "Why shouldn't a checkpoint be appointed with the style of a four-star hotel lobby?"
The resemblance to a hotel lobby is no mistake -- the areas were funded by Marriott (MAR) brand SpringHill Suites, in exchange for exclusive advertising in the areas. Ambrefe declined to say how much the areas cost.
Related: TSA's gun policy: Confiscate it, Instagram it
Travelers approaching the security line see monitors estimating their wait time. Upbeat music and professional announcements play from overhead targeted speakers -- to eliminate the need for TSA officers to shout instructions over the din.
You still have to take off your shoes and belt, but a "recomposure area" after the checkpoint gives travelers a less stressful environment to put themselves back together.
Ken Buchanan, an official at the Dallas-Fort Worth airport, said the checkpoint was part of the airport's effort to make "passenger screening a positive encounter, while maintaining the highest levels of security." The airport said it would evaluate the program's success in three months.
TSA officials didn't immediately respond to a request for comment.
Related: Airline pit crews race the clock
Most of SecurityPoint Media's business has revolved around the plastic bins that carry personal belongings through the x-ray machines. In exchange for maintaining the bin supply and storage carts free of charge, the company is allowed to plaster the bins with advertisements.
The bins and cart system improved efficiency and reduced security line wait times by 16%, according to a test of that program several years ago. It's now used at over 40 major U.S. airports.
If the couches and chairs bring similar improvements, Ambrefe said his company would look at expanding the comforts to additional airports.