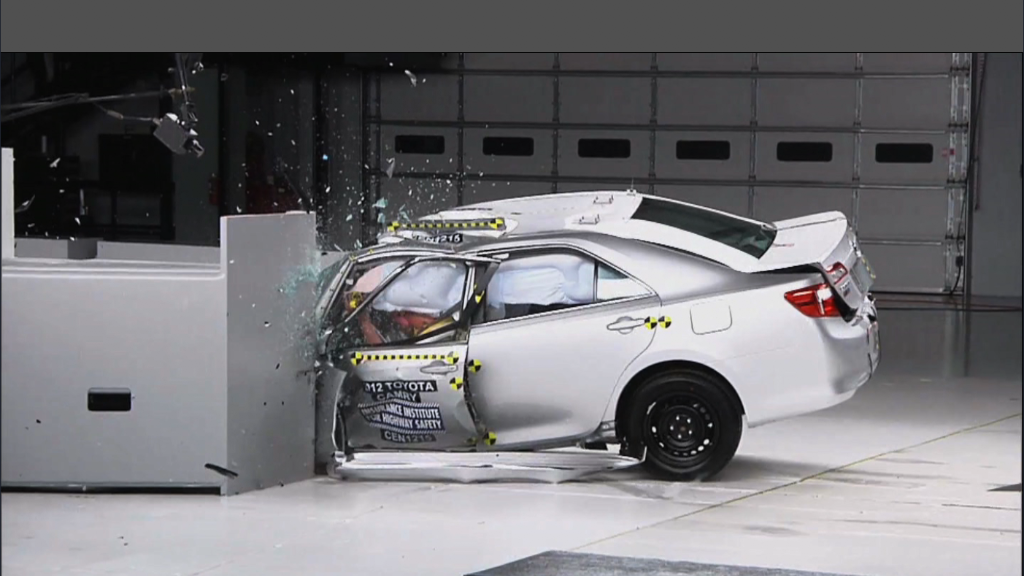 Consumer Reports magazine has dropped its coveted recommendation of the Toyota Camry family sedan, the best-selling passenger car in America, because of the car's performance in an Insurance Institute for Highway Safety crash test.
The Camry earned a rating of "Poor" in the Institute's "small overlap" crash test. Many cars have fared badly in this new test. In it, a car traveling at 40 miles per hour strikes a crash barrier with just a small part of the front bumper on the driver's side.
It's a tough test, since it concentrates impact forces into an area which is often outside metal crash-absorbing structures built into many new cars.
The Insurance Institute announced the test results for the Camry in December. Consumer Reports announced its decision to drop the recommendation in a blog post on the magazine's Web site Tuesday.
Consumer Reports had waited to implement the change until enough cars had been subject to the test.
Not every car tested performed poorly. For instance, the Honda Accord, and Ford Fusion, both direct competitors to the Camry, performed well in the test and have maintained Consumer Reports' recommendation.
The loss of the recommendation probably won't have a huge impact on Camry sales, said Larry Dominuque, executive vice president of auto site TrueCar.com.
"The ultimate material difference for Toyota might be small," he said, noting that "manufacturers are really good at offsetting bad things with good things, like incentives."
Gallery - Consumer Reports' Most Reliable Cars
The Insurance Institute only began implementing the new test last year but had been discussing its development with automakers beginning in 2009, Institute spokesman Russ Rader said. That allowed some automakers, such as Honda, to make engineering adjustments in new models it was developing.
Vehicles from Honda and its luxury division Acura have consistently done well in the test. By contrast, Toyota has struggled. Recently, Toyota's fully redesigned Corolla compact car earned a rating of "Marginal" -- the second worst rating possible.
"Toyota is behind the curve compared to its major competitors," Rader said.
The Camry wasn't the only car to lose the magazine's recommendation. The Toyota Prius v hybrid wagon, Toyota Rav4 SUV and Audi A4 also lost their recommendation.
Toyota spokeswoman Cindy Knight pointed out that all of those vehicles have performed well in all other Insurance Institute and NHTSA crash tests.
Audi was not immediately available for comment.
Consumer Reports has a policy of only recommending cars that get good scores in crash tests from both the Insurance Institute and the federal government's National Highway Traffic Safety Administration. These cars could regain the recommendation, Consumer Reports said, if they are re-engineered to perform better on the test.
In December, the Insurance Institute plans to test an update of the Camry that has been re-engineered for better performance in the small overlap test, Rader said.
Consumer Reports is widely regarded as being the most influential magazine among car shoppers. Consumer Reports, published by nonprofit Consumer's Union, purchases all the cars it tests and does not accept paid ads.