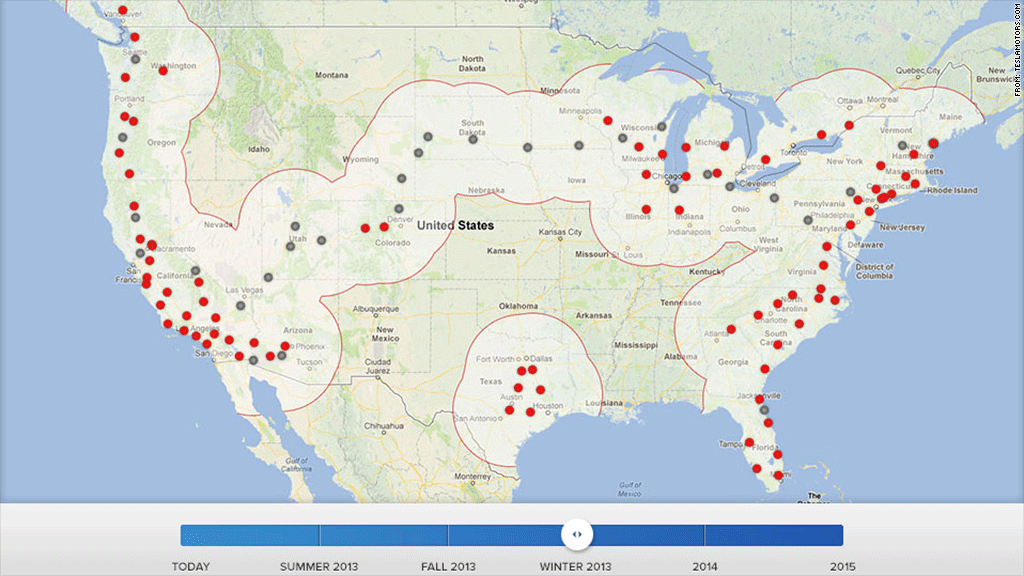 Tesla Motors has completed another big stretch of its planned cross-country network of free electric-car charging stations, the automaker said Wednesday, making it possible to drive an all-electric Model S sedan along the entire West Coast of the United States.
"Tesla West Coast Supercharger network now energized. Travel from Vancouver to Tijuana in styel [sic]," tweeted Tesla CEO Elon Musk.
The nearly 1,800 mile trip is possible, Tesla (TSLA) says, using charging stations along Highway 101 and Interstate 5. Supercharger stations can fully recharge a Model S in about an hour or give it a half-full charge in about 20 minutes, according to Tesla.
The stations are free for Tesla owners to use and are being placed along frequently-traveled major highways to allow long distance travel between major U.S. cities.
Tesla had announced in May that, by the end of 2013, enough Supercharger stations would be in place to allow a drive from New York to Los Angeles. Musk said in September that he plans to embark on a cross-country family trip with his five sons at the end of this year.
Within two years, the automaker plans to have every part of the continental U.S. within range of a Tesla Supercharger station.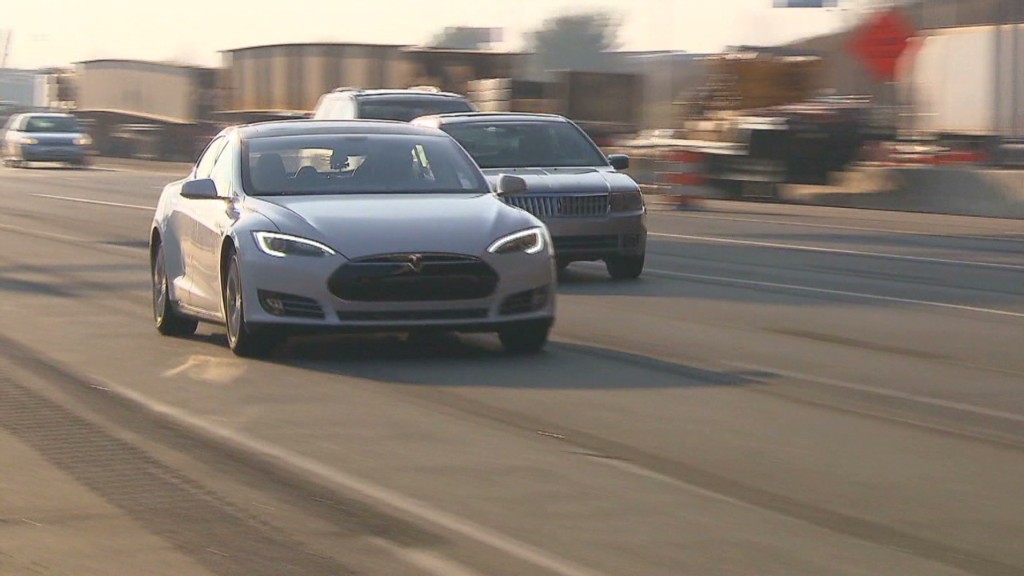 The Model S can travel up to 265 miles on a charge, according EPA estimates.
Musk and the New York Times got into a dispute early this year when a reporter for the paper claimed he ran out of power while trying to drive from Washington to Boston using the Supercharger network. A later test drive by CNNMoney reporters showed the car was able to make the drive using the Supercharger network then in place. Tesla ultimately plans to have a charger at least every 80 to 100 miles on heavily traveled route like the Washington-to-Boston corridor.
Musk tweeted on Wednesday that Tesla's East Coast Supercharger Network "should be complete in a few months."
Tesla is also adding battery-swapping capability to some of the stations. With that, a Tesla Model S's battery could be replaced in about 90 seconds with a fully-charged battery. Battery swapping would not be free but would cost roughly as much as a full tank of gasoline, Tesla has said.