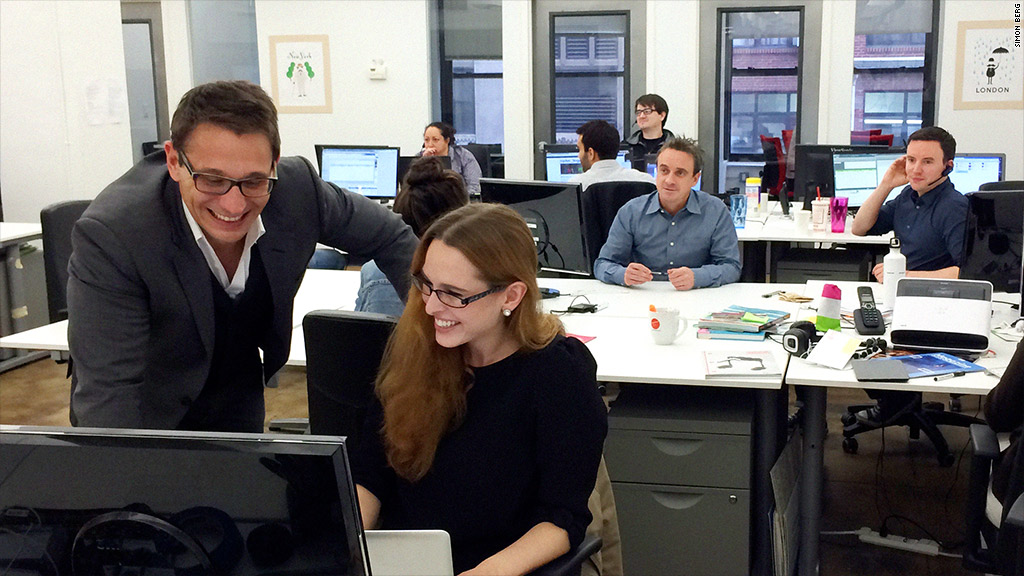 Mergers are risky, and the chance for failure is high: Two-thirds of corporate marriages fail to produce enough financial gains to justify their cost, according to Investopedia.
Undaunted by those odds, Simon Berg set out last year to merge his online-marketing firm Ceros (whose client list included Virgin Atlantic, Lego, Nestle (NSRGF) and Sears (SHLD)) with Crowd Fusion, the engineering powerhouse behind websites like TMZ.
Berg, who is CEO of the new company (also called Ceros), said the most challenging part of any merger is "the people involved, who all come with their own opinions, baggage and visions of the future." For entrepreneurs thinking of joining forces with another startup, here are three lessons Berg took from the experience:
1. Don't rush into it. "A big reason why so many mergers don't work is that top management on both sides plays its cards too close to the vest," said Berg. "Without openness and honesty beforehand, you can easily end up merging with a company you really know nothing about."
Related: Which social network is best for your business?
To prevent that, his top managers met with their Crowd Fusion counterparts for no-holds-barred discussions of their operations, hammering out plans and goals over nearly six months. "Done right, the due-diligence phase should be a lot like dating," Berg said. "Get to know each other gradually."
Berg said it's also important to look beyond "getting the deal done," and talk about what happens after. Before the two firms combined, "we made a list of objectives, including what we would do and when," he said. "We were about 85% agreed on the essentials before we signed the papers."
2. If you have to let people go, don't procrastinate. As usually happens, the post-merger Ceros had some staffers whose jobs overlapped or whose skills no longer fit. "It is awful laying people off," said Berg. "But the longer you put it off, the harder and more painful it will be for everyone."
Berg ultimately let more than a dozen employees from both companies go -- headcount is now about 30 -- including a few senior executives. He has no regrets. "People understand that, after a merger, things have changed," Berg said. "Having the right people in the right jobs makes the team stronger."
Related: What I look for in a new hire
3. Line up enough funding. "If you need funding from investors to finance your merger, the first number you pick will probably be too low," Berg said. "So estimate what it's likely to cost from start to finish, and then double that." Ceros' merger was even more expensive because Berg had to factor in the anticipated cost of designing and building a whole new cloud-based marketing platform.
Ceros had some heft behind it: Backers include two venture capital firms and Marc Andreessen and Mark Cuban, who have invested $2.2 million since mid-2012. But replacing the old technology with a new platform meant "we had no revenues for the second half of 2012. It was scary," Berg recalled. The payoff: Ceros is a far stronger and more visible presence in online marketing and branding than the old Ceros or Crowd Fusion ever was, and Berg said revenues have skyrocketed this year.